Midwest Design-Build + Negotiated Projects Division
Learning Your Business To Build Your Business.
There's nothing stock about what we do in Design-Build. Our projects often start with a napkin sketch, concept, or business need. We work with the owner and operations manager to learn your business from the bottom up. That way, we can build something that addresses your needs and makes you more efficient.
It's not just construction expertise we bring to the table. In Design-Build, we work as a full partner with you, hiring architects, MEP engineers, and subcontractors on your behalf. Ideas, creativity, and quick problem-solving skills are all what you can expect from our team. When we hear years later that our ideas helped their business in the end, well—that's the result we look for every time.




Big Ideas—With Small Town Roots.
Tad Johnson – VP, Midwest Design-Build + Negotiated Projects Division
Tad came to Crossland in 2005 to be closer to where he grew up, a small town in Southeast Kansas.
He started as an experienced Project Manager and showed strong leadership qualities from the beginning. When Curt Crossland took a step back from running the Design-Build Division, Tad was a frontrunner. Tad currently lives with his wife and kids in Webb City, Missouri, and enjoys being active and contributing to the community.
When Tad's not working, he enjoys spending time with family, watching his boys do what they love, and he likes to hunt and fish when he can. Tad is also an avid Chiefs fan.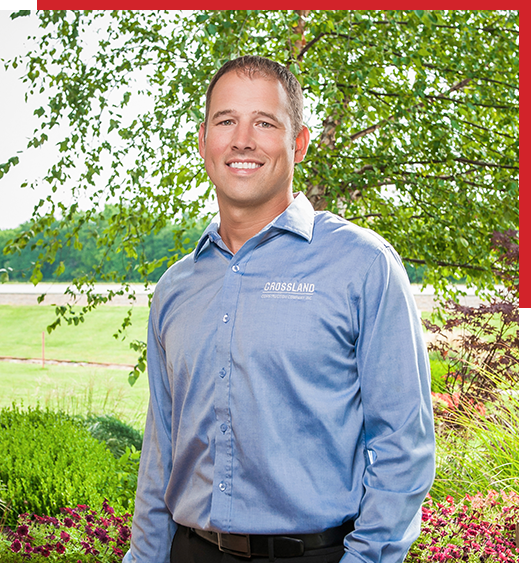 Check out the community-enhancing projects we've completed in MWDB
RESPONSIBILITY
INTEGRITY
PASSION
TRUST
RESPONSiBILITY
INTEGRITY
PASSION
TRUST