Leadership
Don't Choose A Place To Work. Choose A Place To Grow.
---
Don't let the collars fool you—our leadership, made up of Crossland family and trusted employees, are most comfortable in jeans and hard hats. From behind the scenes coordinating and managing, to busy days onsite, our hands-on leaders aren't afraid of a little dirt.
Crossland Construction Crossland Heavy Crossland Prefab Wall of Fame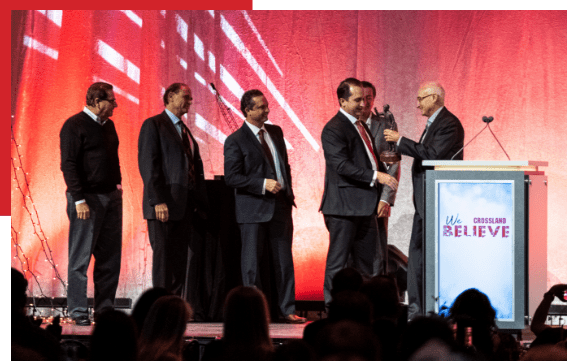 Our Company Leaders
---
Bennie Crossland
Chairman of the Board
Curt Crossland
President Midwest Region
Mike Crossland
(Retired) President of Texas Region
Patrick Crossland
Chief Development Officer
John Priest
President Crossland Construction
David Allison
Chief Administrative Officer
Field Operations Leadership
---
Colby Mitchell
Civil Division Manager
Jake Doss
Steel Division Manager
Ben Hill
Concrete Division Manager
Donald Carter
Site Operations Manager Columbus
Paul Koons
General Superintendent Corporate
Ben Harris
Area Superintendent Texas
Aaron Burns
Area Superintendent Oklahoma City
Department Leadership
---
Steve Houser
Chief Estimator
Jeff Wilson
Director of Scheduling
Doug Westervelt
Safety Director
Mattie Crossland
Director of Crossland Realty
Beverly Davis
Benefits Director
Jill Brennan
Human Resource Director
Maddy Foster
Assistant Controller
Misty Spear
Internal Auditor / Treasury
Travis Sills
Business Operations Director
Alicia Endicott
Marketing Director
Gina Atteberry
General Counsel
CROSSLAND HEAVY CONTRACTORS
Mark Sell
President Crossland Heavy
Dan Thompson
VP/Division Manager Arkansas
Crossland Heavy Division Managers
---
Tulsa
Chris Walters
Division Manager Tulsa
Oklahoma City
Justin Lillie
Division Manager Oklahoma City
Kansas City
Erick Lowe
Division Manager Kansas City
CHC Field / Office Leadership
---
Ryan Adler
Director of Pre-Construction
Jordan Wehmeier
Corporate Business Development Manager
Todd Zimmerman
General Superintendent
Ashley Hays
Area Superintendent
Bill Hagenburger
Director of Engineering
Cole Rink
Chief Estimator
Kaleb Tucker
Equipment Manager
Holly Rhodes
Assistant Controller
Shay Laurance
General Manager
Trevor Johnson
Quality Control Manager
Blane McManus
Shipping Manager
Wall of Fame
The Proof Is In The Years.
---
So many employees of the Crossland companies choose to make life-long careers here, we thought they deserved a Wall of Fame. Here you'll find all our valued employees who've spent over 15 years with us. Proof that this is so much more than just a place to work.
Aaron Hight
Senior Project Manager
Aaron Schnurbusch
Superintendent
Aaron Surber
Superintendent
Alex Curchin
Board Member
Alicia Endicott
Marketing Director
Amanda Burns
IT Assistant
Anthony Brown
Superintendent
Ben Harris
Area Superintendent Texas
Bev Langerot
Project Accountant
Beverly Davis
Benefits Director
Billy Ortego
Concrete Superintendent
Brad Hamilton
Superintendent