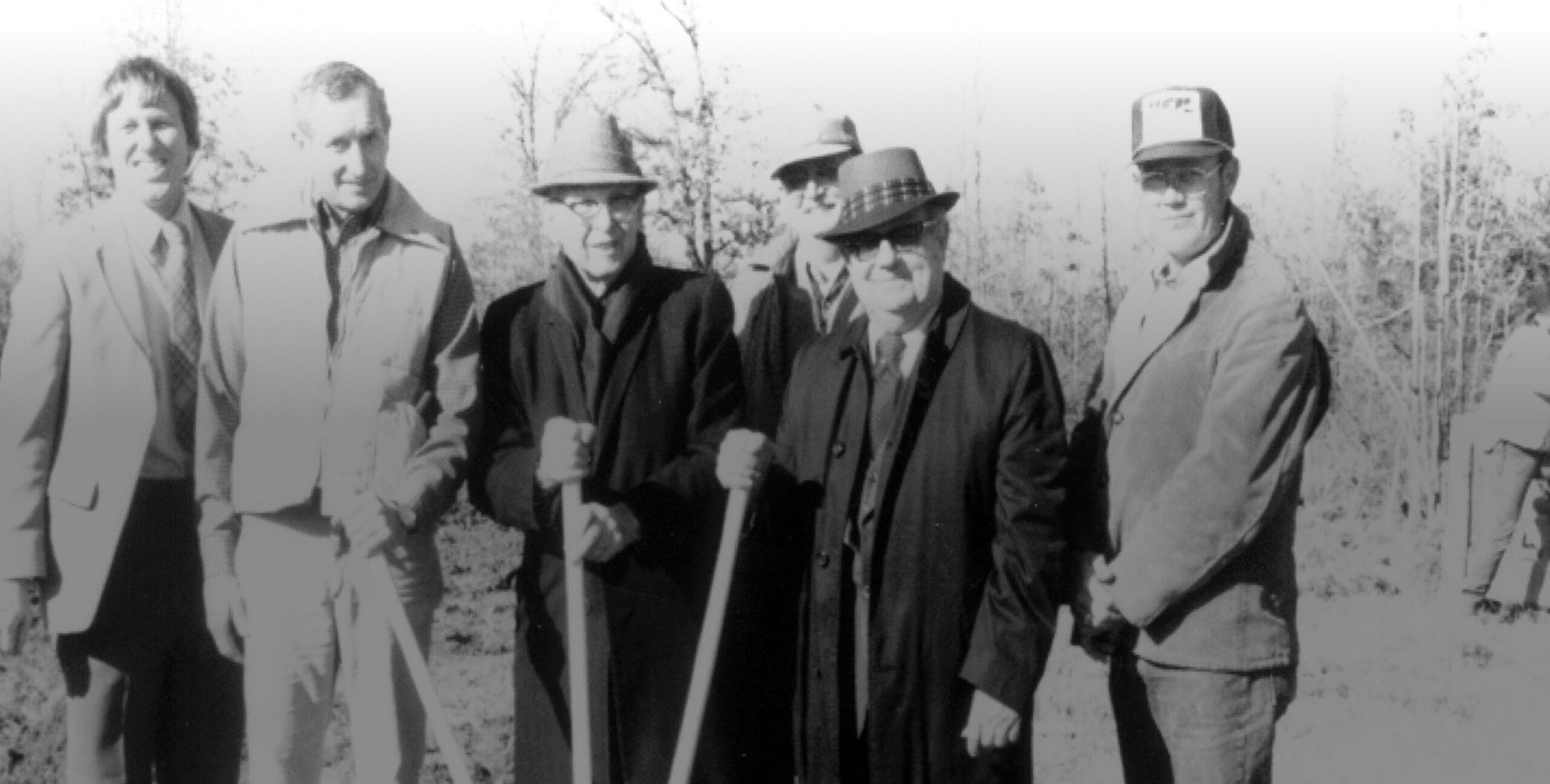 The
Crossland

Story

A Proud History That's Still Being Written.
1940

Our founder, Ivan "Red Iron" Crossland grows up in a family with a lot of love but little money. At 13, Ivan leaves school to help his family by working in the mines.
1950
Ivan is drafted into the Army. After basic training, he's shipped off to Camp Cooke, where he falls in love with a young woman named Virginia Ferrell.
1951

Sent to Japan for further training, Ivan soon finds himself on the front lines of the Korean War.
1953

Ivan and Virginia Ferrell marry in California on Jan. 11, 1953. A unique love story. An unforgettable moment.
1954

Ivan's will and determination shines through as he studies to earn both his GED and then goes on to earn his Associate's Degree from Northeastern Oklahoma A&M College.
1955

As the Crossland family grows (Bennie, Virginia Anne, Patty, Mike, Ivan Jr., and Curtis were all born before 1960), Ivan serves Treece, KS as Fire Chief of the volunteer fire department and also as mayor.
1966

Mary, their seventh child, is born. Constantly trying new ventures to help provide for his family, Ivan purchases a Redi-Mix plant and moves the family to Columbus, KS.
1968

Along with two friends, Ivan starts SEK Construction and sells his concrete plant. In 1968, Christopher was born, followed by Teresa in 1971.
1977

Ivan sells his share of SEK Construction to start Crossland Construction on his own. Patrick, the last of the siblings, is born. Ivan and Virginia, along with their 10 kids begin to build up the company, one job at a time.
1980

With his wife, Virginia, son, Mike, and just a handful of employees, the Crossland company starts to grow. They began erecting metal buildings across the region.
1987

Our first office is built where our headquarters remains today. The company continues to grow, adding more employees and building more projects.
1990

Business continues to grow steadily, but life is about to have a dramatic change for the family. Ivan Sr. gets a disheartening cancer diagnosis so he shifts his focus to training his six sons to take over the business.
1993

The company Crossland Heavy Contractors is formed to serve more customers by taking on new segments of the construction market.
1997

A pivotal project in the company's history, Crossland was awarded Pittsburg State University's new technology center. At the time, this was the largest school project in the state of Kansas, spurring a partnership with the university that continues to this day.
1999

This marks the sixth annual Superintendent and Project Manager retreat. Having annual company picnics, Christmas parties and employee functions are part of what gives us our family feel and the camaraderie we share.
2001

The company set a goal to make it on the industry's Top 400 Contractors in the nation—and we did it, coming in right at #400.
2002

After a long battle with cancer, Ivan "Red Iron"Crossland passes away, leaving behind a tremendous legacy and a solid foundation for his six sons to continue to build upon.
2006

This year marks tremendous growth for the company with a 37% leap in revenue pushing us into the Top 150 Contractors in the U.S.
2008

Booming business presents growth opportunities for the company with new regional offices in Wichita, Kansas and Prosper, Texas.
2011

After the devastating tornadoes in both Joplin, Missouri and Tuscaloosa, Alabama, over 100 Crossland employees worked tirelessly to coordinate search and rescue efforts, offer up equipment, tools, and manpower to assist and rebuild the communities.
2012

Business is good and more opportunities arise to expand the company footprint. We opened offices in two more cities, Denver and Oklahoma City. This brings the total number of offices to eight.
2017

Crossland celebrates a huge company milestone, our 40th anniversary. We continue to jump ahead in the Top 400 Contractors list—now ranking 79th in the nation.
2019

We completed one of the biggest and most impactful projects in our history, the Tulsa Gathering Place. This is also the year we achieved our strategic initiative to be a billion-dollar company by 2020, one whole year ahead of our goal.
2021
With a new goal in place to make it into the Top 50 Contractors in the U.S. by our 50th anniversary [2027], we set our sights on finding new and better ways to serve our customers, partners, and employees in the hopes of building stronger communities and a better America.