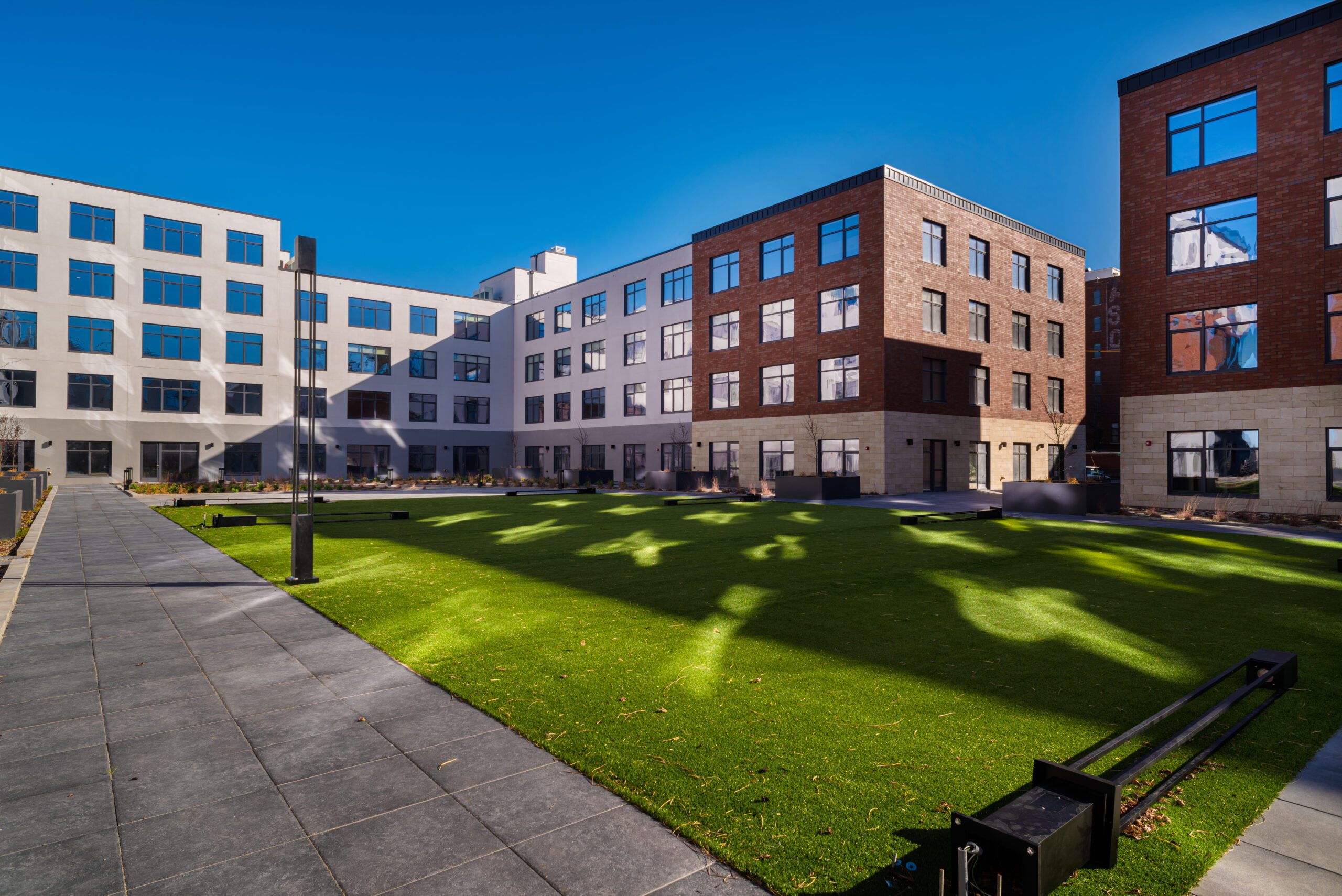 ---
Second + Delaware Apartments
The largest passive house project in the country
---
Kansas City, MO
At 548,000+ SF, "Second + Delaware" was the largest passive house construction project in the country. After the previous builders walked off the job, Crossland took over and demonstrated our ability to take on any challenge and make the impossible possible – with excellent results.
Passive house construction is ecologically advanced. With thick 16″ exterior walls and triple-pane vinyl windows, passive house structures use 80-90% less energy than conventional buildings. Due to the numerous complexities, an experienced team of builders is essential to delivering a successful passive house project. And that's precisely what we brought to the table. When Crossland rescued this multi-family project in downtown Kansas City, MO, it had been dormant for two years, with minimal construction completed. Our team stepped in and used multiple strategies to get the job back on track.
We proactively worked with the design team wherever possible to add value for constructability, finishes, and timeline cost savings. Crews self-performed the earthwork, site concrete, and rough and finish carpentry, and changed the design to precast walls for better quality and durability. Perhaps most significant for the owner, we delivered the project in phases, enabling them to lease units in completed towers and begin collecting revenue.
The features and amenities of the Second + Delaware project are impressive! An outdoor courtyard, "green" roof with landscaping and a gathering area, and terraces on the west tower's upper roof, enhanced by gorgeous sunsets over the Missouri River. Another roof has space for gardening, and residents can chill under private balconies or splash in the outdoor swimming pool. Modern interior features include exposed and polished concrete floors and exposed concrete ceilings. In a nod to green energy, the parking garages have EV car charging stations.
Ultimately, our superhero team of builders stepped in to manage a challenging construction project and delivered Second + Delaware to a very pleased owner.
Project Facts
Industry Sector: Multi-Family
Cost: $55,500,000
Size: 540,728 SF
Number of Units: 276
Delivery Method: Negotiated
Owner: Second & Delaware, LLC
Architect: Jeffrey M. White Architect

READY TO GET STARTED?
READY TO GET STARTED?
READY TO GET STARTED?
READY TO GET STARTED?
READY TO GET STARTED?
Let's Build
Ready to lay the groundwork?
Find a Career
We've got a hard hat with your name on it.