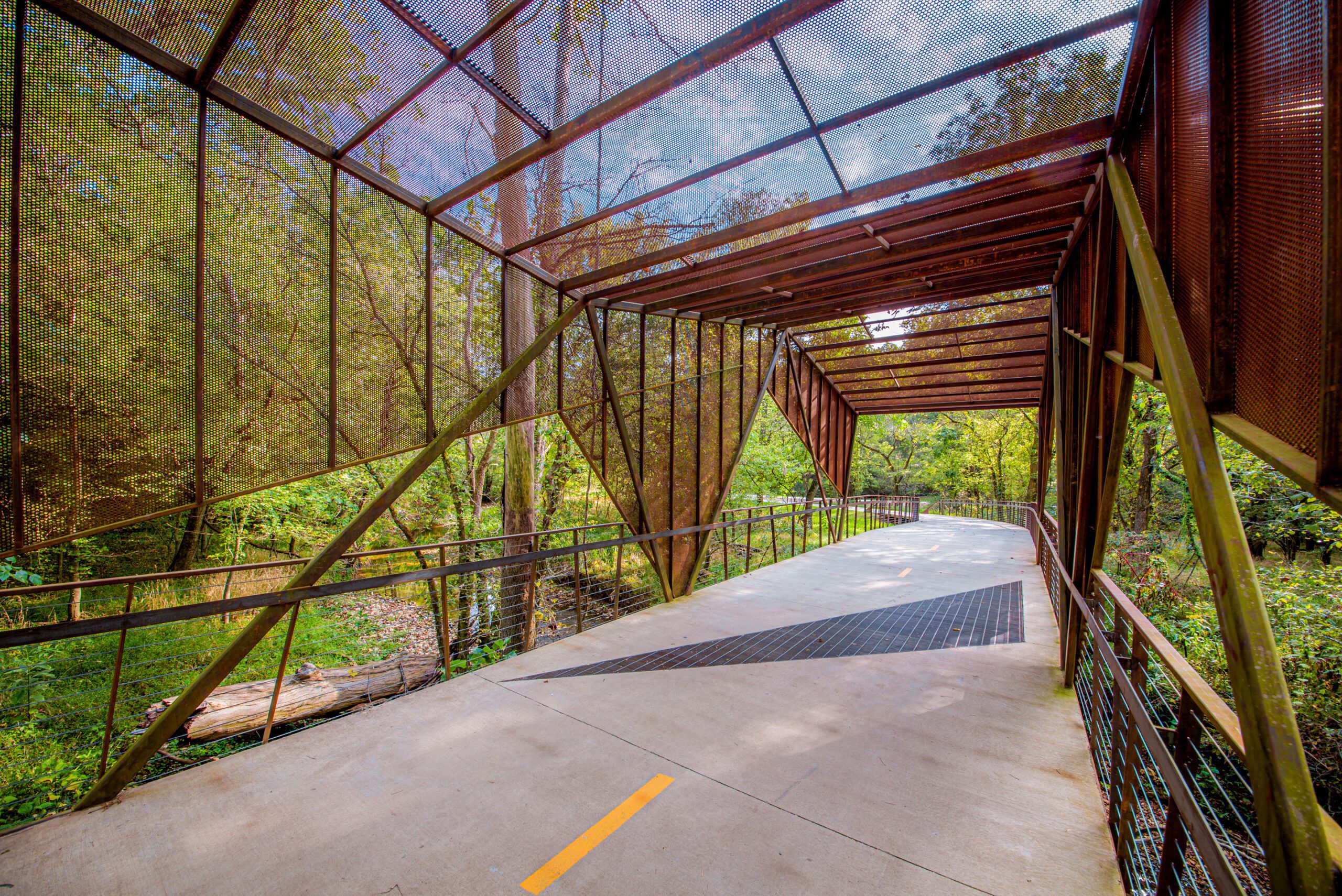 Wheels Up! – Coler Mountain Bike Preserve
In the serene Ozarks of NW Arkansas lies an outdoor recreation destination designed for mountain bikers and hikers to push their limits and connect with nature.

Bentonville, AR – When the City of Bentonville wanted to enhance and refurbish portions of the preserve, they came to Crossland. With similar experience under our belt and the best team on the job – we were all set to deliver this vital community project.
The NW Arkansas bike trails have been part of the Bentonville landscape since 2007. Known then as Freeride Park, the course expanded in 2016 when the Walton Family Foundation donated 300 acres so the International Mountain Bicycling Association could host their World Summit in Bentonville. The land was named Coler Mountain Bike Preserve to honor the Coler family that once lived and farmed the land.
The original scope expanded to include both refurbished and new structures in addition to the trails, bridge repair, and stream restoration. Keeping with the land's history and character, crews restored two existingbarns from the early 1900s. The aged-chic barns hold unique features, including old relics found during construction, displayed on the walls.
---
Trail-goers and cyclists can grab a bite and a rest at the berm-style rooftop beer garden or the concrete café while kids burn off energy on the custom swings. It's a recreation utopia that's sure to draw families country-wide with its innovative earthwork, design, and historical renovations.
Comfort and convenience were top of mind at Coler camp with new restroom and shower facilities, hammock stands, and individual cedar tent platforms. And no campground is complete without a fire pit for chilly nights! In Coler Grove, is a pavilion constructed out of cypress timbers covered with Corten metal roof to give the feel of an older rustic barn. A large plum tree grove and five yoga platforms surround the pavilion. Coler South Gateway has an open-air pavilion constructed from steel and cladded in cypress, and in place of a roof, there is a waterproof Corten ceiling with water-jetted patterns.
This project presented a unique opportunity for Crossland Construction Company (CCC) and Crossland Heavy Contractors (CHC) to work side-by-side throughout all phases of the project, from design to construction. With a thorough pre-construction phase lasting years before construction even began, we brought our industry knowledge and skills into play to ensure that every idea imagined would fit into the budget. CCC self-performed the building concrete, carpentry, and steel and brought in the best subs for other construction aspects.
---
CHC self-performed the earthwork, site concrete, erosion control, bridge foundation work, and site utilities on the job. They poured and rehabilitated 9,500 LF of concrete trail, drilled shaft foundations for six structural steel trail bridges (for a single trail that crosses the stream six times), and added site utilities for five parking/trailhead facilities. Near the middle of the property, a previous owner had dammed up the stream to create a livestock pond. With a permit acquired, we hired a specialized subcontractor to breach the pond dam and return the stream back to its original state while CCC added elevated boardwalks around the area for sightseeing and relaxing. During remediation, we removed trees and saved the stumps to produce pools in the stream that recreated the natural water flow.
Ultimately, it took a solid team effort from everyone involved to make the new and improved Coler Mountain Bike Preserve a reality. Families and outdoor enthusiasts will enjoy it for years to come.
Fast Facts:
Owner: NWA Trailblazers
Architect: Modus Studio
Civil and Landscape Engineer: Ecological Design Group, Inc.
Delivery Method: Negotiated
Want to learn more or have a project? Let's Chat! – Chris Schnurbush, VP South East Region, 479-464-7077