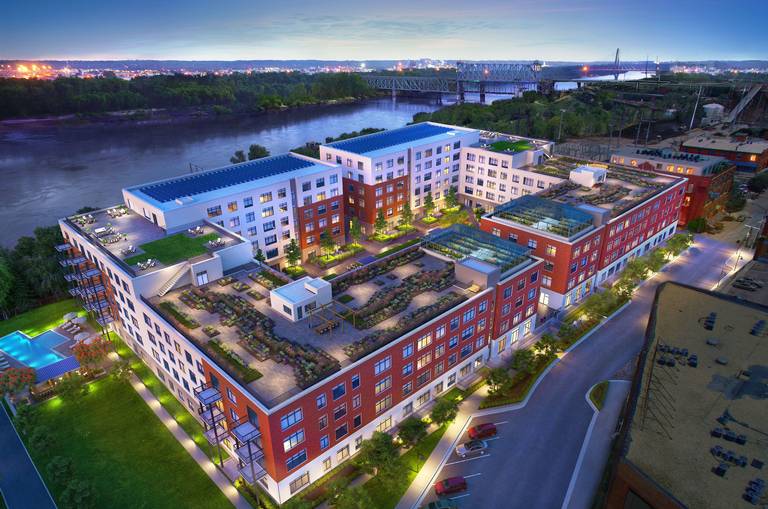 Second + Delaware Project Featured In Concrete Products
The Second + Delaware project and the use of sandwiched concrete panels for the world's largest Passive House was featured in the October 2020 edition of the Concrete Products magazine.
The below article was written and published by Concrete Products.
The 276-unit Second + Delaware apartment complex set to open this month in Kansas City, Mo., is touted as the world's largest Passive House structure. One of the key design elements to help the project garner the designation are custom 16-in. thick sandwich panel-style precast walls. General contractor Crossland Construction of Columbus, Kan. manufactured the precast panels at its in-house fabrication plant (Crossland Prefab). The walls consist of 10 inches of concrete sandwiched around a 6-in. layer of insulation—allowing for optimal thermal comfort and privacy. 
Other Passive House design elements that are unique to both the national and local Kansas City multi-family market include triple-glazed certified windows, a Dedicated Outside Air System that draws fresh air from outside into living spaces, and a ventilation system and Variable Refrigerant Flow heat pumps that assure every unit has superb indoor air quality. These features help the building achieve up to a 90 percent energy savings versus an average building of similar size.
"Now is the time for developers to think bigger than ever before," says Jonathan Arnold, co-developer and principal, Arnold Development Group. "We have the technologies we need to deliver safer, more responsible, and equally beautiful solutions to the built world. I hope that Second + Delaware will be the impetus that moves our industry forward."
Arnold's vision of a healthy, ecologically advanced development dates back, to a time pre-COVID, when issues like indoor air quality were not at the forefront of developers' minds. Passive House best practices were developed over decades of research conducted by the Passive House Institute in Darmstadt, Germany.

"Second + Delaware is a legacy project for me and my team," says Jonathan Cohn, CEO of Yarco, co-developer of the project. "It's our best foot forward in bringing benefits to those we serve and the future generations of our planet."