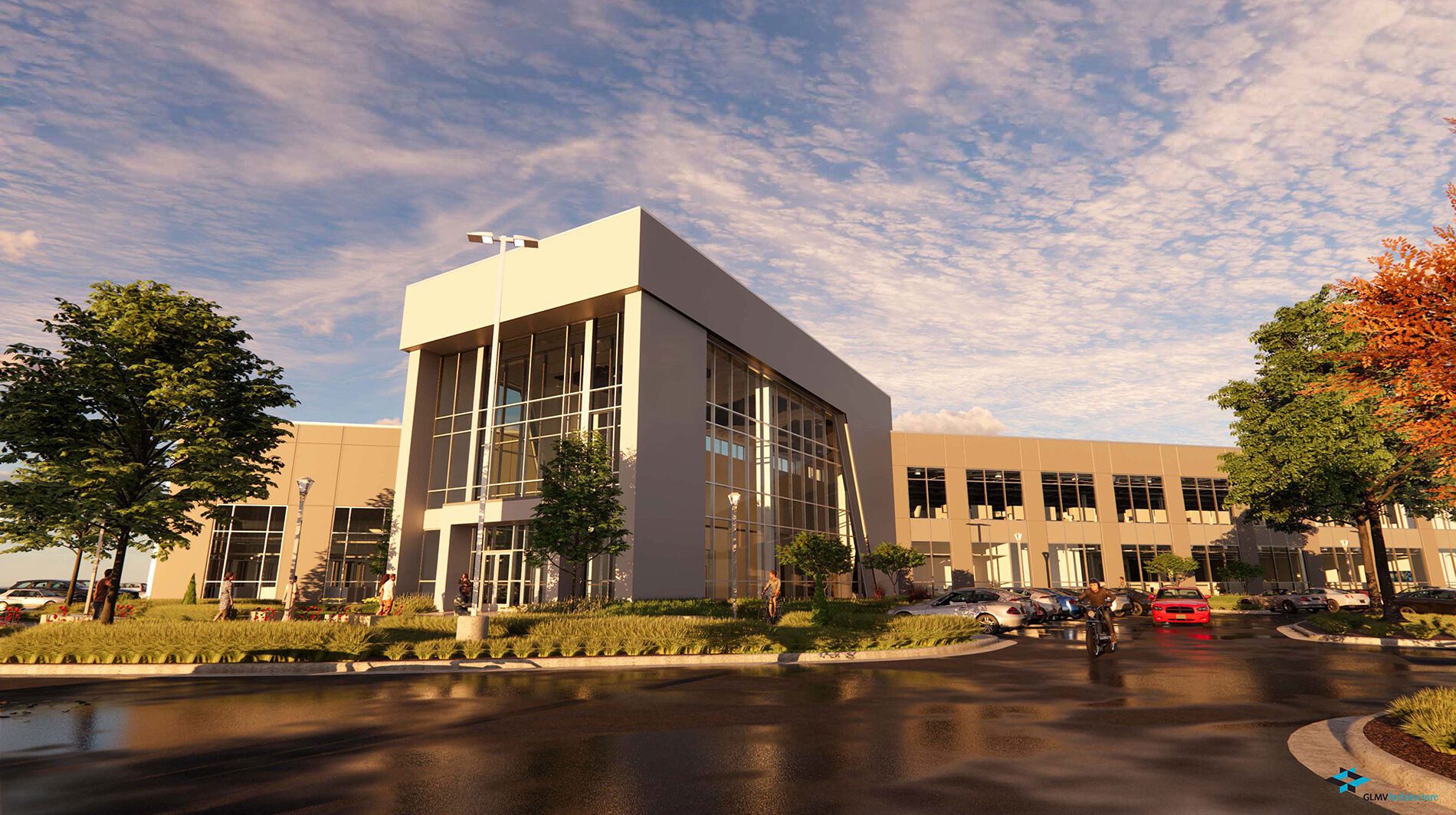 NetApp Breaks Ground For Building on Wichita State University Innovation Campus
The article below was written and published on the WSU website by WSU Strategic Communications.
Renderings by GLMV Architecture
Work has begun on a permanent new home for NetApp's Wichita operations on the Wichita State University Innovation Campus, near 17th Street and Innovation Blvd. It is expected to open in early 2022.
The 168,000-square-foot LEED Silver building is designed as an open office plan, with 600+ workstations. The data center will be outfitted with 420 racks for NetApp's product development purposes. Developing a permanent home on Innovation Campus will allow the company to work even more closely with WSU students, faculty and other researchers.
NetApp, a world leading solutions provider in digital transformation, is already one of the largest employers of Wichita State students and alumni. NetApp is a Fortune 500 global data storage and cloud management company, headquartered in Sunnyvale, California.
The entrance to the building will be through a two-story pedestrian mall that will serve as the entrance for NetApp, along with a kitchen and dining area for the public. NetApp's plan includes a public outdoor recreation space with a multi-layered water ecosystem, seated terraces, and a multi-sport court for pickle ball and basketball.
The company held an online virtual groundbreaking Wednesday (May 27) for its employees. The groundbreaking showed earthmoving on the site by Crossland Construction, a full 3D walkthrough of the planned building and site by GLMV and included brief remarks from Wichita State President Jay Golden and NetApp's Brad Anderson, Executive VP Hybrid Cloud Group, Kim Stevenson, SVP & GM FDSBU, and Robin Huber, site manager of Wichita operations.
While the new building is under construction, NetApp has leased Innovation Campus Partnership 3 Building, on 18th near Oliver, as a temporary home for many of its operations and employees. Most employees are currently working from their homes and will continue to do so while COVID-19 remains a major health concern.
Looking beyond that time, President Golden said: "I fully expect that NetApp's deepening collaboration with Wichita State will change the company, university and the broader community in many positive ways. The collaboration with NetApp is a cornerstone of the university's new National Institute for Digital Transformation.
"It is an ambitious effort." Golden said, "to harness the university's strengths in computer sciences, cybersecurity, artificial intelligence, convergence sciences, fine arts and humanities to advance human knowledge, provide hands-on learning experiences for students and create economic growth for Wichita and Kansas."
Golden told NetApp employees: "I believe that bringing our students and faculty in close contact with NetApp's people and expertise will spark new ideas that will be beneficial to university research, your customers and, ultimately, to companies and device users around the world. Your presence on this campus will be good for Wichita and the region's economic recovery, as we collaborate to provide world-leading technologies from Wichita."
Huber said: "NetApp has been deeply involved with GLMV Architecture in the design of the building and is looking forward to working with students and faculty as part of Wichita State's research emphasis on digital transformation. From the company's standpoint, we expect our presence on the Wichita State Innovation Campus to help us attract and retain excellent employees. This is the next logical step in NetApp's 20+ year partnership with Wichita State."
Crossland Realty provided: Feasibility Study, Predevelopment Services, Financing, Leasing, Design & Construction Management.