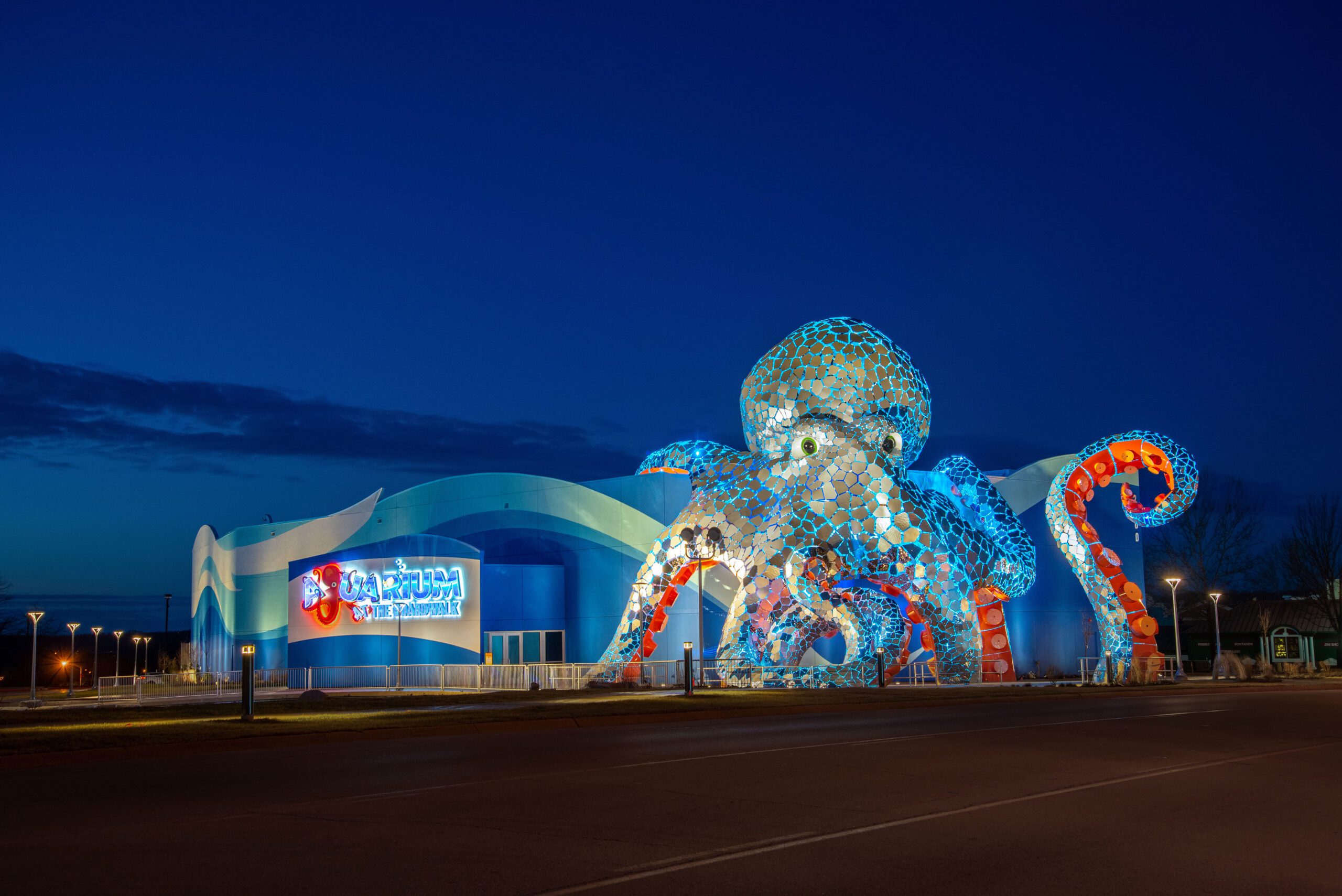 Branson, MO – The Aquarium at the Boardwalk is the latest attraction in Branson for kids and adults alike. Aquarius is the building's highlight feature, with his 10,000 stainless steel panels glistening over the entrance. At night, his interior lights up and makes an already traffic-stopping site even more spectacular! The impressive Aquarium is home to 250 marine animal species from both the U.S. and Australia's far-away waters.
The 13-acre site was originally home to the historic Grand Palace Theater, which sat vacant since 2008. This location along the famous Highway 76 "strip" provided the perfect site for rejuvenating Branson's entertainment corridor.
The development of the Aquarium and the expanding entertainment complex is one of the most ambitious attraction projects in Branson's history. Several years of research and planning went into the project.
---
This project was also a lofty undertaking for Crossland. From day one, our team worked closely with the developer and design firm to understand the vision and provide constructability input and advice. Our team adapted to design changes throughout the project. In the end, it took a lot of grit and teamwork to deliver a successful project.
The 36,578 SF building required intricate and complex architectural concrete work. Crossland crews self-performed the building's foundation, structural steel, and multiple concrete tanks. The tanks, home to sharks, seahorses, stingrays, lionfish, octopi, eels, and more, hold 400,000 gallons of saltwater and required thousands of feet of specialized underground and above-grade piping. Crews batched corrosive-resistant "waterproof" concrete designed to "self-heal" in the event of microcracking. The tanks have acute angles and rolling features, so we constructed them with a plywood formboard. The end result is stunning, and guests get an underwater experience they will never forget.
---
The remaining exhibits are more interactive, including a 24-foot-high kelp forest climbing structure for kids, pop-up bubbles within the tanks, and a mermaid tail photo op, to name a few. There is impressive architectural rockwork and coral throughout.
Aquarium at the Boardwalk supports the Coral Restoration Foundation's commitment to restoring global coral reefs to a healthy state. The building layout is designed to tell a story about how essential oceans and marine life are to our planet. We installed eight customized resinous floors to identify each of these various zones.
---
Crossland maintained a large onsite crew throughout construction. The project's volume and nature were unique, so Crossland leadership placed ten senior mentors onsite with apprentices training alongside them. The complexities of the project made for an excellent training opportunity. Not only was it helpful to have more supervisors on the challenging project – but the overarching amount of knowledge was also a huge benefit.
This beautiful and architecturally pleasing attraction is an excellent addition to Branson. As Community Builders, we are proud to have been a part of this source of enjoyment and a place to make memories for years to come.
Fast Facts
Owner: Kuvera Partners
Architect: PGAV Destinations
Delivery Method: Design-Bid-Build
Square Footage: 36,578