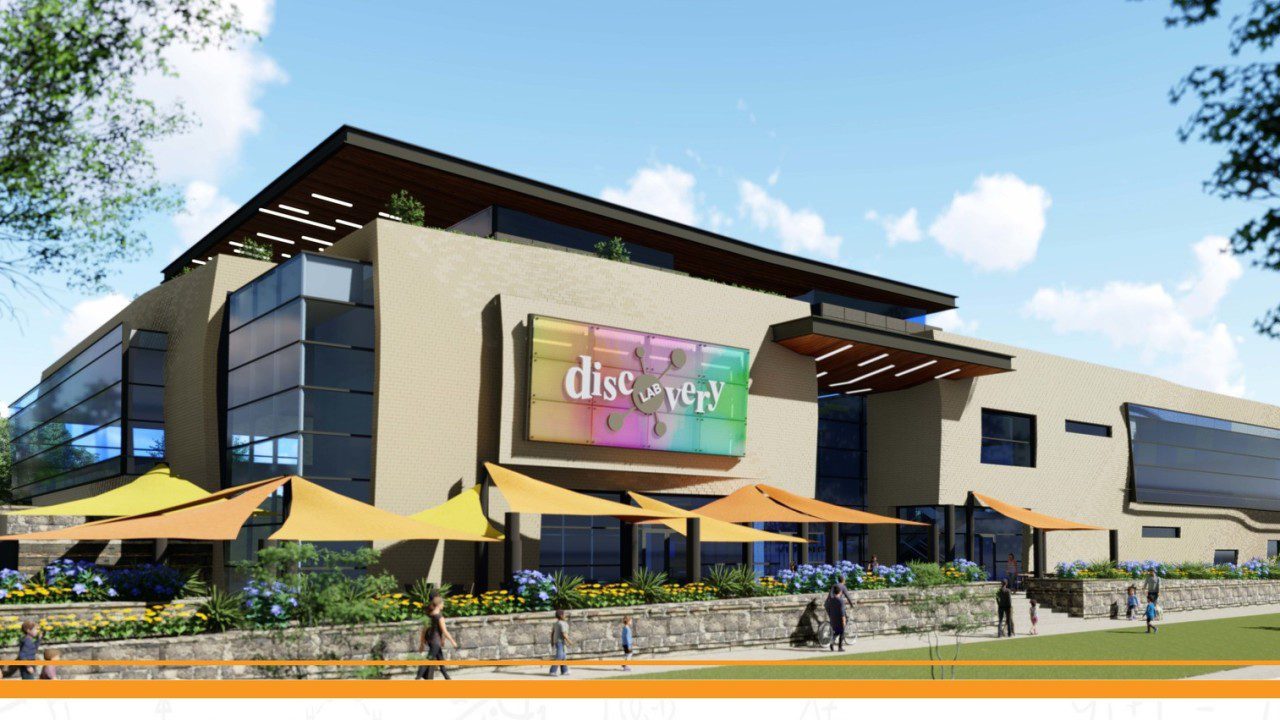 This article was written and published by Oklahoma Magazine.
An expansion of Tulsa's Discovery Lab means even more interactive, educational experiences for kids…and kids at heart.
Tulsa's Discovery Lab is known for its unusual utilization of packing tape: Over 16 miles of it were used to build the infamous Tape Tunnel. The museum is about to need a lot more of it, too, when it makes a big move to its new home later this year. Established in 2007, Tulsa Children's Museum began as a pop-up experience in local spaces and at events around town. The nonprofit made its presence more permanent when it opened Discovery Lab in the renovated Owen Park Recreation Center in May 2013.
Now the museum is graduating from its proverbial starter home and moving into its custom-built, 57,000 square-foot space in the Gathering Place, Tulsa's riverfront destination that was recently named best city park in the country by USA Today readers. When the museum opens later this year, 31st and Riverside will surely be an entertainment hot spot.
"We're bringing the Discovery Lab you know and love at Owen Park with us to the Gathering Place," says Ray Vandiver, Ph.D, the Discovery Lab's executive director. "We want this to be a family-forward, education-based, diverse, ever-changing learning landscape."
Learning experiences outside the classroom are essential for curious, growing minds. Knowing this, Discovery Lab aims to make an educational difference in the city. Higher participation at the museum, thanks to increased visibility and capacity at the new facility, will continue to make this mission possible.
"We're looking for this environment to hold dynamic learning experiences," says Vandiver.
This mindset translates to the building itself, which was designed by Tulsa-based KKT Architects, Inc., to inspire curiosity and wonder through intentional forms. KKT president and CEO Sarah Gould says one of these extraordinary uses of ordinary materials is visible before guests even enter the door: The building's exterior brickwork was laid in a unique, 3-D pattern. As guests approach the wall, it appears to move like a wave.
"It really gives it a lot of life and makes it unique to the museum," she says.
Trevor Taylor, the project manager from Crossland Construction who worked on the site, says that visually, the new property is an extension of the Gathering Place, and as such, it needed to mimic the park's modern, world-class style of structure and intentional landscaping. His team consistently checked in to ensure they were meeting those expectations – all while working through supply shortages caused by the pandemic.
In many ways, Discovery Lab's new home is a remarkable building constructed during unprecedented times for an extraordinary purpose.
"A lot of people are familiar with the current Discovery Lab location," says Taylor. "When they come to this new location, they're going to be wowed by how different and unique it is."
At Discovery Lab's new site, visitors will want to stop, play and learn at every turn. When children see the exhibit hall, they'll be wowed by the STEAM (science, technology, engineering, art and math) playground that awaits. Every inch of the room, both vertically and horizontally, is packed with exhibits to explore and new things to discover.
The reimagined exhibit hall includes a space reserved for temporary exhibits. First up is an earth science experience developed in collaboration with local geology experts. After its debut and residency in Tulsa, this exhibit, just like the featured exhibits that follow it, will travel around North America.
The Imaginarium invites participants to enter a fully immersive video space. Using seamless environmental projection, the room senses who's in it and how they're moving, then responds accordingly.
A favorite at Discovery Lab, the tape tunnels will get a massive expansion in their new home: Ten tape tunnels, playspaces made entirely of packing tape layers, will be front and center.
That's only scratching the surface of what the exhibit hall contains. Other draws include activities about math and music, water-based engineering at the HydroLab, and systems-thinking in the Ballapalooza will be available when the museum opens to the public in late December.
Just off the main exhibit floor sits three rooms with more to explore: the Science Lab, a staffed space featuring messier, guided activities; the WorkShop, a DIY space with open-ended, materials-based opportunities that invite tinkering; and the Little Lab, which offers experiences for Discovery Lab's youngest attendees.
It's clear the Discovery Lab team didn't want to build a static experience. Behind the excitement lies a facility built for functionality, adaptation and the future.
Knowing that this new site will be the museum's home for years to come, Jennifer Dewberry, a mechanical design engineer from Professional Engineering Consultants, needed to create a solution to future-proof the structure for exhibits to come. To meet this need, she designed for water access along the exhibit hall's walls and channels filled with electrical access that extend the room's length.
"I am so proud to be a part of this project," says Dewberry. "Of course, being an engineer, I'm very proud that they are really investing in STEM education."
The museum has committed to hosting a yearly visit for Tulsa Public School students in Pre-K to sixth grade as part of a long term partnership with the district. Vandiver says through the program, Discovery Lab will reach nearly 25,000 students annually.
The new Education Center features five dynamic, state-of-the-art classrooms, which will serve as the STEM Center for the entire TPS district. This 6,000 square-foot space is divided by five operable, interactive partitions, so that the room can transform to fit the lesson being taught. The Education Center is available to all regional school districts.
In addition, the new property includes a 250-seat outdoor amphitheater, a café created in collaboration with California-based BeanSprouts (we hear there will be healthy, monster-shaped sandwiches) and a science store. To top it all off, the third floor offers an event venue overlooking the Gathering Place and downtown.
As Vandiver says: "You'll always find something new and entertaining at Discovery Lab."