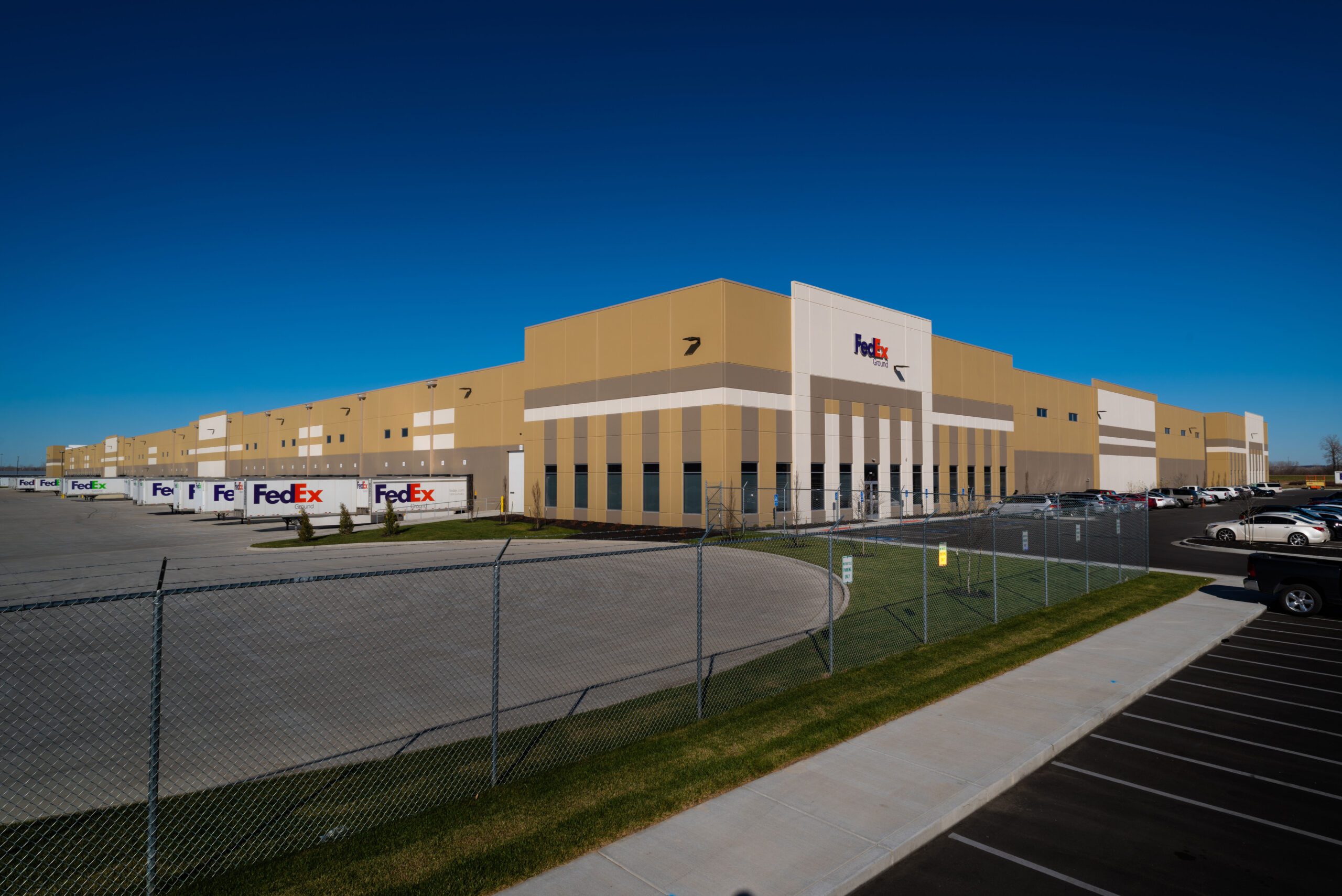 Northland Park Building VI isn't just any old building; it's nearly 550,000 SF of move-in-ready industrial warehouse space in Kansas City, MO. 
At the time of the bid, the warehouse, slated to be a shell, was already on a tight timeline. When Fed-Ex Ground signed a lease during construction, the schedule didn't change,  even when many 'scopes of work' were added to meet their needs. Electrical, site paving, signage, exterior fencing, parking/road revisions, dock equipment, office build-outs, security systems, and interior conveyors were now on the docket. 
We made a promise to deliver the distribution center in time for Fed-Ex, the tenant, to prepare for their increased holiday traffic. And we did just that. 
---
"We quickly adapted the plan when the tenant came onboard – AND we were able to meet their critical holiday timeline," said Zach Lehman, Crossland Senior Project Manager. Detailed, upfront planning was the name of the game and a must to deliver on our promise. 
Our team used a one-month weather delay to pre-plan every aspect of the project. They created phasing diagrams and coordinated with each trade to plan who was working where and when. They then implemented those details until weekends became just more time to get the job done, and "daylight until dark" was the norm. Eventually, determination even turned into a competition between trades, as no one wanted to be the cause of a bottleneck. 
---
So how'd we do it?
"Planning, determination, and relationships. We proved we have the best team and the best subs, to implement unreal timelines, and deliver on our promises." – Todd Ketterman, Crossland KC Division Manager

---
"It was a lot of fun. Some days were really tough, but they were also rewarding," stated Josh Lorenz, Crossland Superintendent.  
Crossland's up-and-coming internal talent also played a role in completing the project so quickly. Northland Park was an excellent opportunity to bring in young field engineers to help manage the increased workload. With their help, we proved that our experienced team brings the speed when clients have the need. Zach Lehman, who's been with Crossland for 13 years, had this to say: "This was one of the most aggressive schedules I've been apart of. But like always, Crossland goes above and beyond to prove we are the best. We'll do whatever it takes, and we have the team to make it happen."  
---
The Northland Park complex was the first project Crossland has done with the developer. However, after we delivered this project on a timeline others may have said was impossible, we've got more opportunities to build even larger buildings for them.
Fast Facts:
Owner: NP Northland Park VI, LLC
Developer: NorthPoint Development
Architect: studioNorth Architecture
Delivery Method: Design-Bid-Build
Square Footage: 548,560