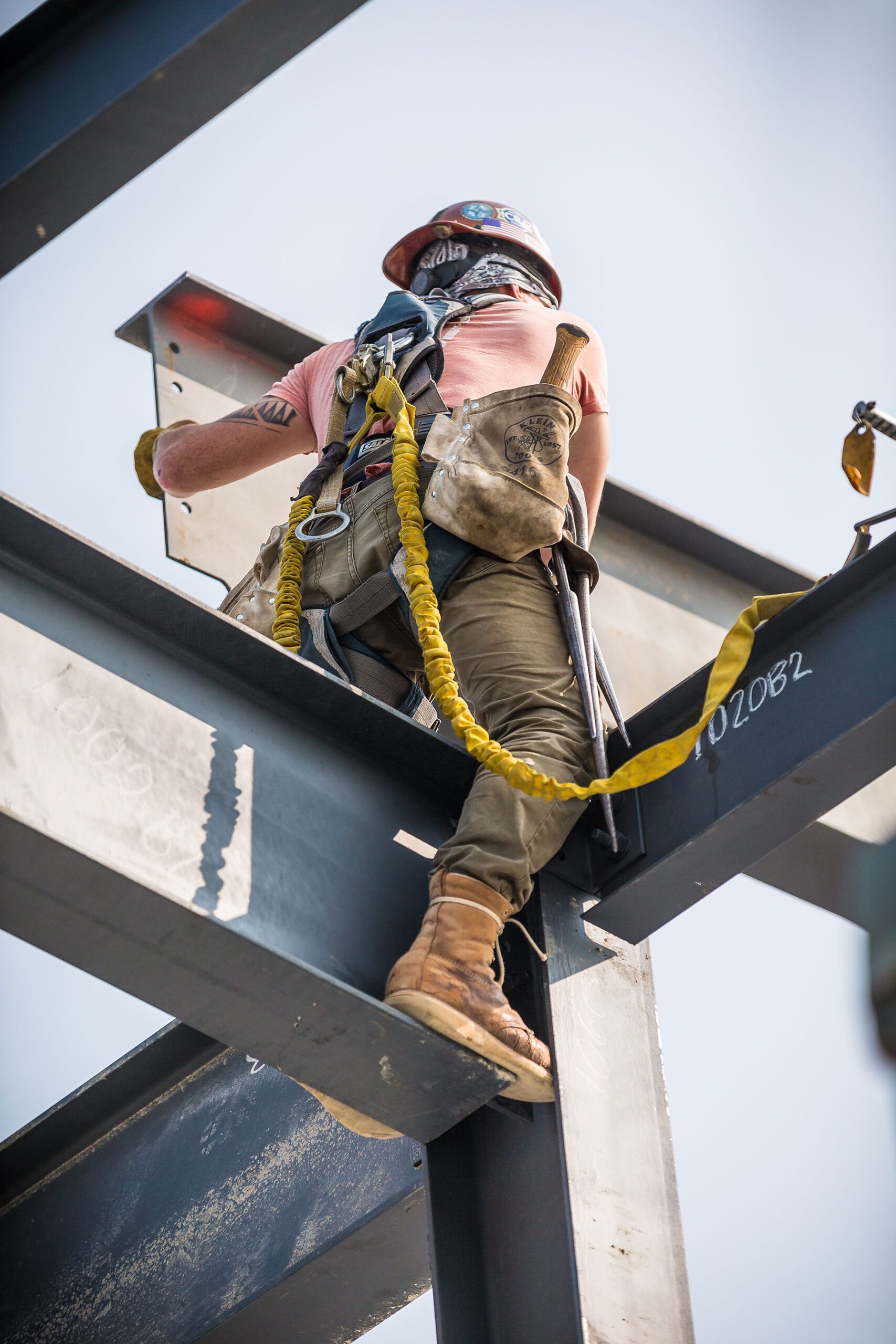 In the late 1880s, the first steel-framed skyscrapers emerged, virtually replacing wood and stone buildings. The industry needed a new kind of craftsman – the kind that has nerves of steel. Ironworkers, also referred to as "cowboys in the sky," live their life on the beam and fearlessly dare to climb high.
Today, the tools may be more modern but working on a steel crew is a demandingly physical job. Ironworkers must be organized, focused, and safety-minded at all times and, of course, not afraid of heights.
It's for these reasons that Crossland assembles steel crews who are the best at what they do. Crews like the one led by John Dye. John has been a Steel Superintendent at Crossland for six years but has been working in the trade for 40. When you work on your skill for that long, you learn a few things.
"Organization is key to success on every one of my projects, from placing my steel to how we get it to the crane, to the bolts, to putting the tools up every night."
John brings that same dedication to the safety of his crew with no room for exceptions. "Keep people tied off one hundred percent of the time. That's my number one goal. We want people to go home the same way they came to work."
Although being an ironworker requires lifelong training and education, the best way to learn the trade is by doing it under an experienced person's supervision.
"John is a great leader. He mentors his guys and pushes them to be top-notch. He goes above and beyond every day, is very well respected, and exemplifies all of Crossland's core values," stated Jake Doss, Crossland's Steel Division Manager.
When speaking with John, it didn't take long for us to see the pride he has in his crew and their accomplishments. He credits their success to working as a team. "I think my crew is solid, and I think the numbers we produce every day are some of the best in the business." John personally recruited one of his guys, his stepson Rick Hamersley to his team. Rick was a landscaper before this and spoke about why he decided to become an ironworker. "I said to myself, why not? Something cool, something different that I never thought I'd do, you know. And here I am seven years later, still going strong."
Hanging steel can be a tough job. The tools are heavy, some up to 70 pounds, and the steel is heavier, 5 to 20 tons a beam. Although the cranes do most of the heavy lifting, it still requires a lot of strength and endurance to jostle, push, and bolt it all into place. There's also the time away from home, long hours, and working in the elements – the frigid cold, searing heat, and high winds. But the job also provides many rewards. John and Rick both spoke of the pride they feel when they see a project they've completed. "You get to literally build something from the ground up, then you drive by it years later, and you're like, 'Wow, I built that.' It's a really cool feeling."
Crossland currently ranks #2 Top Steel Erector in the nation (Metal Construction News 2020 rankings). We take great pride in being a company of Real Builders. It's crews like John's that help us get to the top, so we want to give them a special thanks for all of their hard work and grit it takes to get there. And, as John would probably agree, the view sure looks nice from the top!