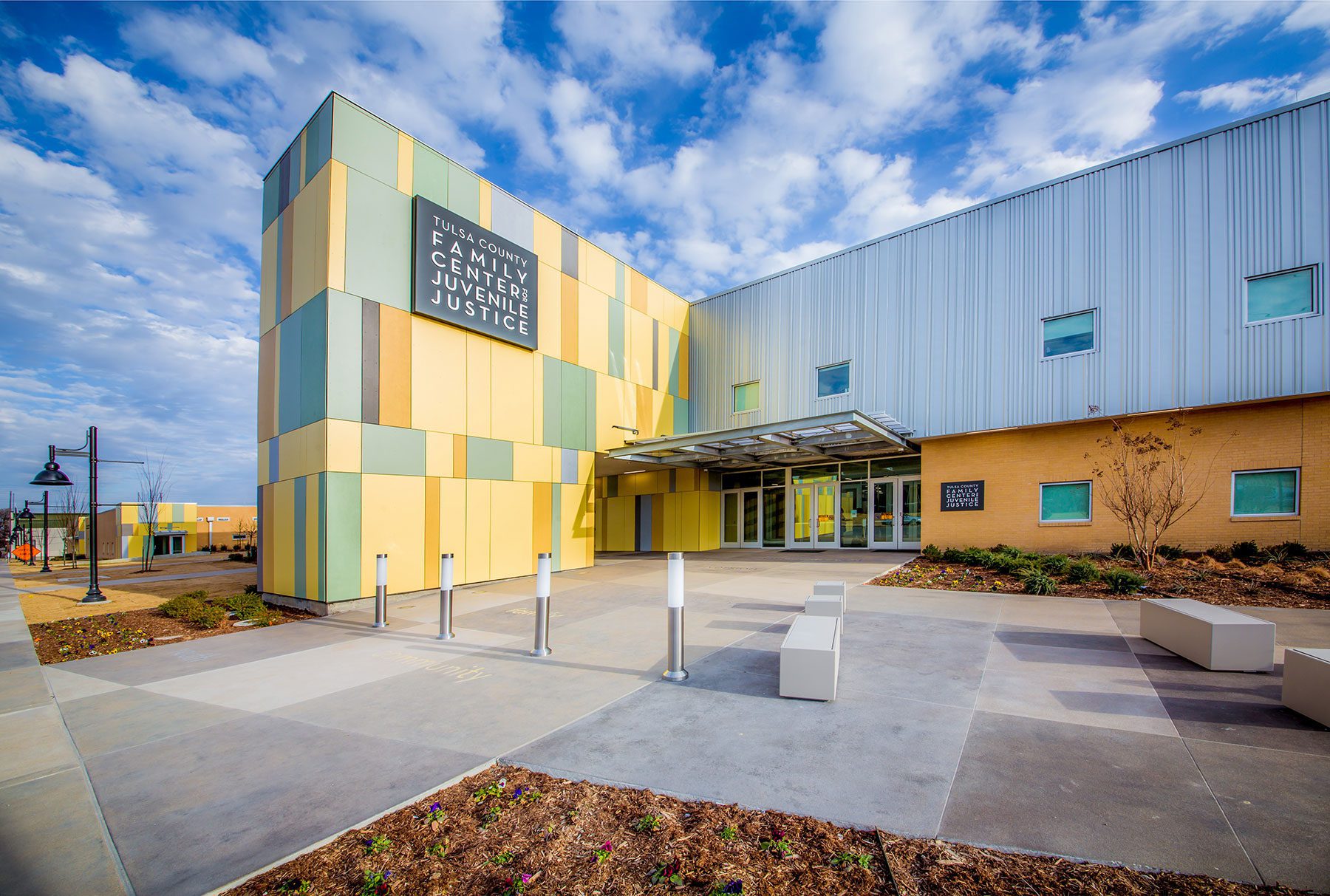 Tulsa County Family Center for Juvenile Justice
Tulsa, OK – Crossland was proud to build the Tulsa County Family Center for Juvenile Justice, which replaced the dilapidated Tulsa County Juvenile Bureau. The new 7-acre, 151,000 SF facility houses the Tulsa County Juvenile Court, Tulsa County Juvenile Bureau, Probation and Parole and Community Intervention, and all support agencies on one campus.
A two-story building on the west side of the campus houses the Juvenile Court, Juvenile Bureau, and supporting agencies, plus courtrooms, judges' chambers, training rooms, and glass-front offices.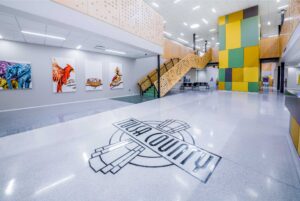 The Family Center, designed around compassion and hope, has a vibrant foyer, open atrium, and children's play area. Soothing colors and spacious rooms help kids feel safe and comfortable. Paintings by local artists and furniture crafted by Oklahoma Correctional Industries inmates give it a fun and creative feel.
The detention facility is on the east side of the complex. Twenty-one beds, dayrooms, a guard station, showers, a multipurpose room, and laundry area are in each of three pods. A full-size gymnasium gives teens in detention a place to stay active. This building also houses a library, classrooms, a learning lab, probation offices, and a full-service cafeteria and kitchen. The east and west buildings connect via a secure corridor and spacious outdoor recreation area.
A FAMILY CENTER DESIGNED AROUND COMPASSION AND HOPE

Tulsa families and youths in crisis now have a more safe and welcoming facility to serve 6000+ youth and their families annually.
For our part, Crossland received a remarkable letter from the Director of the Tulsa County Family Center for Juvenile Justice. He expressed his appreciation for a Crossland team member who exceeded his traditional role by working over the weekend to help clean and prepare the facility to open on time. Going above and beyond is at our core. We make sure our clients are happy and satisfied. In an industry where so much of the focus is on the product, it's rewarding to find opportunities to go the extra mile – particularly those projects with significant community impact.
Project Team: Greg Smith, Division Manager; Grant Goodwin, Project Manager; Brian Denney, Superintendent; Aaron Drain, Assistant Superintendent; and Dalton Thorpe, Field Engineer

FAST FACTS:
Owner: Tulsa County, OK
Architect: Selser Schaefer
Delivery Method: General Contractor
Self-Performed: Site and Building Concrete, Structural Steel, Earthwork, Rough & Finish Carpentry, Storm
Square Footage: 151,000