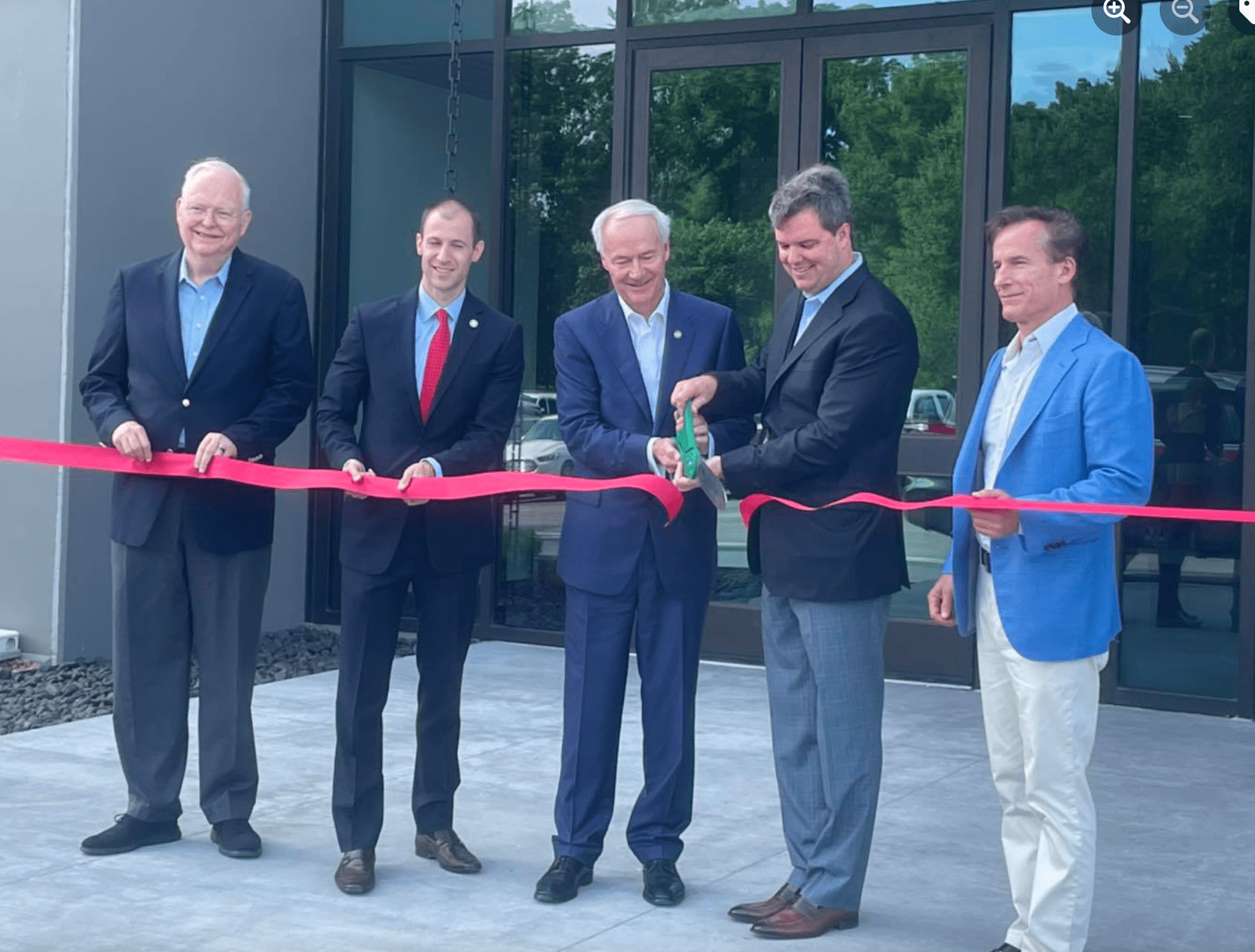 Transplace Unveils New Rogers Center With Growth In Mind
This article was written and published by Arkansas Business. 
Transportation management and logistics company Transplace of Dallas marked the grand opening Thursday of its new 150,000-SF operations center in Rogers.
Gov. Asa Hutchinson joined CEO Frank McGuigan and local officials to open the center, which replaces its previous facility in Lowell and has about 800 employees. The center, at 4909 W. Magnolia St., opened to employees on June 21.
Speaking at the grand opening, McGuigan said the building is "amazing," one where the company can "vision and collaborate together." The center boasts new investments in artificial intelligence, machine learning and predictive analytics, the company said.
"It's not about yesterday," McGuigan said. "It's about tomorrow."
Transplace said in 2019 that the new center will allow it to support future growth and better serve customers. It said it plans to add hundreds of new employees in the next several years and the 15-acre Rogers facility, with capacity for up to 1,100 workers, would accommodate that goal.
Arkansas provided an array of incentives for the project, including cash rebates and sales tax refunds.
"Transplace represents a significant part of Arkansas future," Hutchinson said. "Technology jobs have been one of my priorities as governor. We have to have technology as part of our future."
The company said its location in northwest Arkansas' logistics hub would allow it to better serve the area's retailers, suppliers and shippers. Northwest Arkansas is home to Walmart Inc. of Bentonville and Tyson Foods Inc. of Springdale; their vendors; and other logistics companies, including J.B. Hunt Transport Services Inc. of Lowell.
"Northwest Arkansas is a focal point for innovation, commerce and new business opportunities," Hutchinson said. "Transplace is an industry leader and longtime business partner in this community. We anticipate even more progress as they expand to include hundreds of future new hires."
Transplace says it is the largest managed transportation service provider in North America, generating gross revenue of $3 billion from more than 1,000 customers. It manages more than $10 billion in freight and has centers in Lowell and Stuttgart, in addition to others across the country. 
Transplace was formerly owned in part by J.B. Hunt, which sold its stake in 2009.
[button link="#https://www.arkansasbusiness.com/article/136534/transplace-unveils-new-rogers-center-with-growth-in-mind?utm_source=enews_071521&utm_medium=email&utm_content=daily-report&utm_campaign=newsletter&enews_zone=3818″ color="red"] Arkansas Business Article[/button]