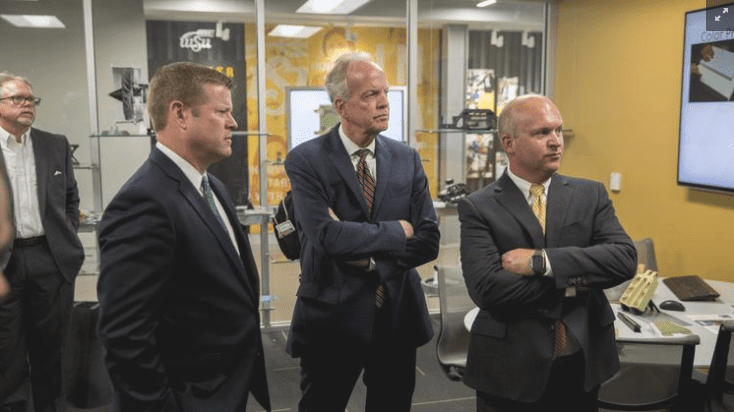 NIAR-led defense designation opens up region to millions in funding
We're excited for our tenant, NIAR, to see Wichita's portfolio of DoD programs grow, and for what this means for the future of manufacturing in Wichita.
The following article was written and published by Wichita Business Journal.
A new federal designation for southern Kansas will open the region up to $5 million in defense funding to boost advanced manufacturing.
As part of an initiative led by the National Institute for Aviation Research at Wichita State University, the area has been designated as a Defense Manufacturing Community (DMC) by the U.S. Department of Defense.
"The designation and subsequent funding will support and grow Wichita's portfolio of DoD programs," John Tomblin, Wichita State's senior vice president for Industry and Defense Programs and NIAR executive director, says in a press release. "It will provide additional resources for cutting-edge programs aimed at strengthening the military and ensuring the safety of the warfighter; and solidify Wichita's growing reputation as a primary resource hub for the DoD."
The South Kansas DMC will join 10 other communities around the country with the defense designation.
Locally, there will be a focus on weapons that require high-temperature materials like hypersonic missiles.
Those have been a growing platform for Wichita-based Spirit AeroSystems Inc., particularly after its acquisition last year of Fiber Materials Inc., a Maine-based company that specializes in those materials.
The regional initiative will be guided by a technical advisory board that will include members of the Kansas Aviation Research and Technology Growth Initiative.
It also intends to work closely with local manufacturers, defense technology transfer entities, workforce development entities, economic development officials and U.S. manufacturing institutes America Make and Advanced Robotics for Manufacturing.
NIAR, with help from the defense connections of U.S. Sen. Jerry Moran, R-Kan., has played a significant role in drawing increased military spending to Wichita in recent years.
Contracts won by the institute helped propel WSU to a record total of research and development funding of $136 million in fiscal year 2019, marked by a $40 million increase in defense awards.