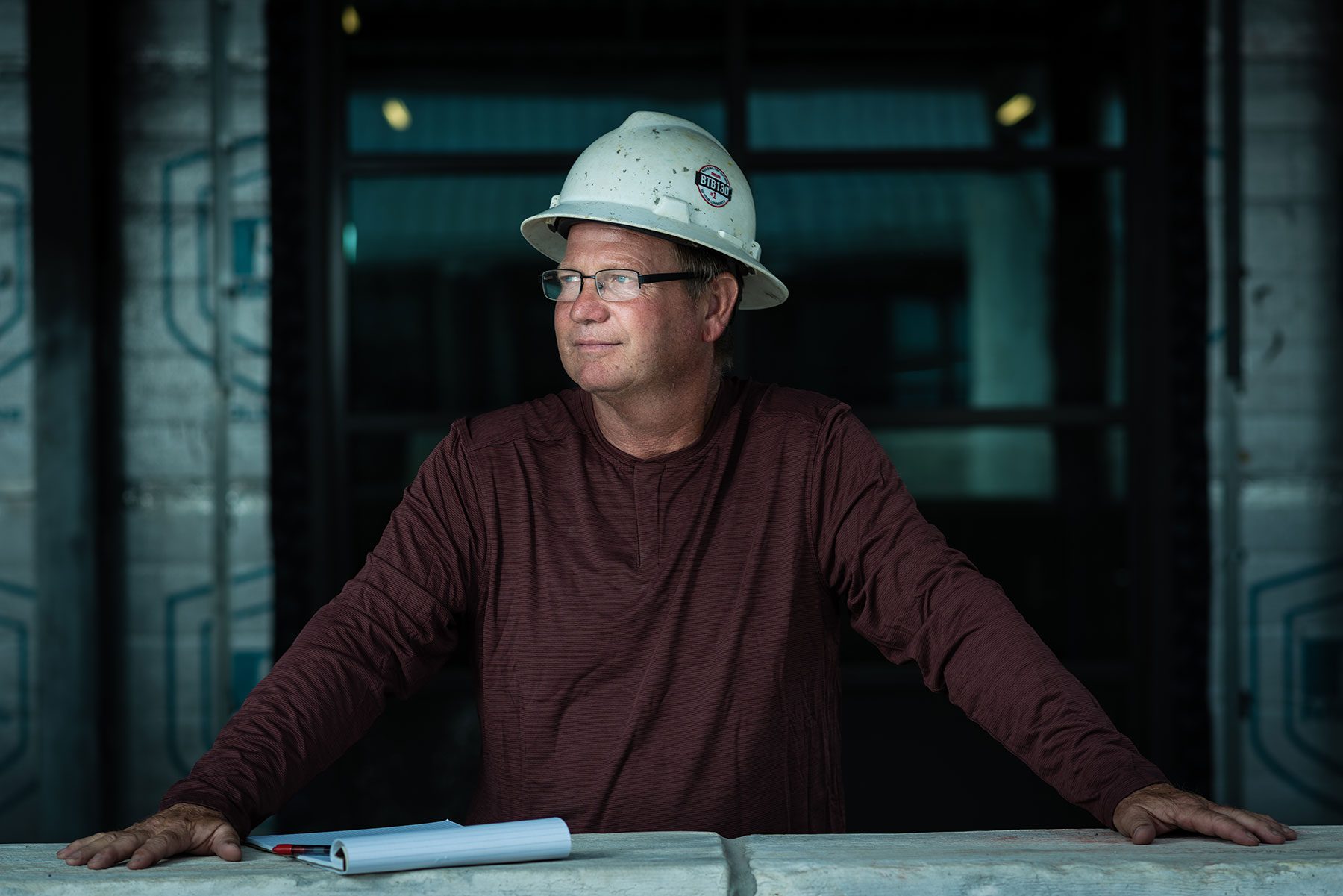 Employee Spotlight with Frank Burton
Frank Burton has been part of the Crossland family for 32 years. On the record books, he began as a laborer before moving up to foreman, field superintendent, then general superintendent where he is today. But if you ask Frank how he describes his role at Crossland, he'll tell you he sees himself as more of a mentor to the younger crews in the trade, teaching them how to do things the right way. "I really enjoy watching the younger generation excel in their careers and helping them with that." 
Frank's story at Crossland begins with a chance meeting on a jobsite in 1988. While working for a subcontractor, he met Ivan Sr. Ivan treated Frank to lunch at the Columbus Dairy Queen, where they talked over hamburgers before he offered Frank a job. Fortunately for us, he accepted and continued to make a good impression on the Crossland family.

"When Frank started at Crossland, I was a project superintendent. I had a couple of carpenters hanging eight-foot doors, and they were hanging them way too slow, about ten doors a day. Frank came on the job, not knowing anything about hanging doors, so we taught him. On his first day, he hung 20 doors, his second day, 30 doors, and it just got better from there. I knew Frank was a winner right from the start; he always outperformed on anything he took on!" says Ivan Crossland Jr., CEO.
The Crossland family was the driving force behind Frank coming to work here, and it's also the reason he's remained so dedicated over the years. "Since day one, my family and I have been treated very well and with respect. The Crossland's are a great family, they feel like friends, not just my employer." Frank also attributes his longevity to the opportunities and experience he's received at Crossland along the way.

When thinking of his most meaningful projects, two stand out for Frank. The first, the Viega plant project in McPherson, KS. Coming in at a whopping 560,000 SF, it was a large construction site, and Frank led the project with all interns! But true to his calling, he was able to mentor and teach them the trade, and Frank now takes great pride in knowing that several of them have advanced in the company. The second, a new elementary school in Oklahoma City. It had architectural elements that Frank found challenging, but also gratifying. He gained additional experience on the job that broadened his construction skills.
"When I think of a Crossland Construction superintendent, Frank Burton pops in my head. He embodies everything we do. From his expertise and knowledge of construction, to work ethic, he knows what he's doing," said Matt McConnell, Senior Project Manager.

When asked about career challenges, Frank talked about the process of learning to be a leader and a superintendent. But he sees even those challenges as a benefit. "Becoming a leader is a huge reward because I'm able to pass my knowledge down to the younger generations." He's also quick to point to other leaders, co-workers, and the Crossland brothers as essential contributors to his success. 
"It's not one man, it's a team effort. Having good crews and people you can trust makes my job easier. A good leader has to have a lot of good people surrounding them." 
Besides mentoring, Frank loves a lot of other things about his job. "I really enjoy traveling, getting to see new places, meeting new people, and learning new things from each project. There is so much to learn in this industry." He also appreciates getting to do something different each day, especially outside doing hands-on work. Interestingly, Frank also does a bit of hands-on work with the cattle on his farm, which is where you'll find him most days that he's not at Crossland. And of course, his family is his pride and joy. Frank has three grown kids, plus two grandkids and one on the way this month! They definitely keep him busy when he's not fishing or hunting in the great outdoors.  
Thank you, Frank, for demonstrating all the key qualities of a Crossland superintendent!