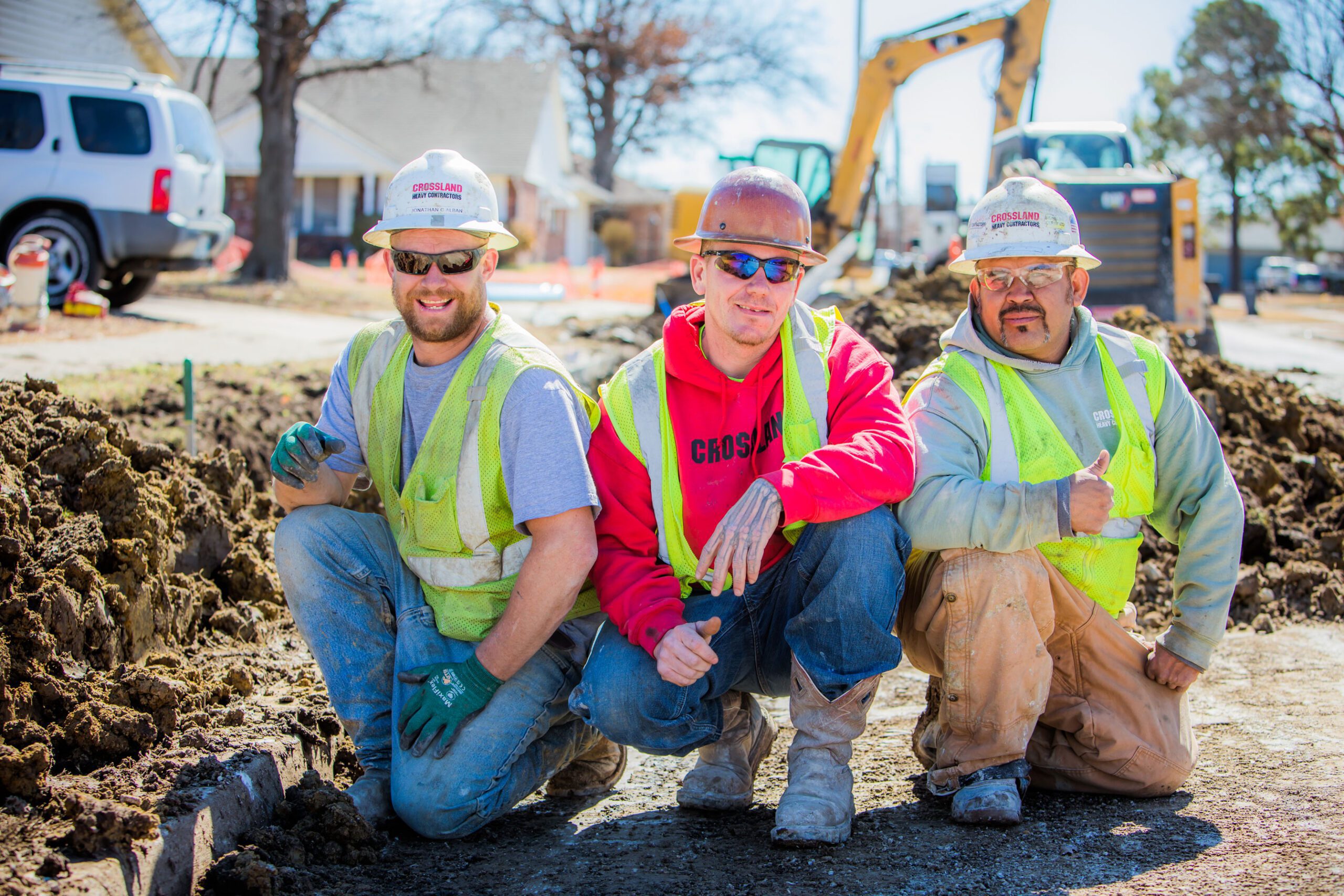 Crossland Heavy Contractors Three-Man Pipelaying Crew
Pipe crew workers are responsible for assembling, connecting, and constructing pipe systems for storm or sanitation sewers, drains, and water mains. These unsung heroes of civic infrastructure have both a physically demanding and often a dirty job – which is exactly why we should praise and spotlight them.
Jeremy Tufts, Edgar Garcia, and John Alban perform their work with diligence and precision. Together, their three-person team has found both camaraderie and momentum. From Jeremy Tufts, Pipe Superintendent: "We're literally "the" crew. We get along, we eat lunch together, and talk on the weekends." "When you're working together with three guys on the same channel, the job is easy, and these guys are like my second family," added Edgar Garcia.  
This skilled crew lays pipe for many different Crossland Heavy projects.  
The work is physically demanding, and the men are often knee-deep in the dirt. But, for John Alban, that's the appealing part of the job. "I like getting out there and working hard, especially with this crew. We're able to get a lot done in fairly short periods. I just prefer being outside and don't mind getting dirty."
Like most construction projects, placing pipes in all kinds of weather — often for more than 40 hours a week with hard-hitting deadlines — is just part of the job. Edgar moved over to the pipe crew after being a concrete finisher for eight years. While he enjoyed the challenges of both roles, he appreciates how quickly they can progress on pipe projects vs. the time constraints that can come with concrete finishing. "I really like working on the Crossland Heavy team!"
They all three commented on the security you feel by working with Crossland. "I've been here for almost a year, which is really exciting. And I was finally able to purchase my first house, something I never thought I would be able to do. But with the stability of my job at Crossland, I got to do it.  Jeremy Tufts added: "I'm here for the long haul; Crossland takes good care of you." 
They get in early and do their best day in and day out. Thank you to this three-man pipe crew for the dedication to your craft and for making Crossland a success!