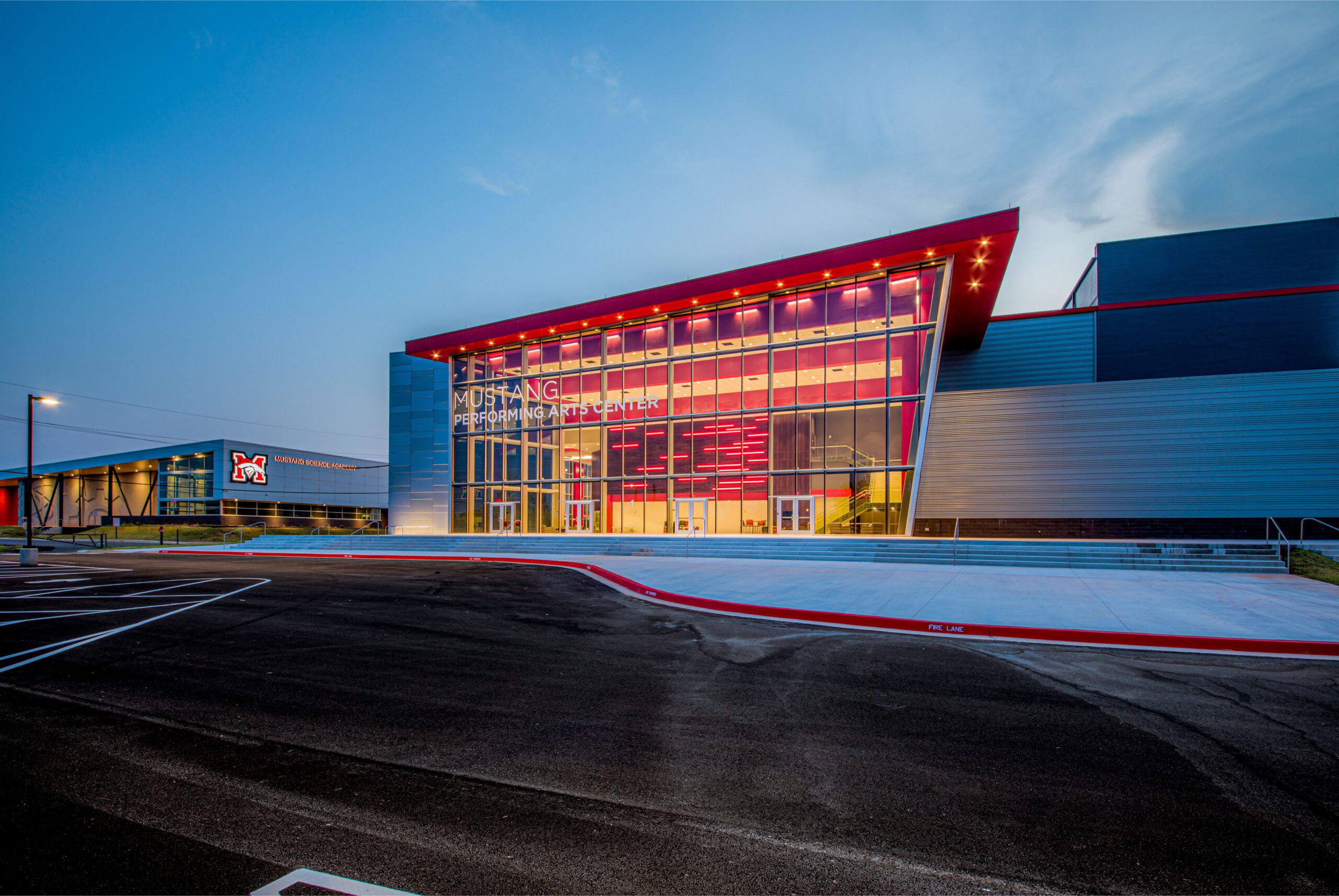 Bringing The Arts To Life
The new Mustang Performing Arts Center is truly a show stopper. With community in mind, this venue is the perfect spot for music, dance, and theater to thrive!
Mustang, OK – Draw back the curtains, the new Mustang Performing Arts Center is open. With industry-standard systems and state-of-the-art theatre amenities—students will receive the experience and knowledge needed to pursue the arts after high school. The new space represents much more than a school addition, but a performance center that will bring the community together.
A Space Fit for Broadway
The project boasts a massive 67,000 SF space. Inside you are greeted by 40-foot-high ceilings lined with LED lights for a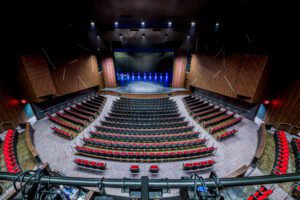 breathtaking entrance. The architectural appeal is showcased throughout the venue. The spacious performance hall seats 1,500 people. The stage is set for an optimal orchestra experience with a motorized pit lift and orchestra shell. In addition to the performance space, the theater room was built with 12-inch thick concrete walls, doubling as a tornado shelter. This shelter provides students, staff, and the community a safe space during the unpredictable Oklahoma weather.
Planning and Communication Saves Millions
We faced typical construction obstacles throughout this project. Still, our team stayed positive and diligent while working through weather setbacks and material delays due to the pandemic. Excellent communication and problem-solving skills were imperative to keep the project on track.
We always strive to find cost savings, especially when working with school districts and taxpayers' dollars. During the preconstruction phase, we were able to find nearly one million dollars in cost savings. That savings was then added back into the contingency fund for the district to purchase additional equipment for the building.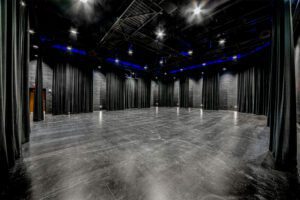 Keeping Safety a Top Priority
Ensuring the safety of students, staff, and crew is always of upmost importance to the Crossland team. We built and installed hundreds of feet of handrail around the construction site where crews were doing deep pit operations. The team also performed work at substantial heights throughout the project. Safety meetings, proper harness equipment, and making sure crews were tied off were essential. Crossland also hired a licensed scaffolding subcontractor to erect the scaffold in the auditorium area to guarantee worker safety.
"Crossland exhibited excellence in communication, responsibility, problem solving, oversight, and construction as a very capable and willing partner with Mustang Public Schools." – Jason Pittenger, Assistant Superintendent:Operations, Mustang Public Schools