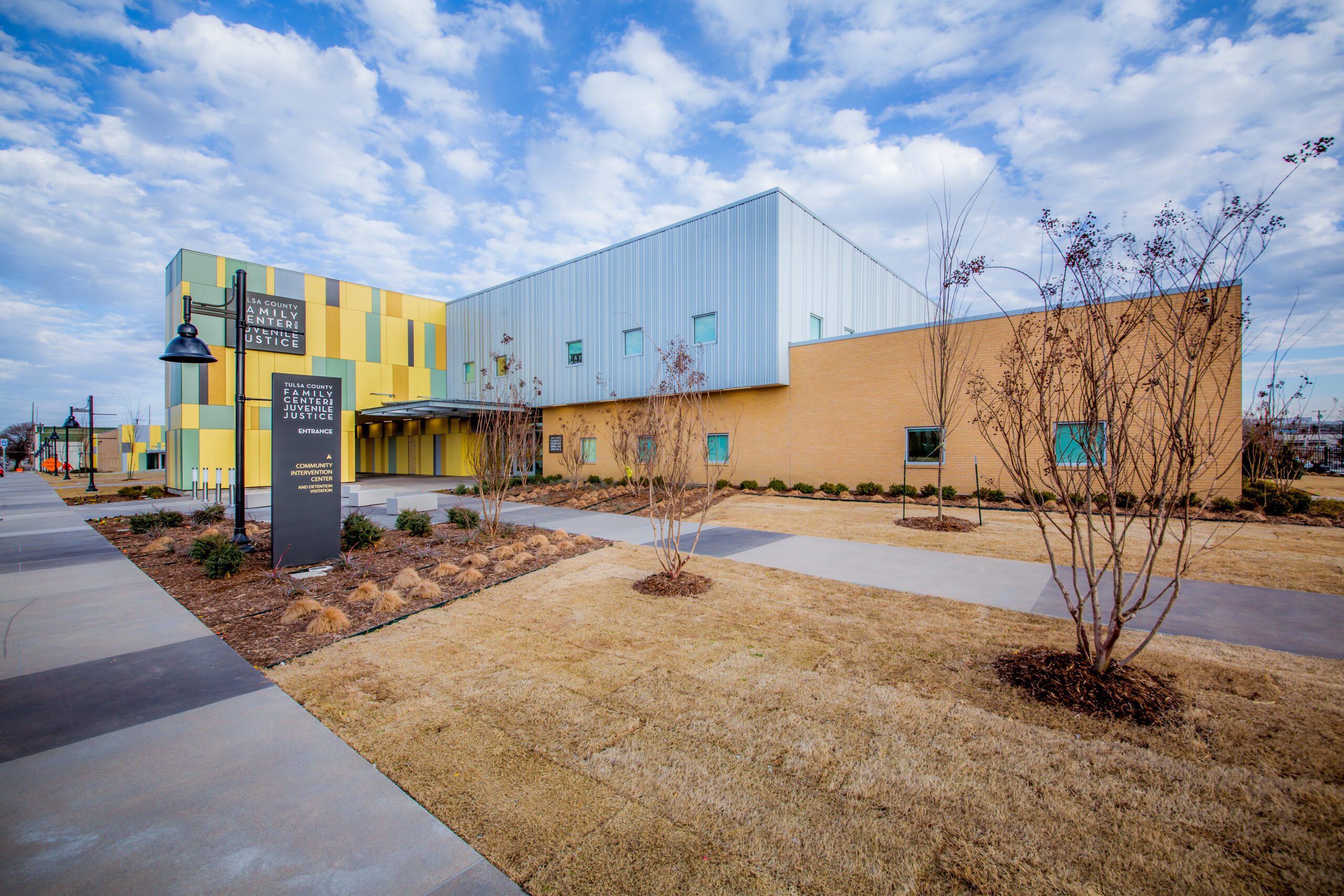 ---
Tulsa County Family Center for Juvenile Justice
A center built around compassion and hope
---
Tulsa, OK
Crossland Construction was proud to be awarded construction for the new Tulsa County Family Center for Juvenile Justice. Following years of discussion, county voters approved a 15-year, .041 sales tax to replace the badly dilapidated Tulsa County Juvenile Bureau.
The seven-acre, 151,000 SF Family Center is four times the size of the previous facility and brings all family and juvenile services to one location. The new structure meets the City's goal of housing the Tulsa County Juvenile Court and Tulsa County Juvenile Bureau, plus all support agencies, including Probation and Parole and Community Intervention. Every department now has a storefront.
The Juvenile Court, Juvenile Bureau, and supporting agencies reside in a two-story building on the west side of the property, housing courtrooms, a forensic interview room, training rooms, and glass-front offices for counselors and attorneys. City leaders channeled compassion and hope in the design of the two-story Family Center. With that in mind, a large and vibrant foyer greets entering visitors, followed by an open atrium and children's play area with natural light.
Throughout the building, light wood, soothing colors, and spacious rooms help kids feel safe and comfortable. Six courtrooms and four jury deliberation rooms are on the second floor, with judges' chambers behind the courtrooms in their own secure area. The center features paintings by local artists, and Oklahoma Correctional Industries inmates made much of the furniture.
The detention facility is on the east side of the complex and includes 63 beds within three pods. Each pod has a dayroom, guard station, three showers, multipurpose room, and laundry area. Skylights in the halls of the pods and dayrooms allow a flow of natural light. Teens in detention can play basketball or volleyball in a full-size gymnasium. A library, three classrooms, a learning lab, probation offices, and storage areas are within this portion of the complex, as well as a full-service cafeteria and kitchen.
A secure corridor and spacious outdoor courtyard and recreation area that includes a basketball hoop and sports courts connect the two buildings.
Project Facts
Industry Sector: Community
Cost: $28,800,000
Size: 144,239 SF
Delivery Method: Design-Bid-Build / Hard Bid
Self-Perform: Site Utilities, Earthwork, Finish Carpentry, Rough Carpentry, Steel Erection, Concrete
Owner: Tulsa County, Oklahoma
Architect: Selser Schaefer Architects
Engineer: Wallace Engineering

READY TO GET STARTED?
READY TO GET STARTED?
READY TO GET STARTED?
READY TO GET STARTED?
READY TO GET STARTED?
Let's Build
Ready to lay the groundwork?
Find a Career
We've got a hard hat with your name on it.