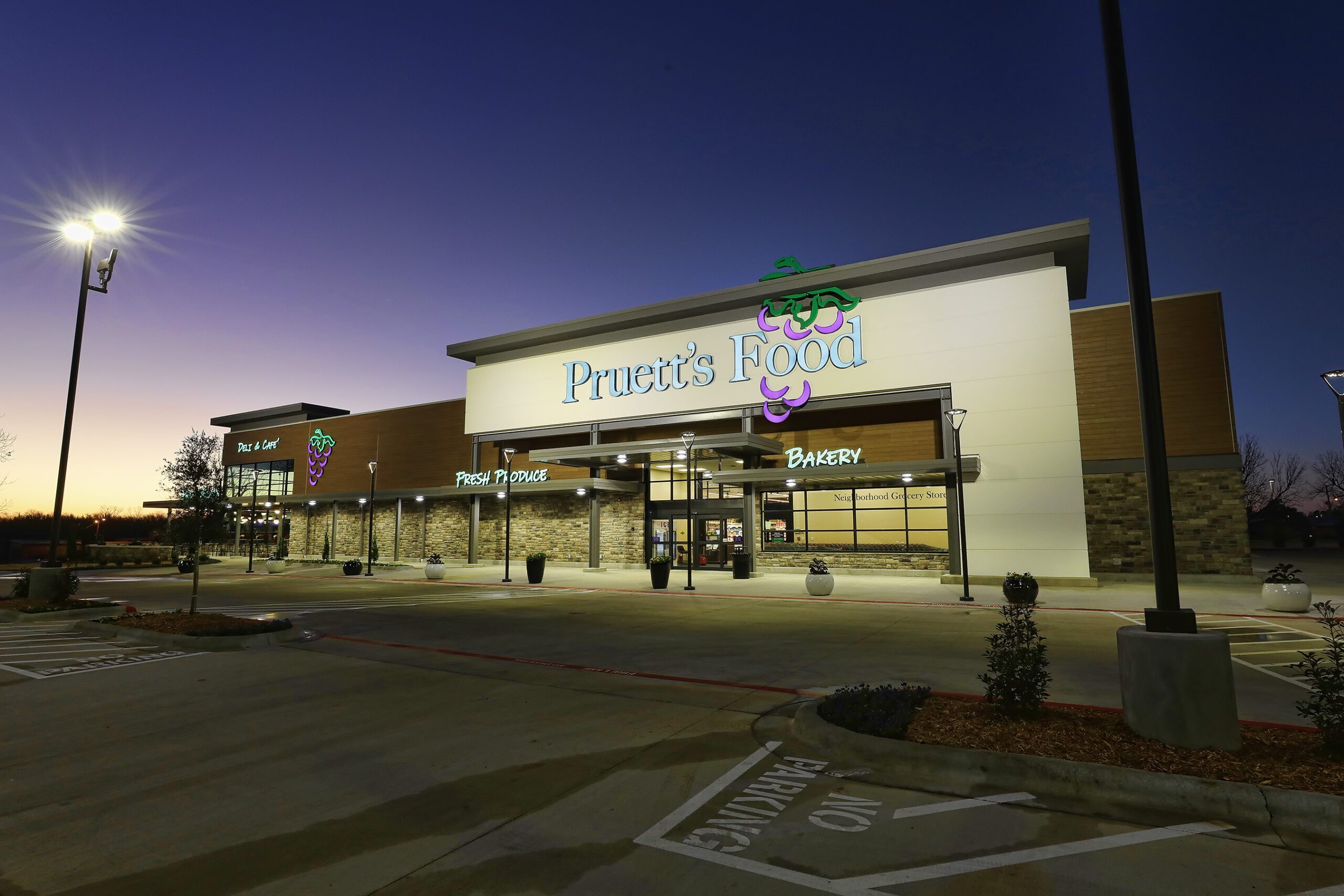 An 'uptown' grocery store delivered in a mere six months
---
Hugo, OK
Pruett's Food began in 1946 in Copeville, Texas, and has expanded its footprint to Oklahoma and Arkansas. The family-owned grocery chain is known for its top choice of meats, superior fruits and vegetables, and excellent customer service. When Pruett's wanted to provide a store to serve the residents of Hugo, OK, better than a large chain retailer, they hired Crossland. Our National Accounts division utilized their grocery, retail, and volume building experience to make the new, cost-effective grocery store a reality. And what a store it is—if Better Homes & Gardens had a grocery store section, the Hugo location would rank #1! Inspirational quotes line the walls, the meat section has beautifully colorful paintings, and displays are perfectly arranged. From a produce area with three-dimensional "trees" across the ceiling to a sizeable neon-trimmed fish over the seafood section, the Pruett's Food store gives shoppers a full sensory experience rather than just a mundane trip to the grocery store.

The project was a ground-up building constructed over a polished and sealed concrete slab, which adds to the store's modern look and experience. Our team self-performed both the concrete and steelwork, which was critical in maintaining the schedule given extensive weather challenges. In addition to self-performing those core components, crews focused on each phase's critical path items to keep the schedule moving. Ultimately, despite many days of rain, the building was completed in six months – three days ahead of the contract schedule — and under budget.
Project Facts
Cost: $3,860,000
Size: 22,717 SF
Delivery Method: Negotiated
Self-Perform: Steel Erection, Concrete
Owner: Pruett's Food
Architect: Architects Collective

READY TO GET STARTED?
READY TO GET STARTED?
READY TO GET STARTED?
READY TO GET STARTED?
READY TO GET STARTED?
Let's Build
Ready to lay the groundwork?
Find a Career
We've got a hard hat with your name on it.