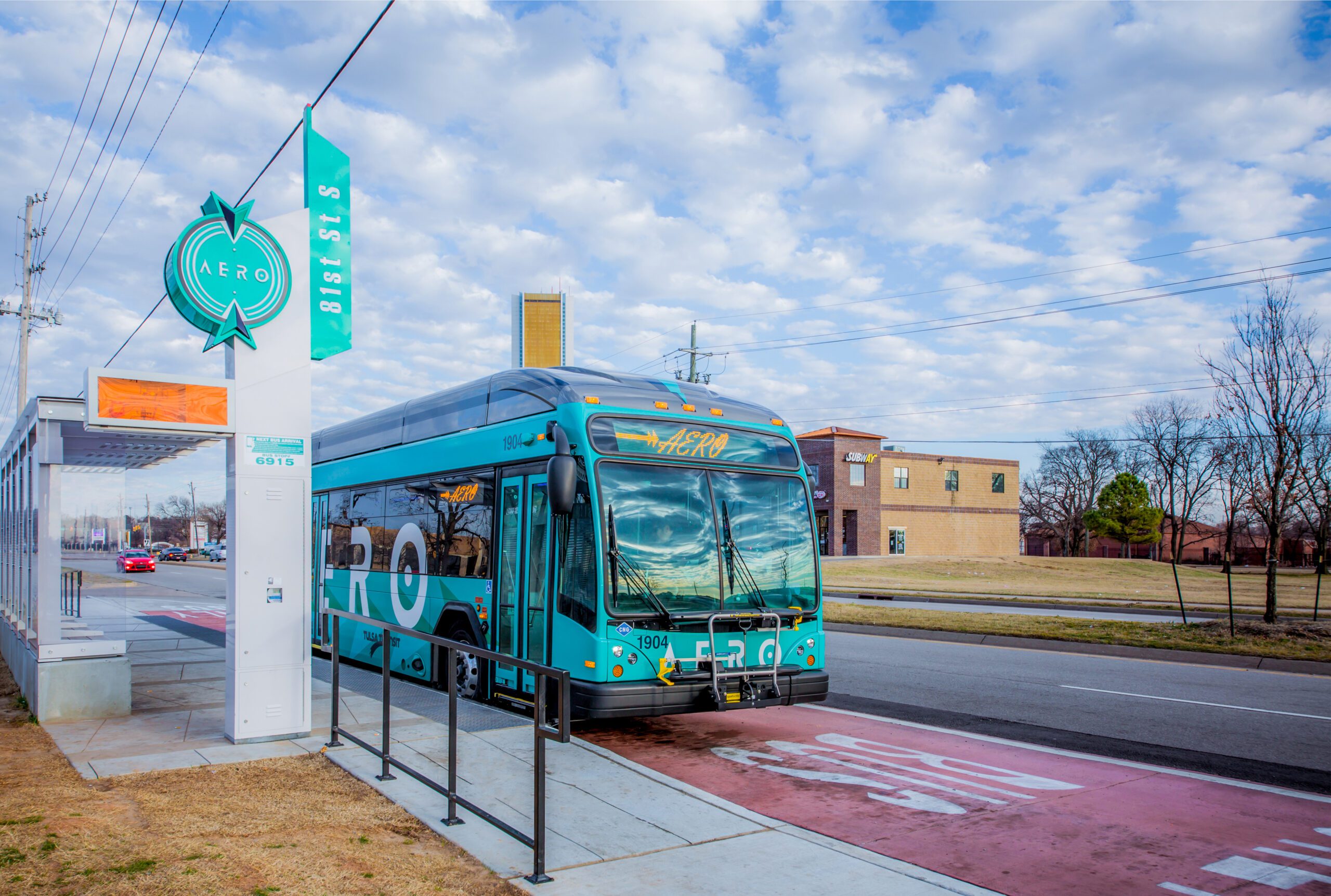 50 stops and 18 miles in 5 months
---
Tulsa, OK
Tulsa Transit hired Crossland Heavy to construct 50 route stops for Tulsa's new Bus Rapid Transit system (BRT) along 18 miles of their vibrant Peoria corridor. The bus route was branded "Aero" as a salute to Tulsa's inspiring history with the aerospace industry.
The project included 42 standard stops, which have the largest footprint to accommodate enhanced amenities and make riding the BRT easy and appealing. Level boarding platforms, sheltered bench seating, bicycle racks, steel handrails, and real-time bus information signs ensure riders wait in comfort. Eight constrained stations with overhead shelter, a small bench, and real-time bus information signs were constructed in areas with lower anticipated BRT ridership. These stations were designed in a way that will accommodate a future upgrade to a standard station should ridership numbers increase.
Crossland Heavy was able to construct between 5 and 12 stations simultaneously. Construction for the BRT project included 10" bus pad paving using 5000 psi concrete to support the weight of the buses and platform gap fillers serving as a buffer between the bus and concrete. Elevated curbs enable handicapped and mobility-challenged riders to step straight onto the busses.
Tulsa's staggered acquisition of right-of-way land required crews to complete the stations in a non-linear manner. Despite the challenge of material and equipment spread over multiple job sites, Crossland seamlessly coordinated crews, supplies, equipment, and information to maintain traffic flow and keep pedestrians safe.
The Peoria corridor Aero BRT was completed on time and within budget, providing the City of Tulsa with the first, highest priority phase of their plans for rapid-transit routes under the Aero brand.
Project Facts
Industry Sector: Transportation
Cost: $5,100,000
Delivery Method: Design-Bid-Build / Hard Bid
Owner: City of Tulsa
Architect: HNTB

Project Awards:
ABC of Oklahoma Excellence in Construction
READY TO GET STARTED?
READY TO GET STARTED?
READY TO GET STARTED?
READY TO GET STARTED?
READY TO GET STARTED?
Let's Build
Ready to lay the groundwork?
Find a Career
We've got a hard hat with your name on it.