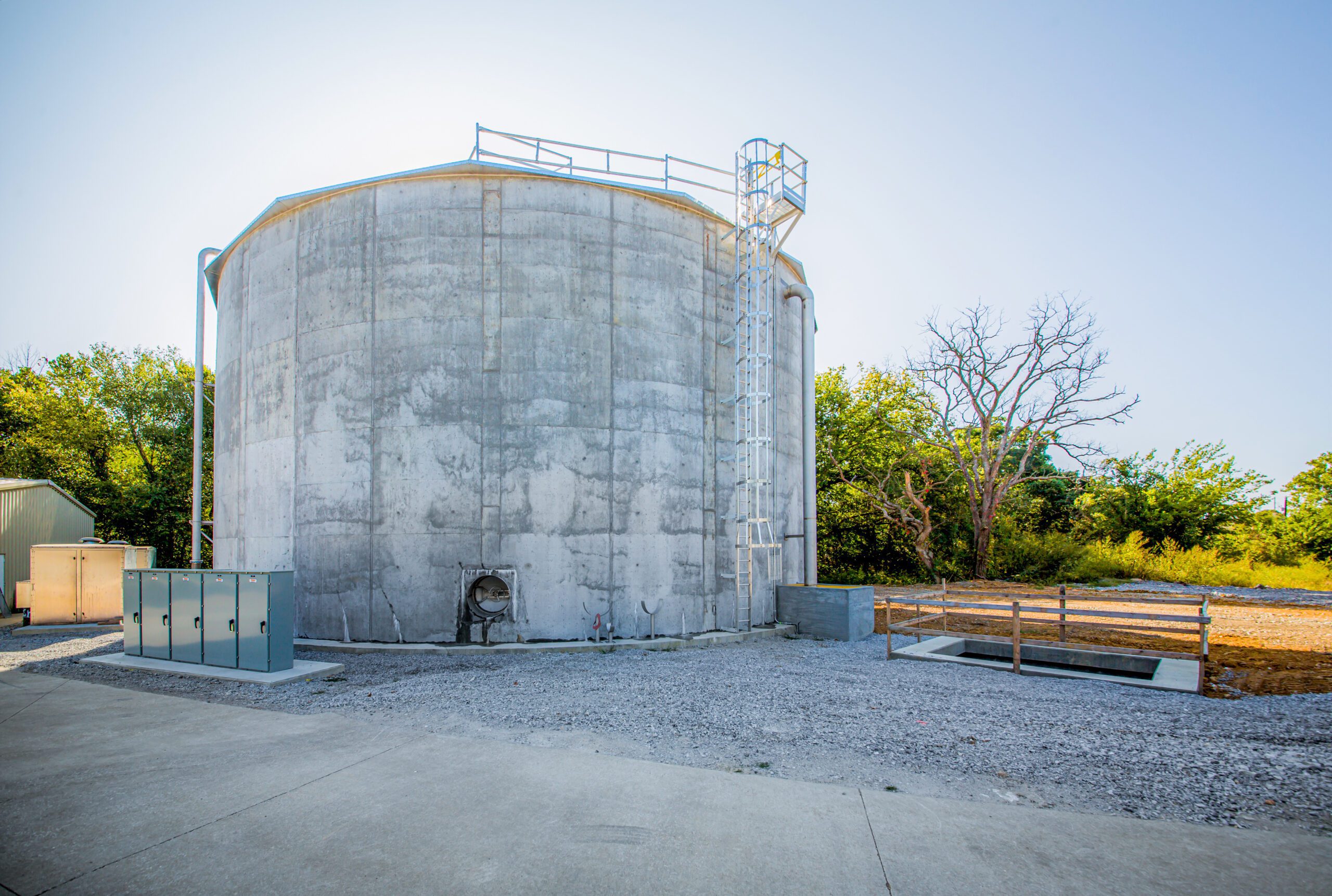 ---
Allen Road Equalization Basin
Efficient installation of a 1M-gallon equalization basin
---
Centerton, AR
Following improvements Crossland made to the Decatur wastewater treatment plant in Decatur, AR, the City hired Crossland Heavy to construct a cast-in-place 1,000,000-gallon equalization basin to modulate the wastewater flow coming from Centerton, AR. The project initially called for a concrete foundation with a steel tank, however during bidding, CHC secured acceptance of the cast-in-place alternative. The replacement gave CHC a competitive edge over companies without the capabilities to build such a large and complex tank structure.
Tank dimensions were: 72′ inside diameter, 34′ tall tank walls, 4′ thick foundation footings, and 2′ thick sidewalls. CHC poured the tank walls in four sections, with each pour 1-2 weeks apart. We were able to utilize our in-house formwork for 90% of the tank structure, helping recoup some of the project's expenses, which was appreciated by the owner.
Coinciding with the concrete tank was installing new equipment, including aeration equipment inside the tank, mixing equipment, two blower units, pumps and piping in an existing lift station, and valves/operators to regulate flow to and from the new EQ Basin.
Project Facts
Industry Sector: Water / Sewer / Storm Infrastructure
Cost: $2,278,784
Delivery Method: Design-Bid-Build / Hard Bid
Self-Perform: Below-Grade Utilities, Cast-in-Place Concrete, Structural Steel
Owner: City of Centerton
Engineer: ESI

READY TO GET STARTED?
READY TO GET STARTED?
READY TO GET STARTED?
READY TO GET STARTED?
READY TO GET STARTED?
Let's Build
Ready to lay the groundwork?
Find a Career
We've got a hard hat with your name on it.