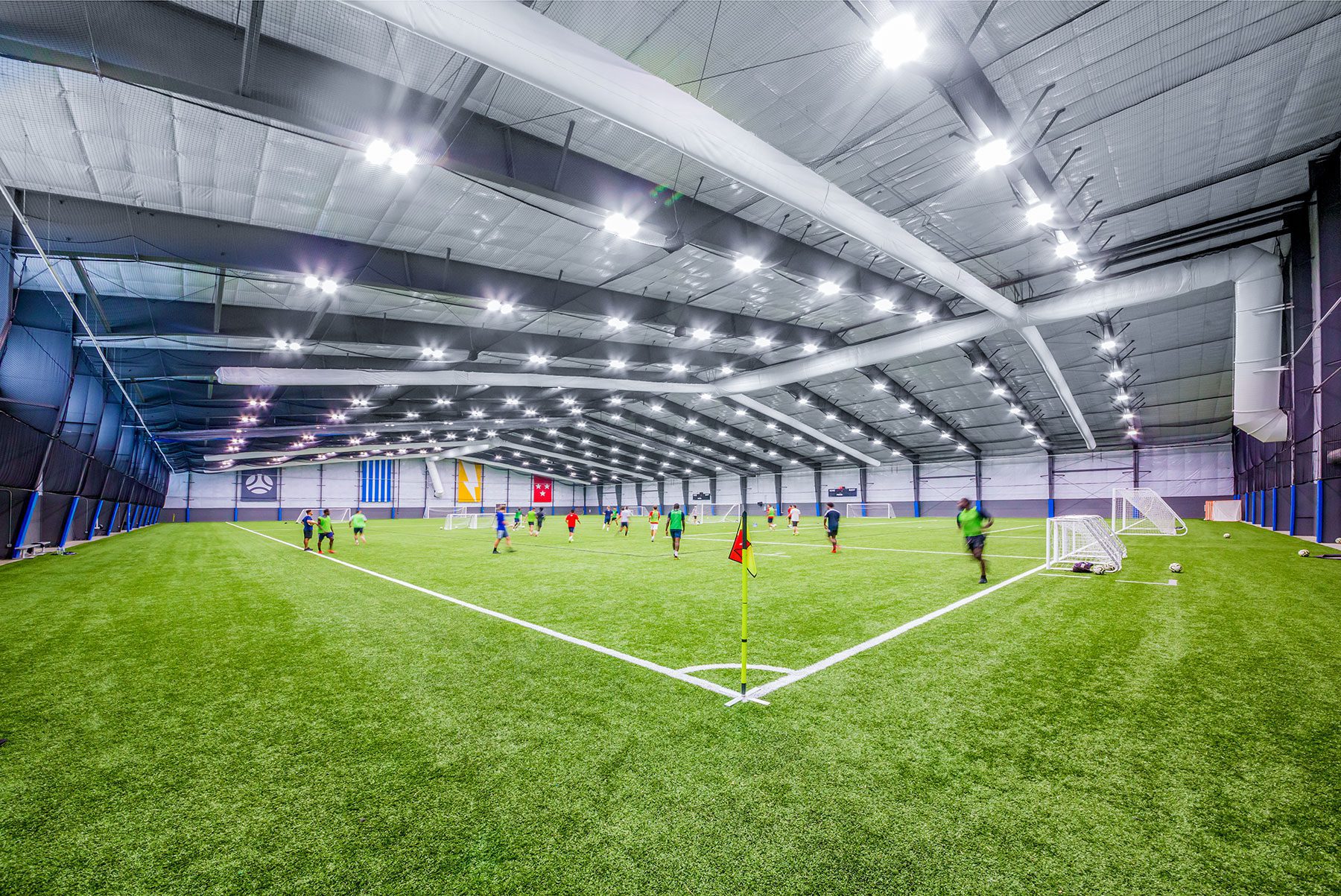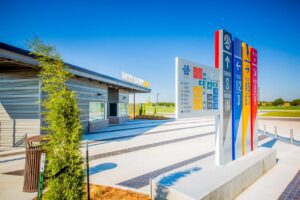 Wichita, KS – The Stryker Sports Complex is Wichita's premier all-turf sports complex that accommodates year-round enjoyment of youth, college, adult leagues, tournaments, and events. The complex consists of 11 all-sports turf fields, each with outdoor lighting, and a 112,000 SF indoor facility designed to attract events with all levels of competition to the Wichita and surrounding areas.
The project was a unique building experience for Crossland. It involved several phases, and each phase was bid out separately and awarded to several different general contractors.
Crossland performed the building work for the indoor soccer facility as well as the stadium improvements. We self-performed the steel on the project. The building had a 267' clear span, the largest span Travis, our Steel Superintendent, had erected at the time. Project components included concessions, offices, restrooms, renovation of existing bathrooms, locker rooms, ticket booth, new stadium bleachers, and a scoreboard.
"A large site with multiple General Contractors, a tight schedule, challenging structure, and abnormal wet weather patterns made for a challenging and unique project. However, the team never stopped pushing and showed amazing grit and determination in delivering a very successful project." – DJ McClenny, Vice President, Wichita Division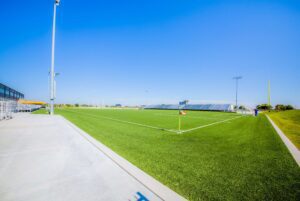 With several different contractors and subcontractors in play, we knew that communication would be vital to making this project successful. A tight timeline with upcoming sporting events already set on the calendar solidified that collaboration and communication would have to be on a whole new level. There was no time to waste. Everyone working on the project had to stay completely in sync every day.
Using construction scheduling software, our team managed and communicated project schedule updates to all parties. We held daily communication and safety meetings. We also held weekly meetings with the Owner for full transparency throughout the project.
The weather was notoriously difficult, forcing delays in the schedule that were out of our control. However, in true Crossland form, our teams came up with a plan to combat the issue. They installed rock crane paths that allowed crews to progress through the mud. Our teams worked overtime, day-in, and day-out to deliver the project on time for the Owner's first event.
Fast Facts
Owner: City of Wichita
Architect: DLR Group/GLMV Architecture
Landscape Architecture/Engineering Design: MKEC
Delivery Method: Hard Bid
Self-Performed: Steel, Pre-Engineered Metal Building
Square Footage: 112,200 Indoor Soccer Field, 6,556 Stadium Improvements
Project Team: DJ McClenny, Division Manager; Estimator, Eric Nilges; Jody Wiggins, Project Manager; Jake Smith, Superintendent; and Travis Day, Steel Superintendent