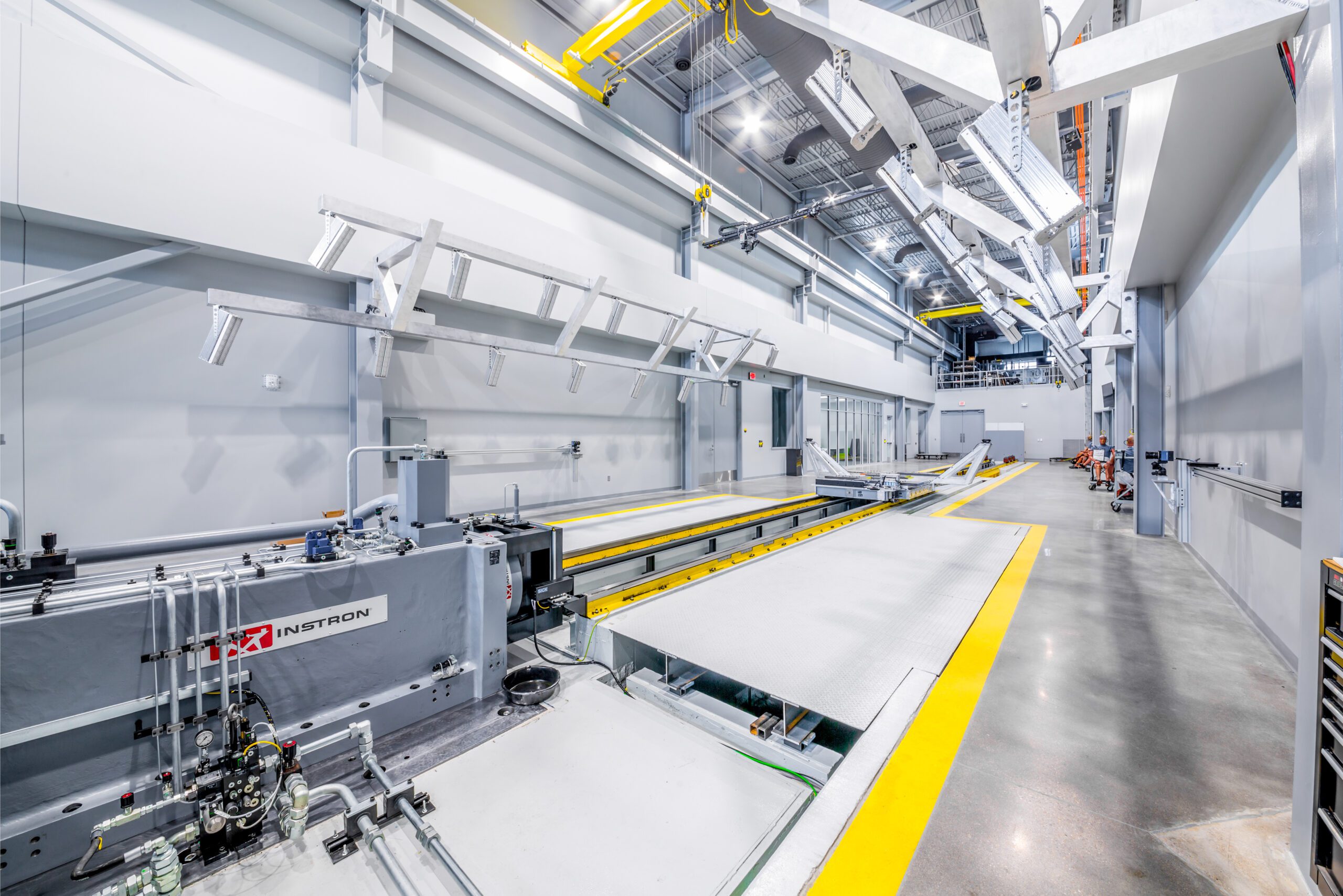 Meeting new industry standards and expanding research capabilities
---
Wichita, AR
For 25 years, Wichita State's National Institute for Aviation Research (NIAR) housed Crash Dynamics – a "sled" (metal platform), atop a hydraulic piston track braking system designed to slow, then stop, the sled as it progresses down the track. When the lab's current sled, installed in 2004, stopped being supported by the manufacturer, WSU hired Crossland to build an exciting new crash test lab on WSU's Innovation Campus.
Named the Advanced Virtual Engineering and Testing Lab (AVET), the 22,000 SF facility replaces its previous, much smaller lab. NIAR simulates various crash impacts for safety research involving airplane seats and child restraints, among others. The new AVET lab enables NIAR to expand its research into areas such as side-impact and high-speed automotive testing, and provide more precise testing results overall. In addition to the new sled area, construction included additional client prep bays, allowing multiple clients in the lab simultaneously while maintaining privacy. These improvements will enable NIAR to increase the overall number of tests it conducts daily, weekly, monthly, and yearly. The larger space and equipment, plus additional office space, also means the institute can hire more personnel.
The construction of this building was unique. The sled bay foundation was substantial, requiring our team to pour approximately 700 yards of concrete with 50 tons of rebar. The bay required a specific type of concrete – plus the rebar – to absorb the force from the sled system's impact. Additionally, crews placed about 140 anchor bolts within a considerably tight workspace. There were also highly specific temperature and humidity control requirements for the bay.
Our team worked diligently to coordinate with the German engineering company that manufactured the sled, especially given the time difference and converting all measurements from millimeters. Crews pre-built the concrete formwork in a millwork shop; the forms were then constructed according to an AutoCAD plan, both of which required a significant amount of detailed coordination among teams. The structure was uniquely built around the foundation, instead of installing the foundation first.
This testing facility is a project that Crossland is highly proud to be part of. It will allow NIAR to meet new industry standards and expand research capacities to better reach its global client base.
Project Facts
Industry Sector: Industrial
Cost: $6,100,000
Size: 22,439 SF
Delivery Method: Design-Bid-Build / Hard Bid
Self-Perform: Steel Erection, Concrete
Owner: Wichita State University
Architect: GLMV Architecture, Inc.

READY TO GET STARTED?
READY TO GET STARTED?
READY TO GET STARTED?
READY TO GET STARTED?
READY TO GET STARTED?
Let's Build
Ready to lay the groundwork?
Find a Career
We've got a hard hat with your name on it.