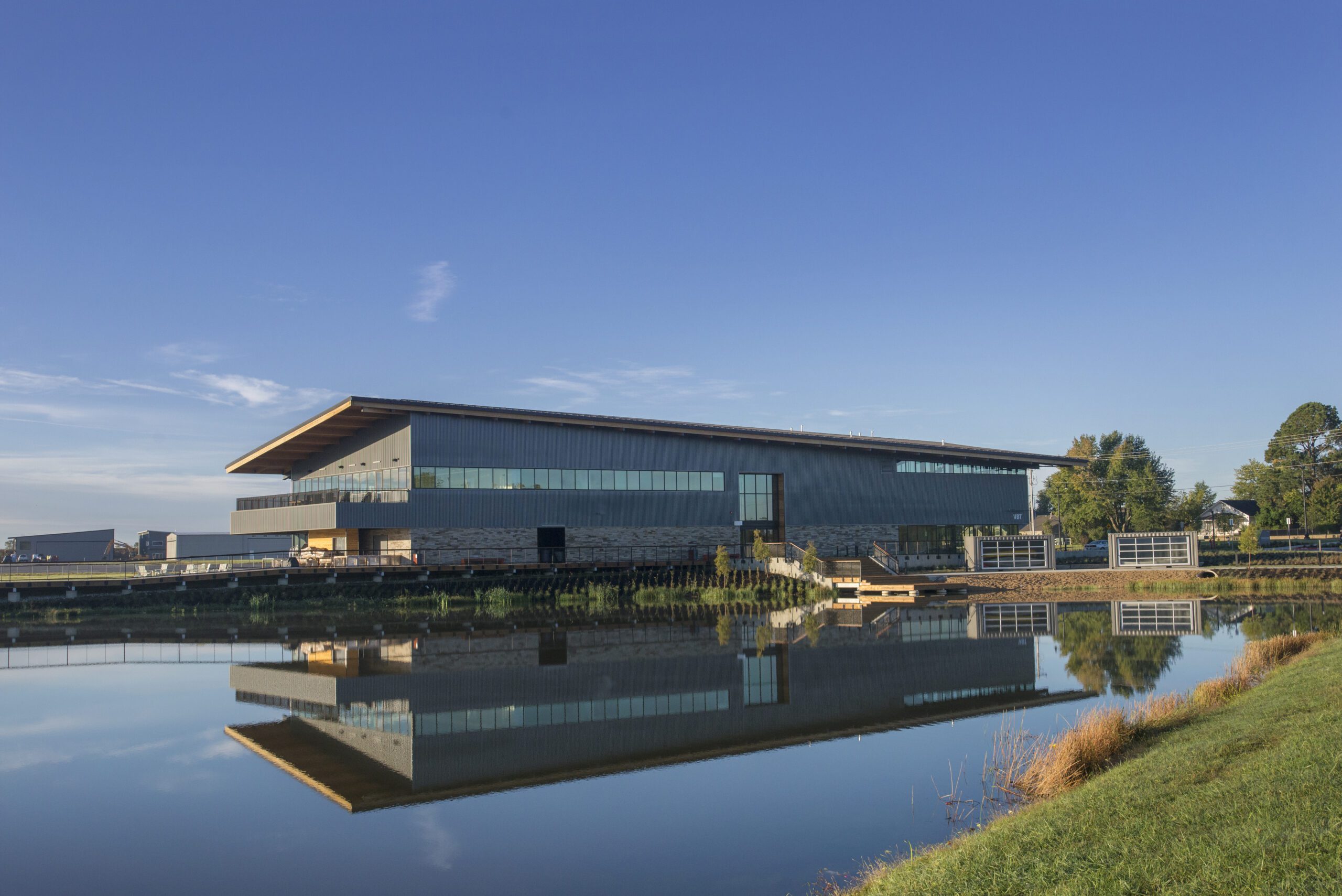 Distinct structure with beautiful views
---
Bentonville, AR
Crossland was awarded the opportunity to construct a new two-story building to house Thaden Fields Summit Aviation FBO Office, Exhibit Hangar, Cafe Louise, FAA-approved Flight School, and OZ1 Flying Club.
This structural steel building boasted many unique features, including exposed glulam ridge beam and rafters with 2×6 tongue and groove on top. The building is shaped in a way that when aircraft fly over they will see the shape of an airplane wing. The exterior of this project features Smokey Mountain Blue Natural Stone Veneer with box rib metal panels above. The roof overhang varies from 4′ to 27′ around the building, offering a distinct individuality to the structure, and a 750 SF balcony offers a beautiful view of the runway.
Internal features include polished concrete and cork tile flooring, as well as rough sawn walnut lumber over sheetrock throughout, including over the curtain walls at both vestibules. Being in a wetland area and sitting within thirty feet of Lake Bentonville, the foundation of this project required special attention. The artistic design of the building also required great attention to detail and extra time to be sure features were completed to standard.
Project Facts
Industry Sector: Commercial – Retail & Office
Cost: $8,300,000
Size: 26,280 SF
Delivery Method: Construction Management
Self-Perform: Site Utilities, Earthwork, Finish Carpentry, Rough Carpentry, Steel Erection, Concrete
Owner: VBT Flying Centre, LLC
Architect: Hufft Projects

Project Awards:
ABC of Arkansas Excellence in Construction
READY TO GET STARTED?
READY TO GET STARTED?
READY TO GET STARTED?
READY TO GET STARTED?
READY TO GET STARTED?
Let's Build
Ready to lay the groundwork?
Find a Career
We've got a hard hat with your name on it.