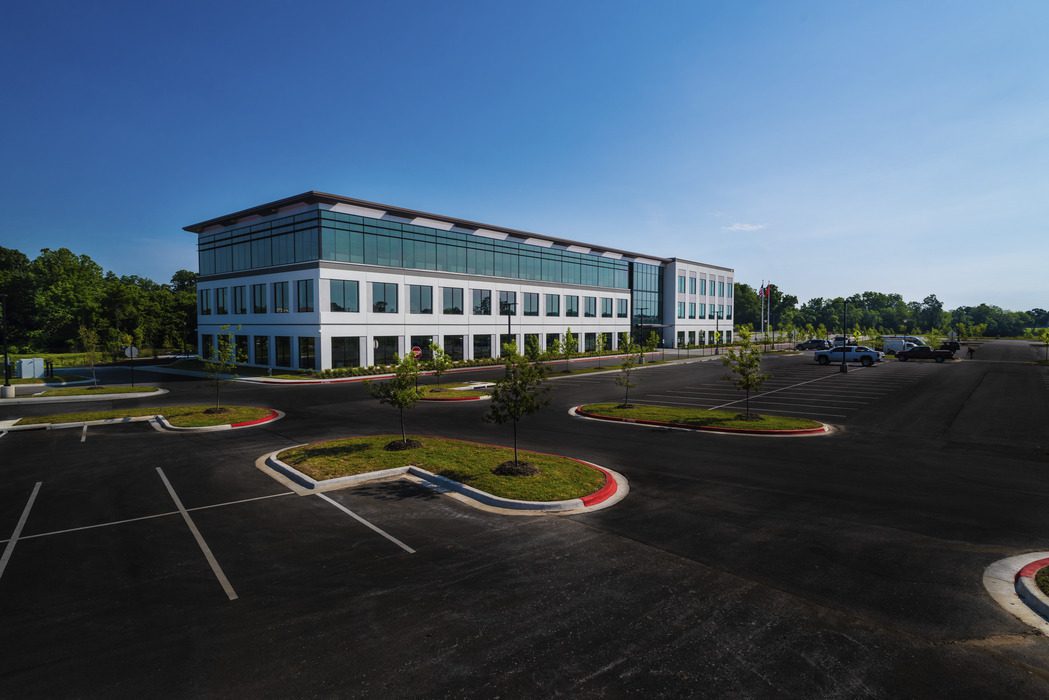 Hybrid tilt-wall method use to build beautiful, yet economical three-story office building
---
Rogers, AR
Transplace chose Crossland Construction to build a brand new 148,000 SF, 3-story office building to hold over 1,200 employees in the city of Rogers. This project was unique in its construction, time of history, and special features including a 3-story hybrid tilt wall.
The structural steel office building was built out on a 16-acre site with room for 1,200 parking spaces. Each floor of the building was just under 50,000 SF with a 3-story hybrid tilt wall. The outside elements were just as important to the build, with a retention pond, two decorative courtyards, and extensive landscaping elements.
Because this project straddled the start of the COVID-19 pandemic, both the owners and the Crossland team were faced with numerous challenges. Despite shortages, delays, government mandates, and shutdowns, the project remained on schedule. Because of the unique working situation during the pandemic, the team did a great job of predicting any issues and approaching them with open communication.
Extra attention was given to the intricate details of the project, including three 10FT tall elevator cabs with premium finishes and an extravagant staircase. The hybrid tilt-wall was done with a unique method, allowing for a quick build of multiple stories while also remaining budget and schedule-minded.
Benton County was extremely appreciative of the Crossland team and their ability to stay on schedule and within budget because this building brought about 1,000 jobs to the area in a time when so many were unemployed. As new businesses continue to grow in the area, they have a premium office space to do so.
Project Facts
Industry Sector: Commercial – Retail & Office
Cost: $14,495,150
Size: 150,000 SF
Delivery Method: Design-Bid-Build / Hard Bid
Self-Perform: Rough Carpentry, Steel Erection, Concrete
Owner: Cawley Partners
Architect: Corgan Associates

READY TO GET STARTED?
READY TO GET STARTED?
READY TO GET STARTED?
READY TO GET STARTED?
READY TO GET STARTED?
Let's Build
Ready to lay the groundwork?
Find a Career
We've got a hard hat with your name on it.