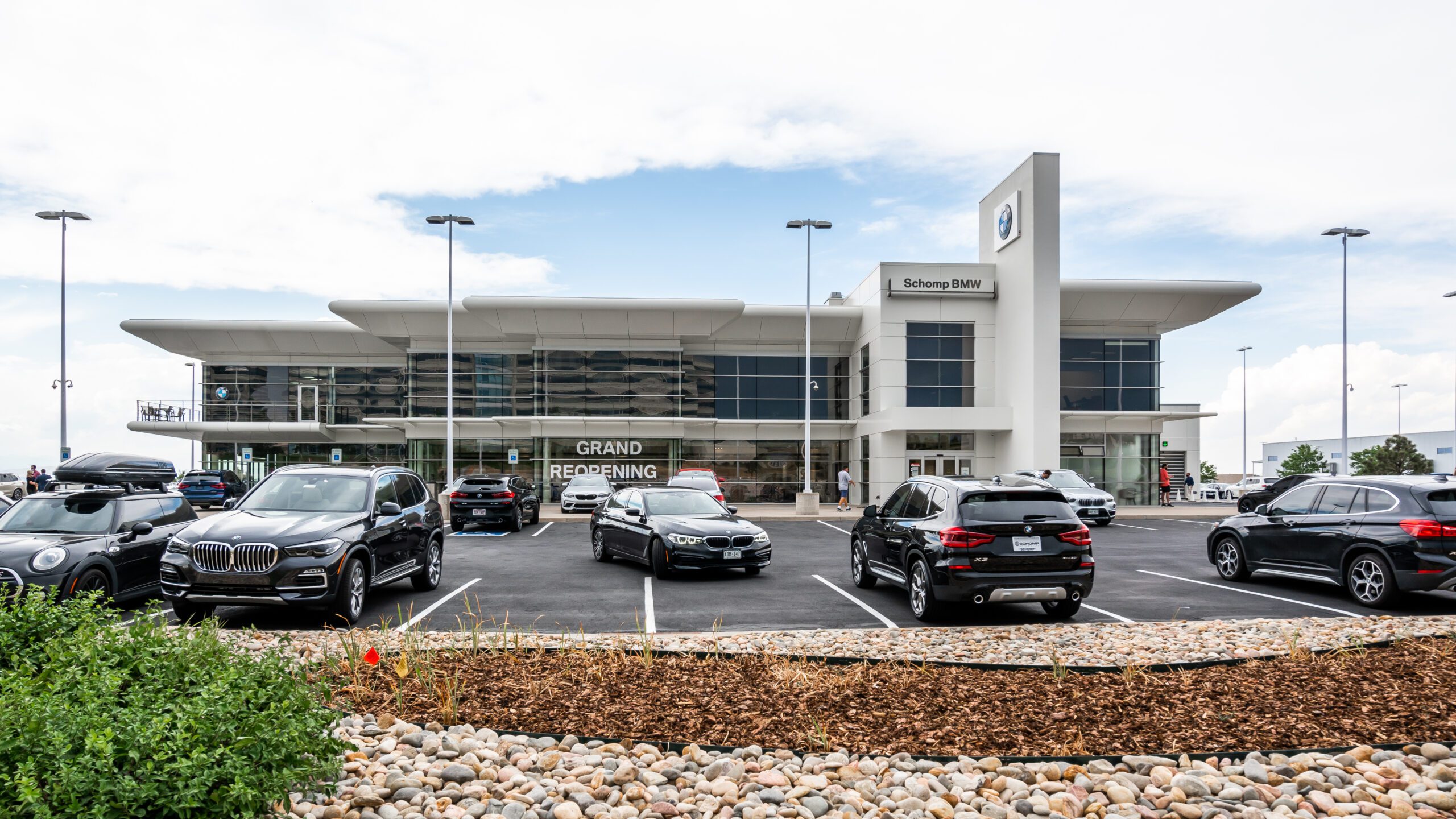 Stunning dealership remodel using a customer-first design
---
Automotive construction is a new market for Crossland, and we're excited to kick it off with a total renovation for Schomp BMW in Highlands Ranch, CO. The newly remodeled dealership is stunning, with every possible detail factored into the design and construction.

Schomp owns three automotive dealerships in the Highland Park area. All were designed by the same architect, and our team appreciated his level of knowledge around our current job scope. We held thorough preplanning meetings with the owner and architect, including walking the site and discussing details of the new facility. Final preparations and alignment with the design team and our subcontractors ensured everyone was on the same page before construction began.

In phase one, crews demoed and renovated the lower level of the structure. After completing this portion, the pandemic led Schomp management to consolidate all three facilities into one location temporarily. That enabled our team to combine phases two and three, renovating the showroom, upstairs office area, and service drive bay at the same time, plus an additional smaller wing that housed the service center lobby and BMW boutique.

The entire remodel was designed and built with Schomp clients in mind. The primary space is large and open to allow an abundance of natural light and highlight the comfortable layout with high-end finishes. The spacious showroom features a hospitality/reception space and houses more than a dozen vehicles, including a special alcove to display a BMW "M" vehicle. Contemporary glass walls were placed within the showroom area to separate consultation space for the Schomp BMW Loyalty team.

Crews rebuilt the service department slightly larger than the previous one and moved it to the building's south side. The lower-level delivery area was also revamped to give sales associates room to demonstrate new BMWs' features and functions.

Crossland self-performed some of the demolition, carpentry, and sections of the concrete work. The owner and architect were very pleased with their new dealership, and as a result, they awarded Crossland with the construction of a ground-up Mazda dealership. We were also assigned another work package installing "hail netting" – a weather-protective cover over new-car inventory — at several dealerships.
Project Facts
Industry Sector: Commercial – Retail & Office
Cost: $2,000,000
Size: 19,265 SF
Delivery Method: Negotiated
Self-Perform: Demo, Rough Carpentry
Owner: Wallace Automotive Development LLC
Architect: WESNAE

READY TO GET STARTED?
READY TO GET STARTED?
READY TO GET STARTED?
READY TO GET STARTED?
READY TO GET STARTED?
Let's Build
Ready to lay the groundwork?
Find a Career
We've got a hard hat with your name on it.