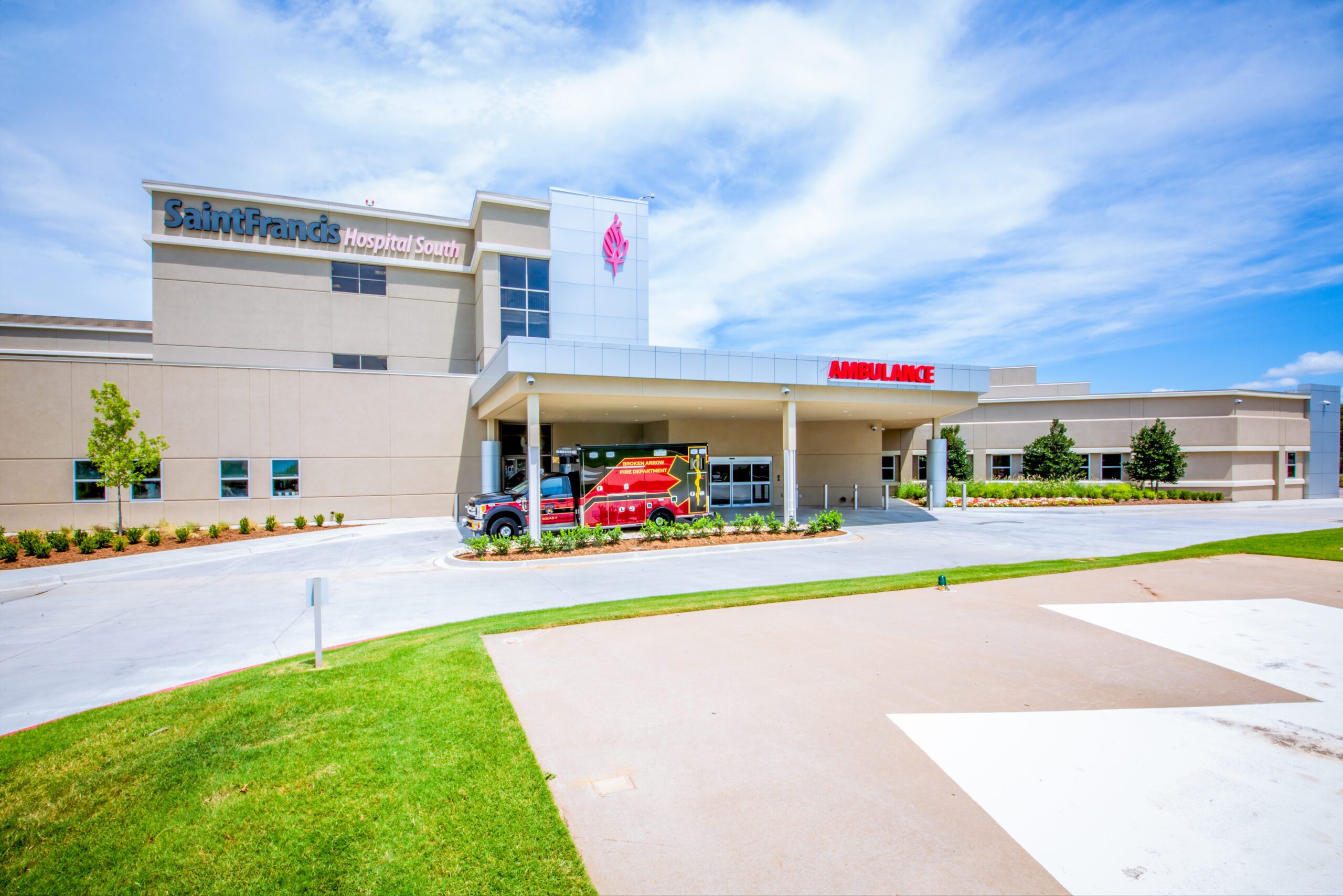 ---
Saint Francis South ER Expansion
Renovations and additions to Tulsa's leading emergency center
---
Tulsa, OK
Saint Francis hospital houses Tulsa's leading emergency center. When the ER needed renovations and an add-on, Crossland was proud to assemble a world-class team to lead construction and the move into the new 17,000 SF addition. Aided by a thorough constructibility review and a great deal of creativity, we established an efficient schedule at the best price with the highest quality.

Our team closely managed all aspects of the schedule to minimize disruption to the hospital's round-the-clock-operations, including carefully coordinated logistics and a concise construction timeline. We also identified significant equipment lead times, then coordinated with subcontractors to preplan our construction in conjunction with their assignments and installations.

Our crews self-performed the earthwork, storm drains, building and site concrete, and structural steel. By identifying a method to manage the sanitary sewer more successfully, we reduced the quantity of needed pipe from thousands to hundreds of feet. Additionally, through a revised plan, our team created for a portion of the construction, we further minimized the hospital's impact and finished that section's renovation within one week. These time-saving solutions were not within the original work scope and were possible only by thinking outside the box and working as a team.

Overall, the Saint Francis Hospital project was successful due to the caliber of our team. We prioritized communication and held frequent meetings with all stakeholders to ensure we heard everyone's ideas. We stayed on the same page regarding the schedule, the budget, quality control, and safety. Crews also held meetings before beginning any hazardous activities and utilized our Crossland DOWN program, which goes beyond the industry standard IRCA specifications. DOWN stands for Dust, Odor, Water, and Noise – elements we must "keep down" on all healthcare project jobsites.

Our team celebrated this project's ongoing successes by hosting monthly gatherings for the owner, design team, subcontractors, and anyone on the jobsite. We proudly identified more as a "Saint Francis South ER project team" rather than individuals from each company. This excellent and effective team approach is how we completed such an outstanding project.
Project Facts
Industry Sector: Healthcare
Cost: $9,800,000
Size: 15,000 SF
Delivery Method: Construction Management
Self-Perform: Earthwork, Steel Erection, Concrete
Owner: Saint Francis Health System
Architect: EYP

READY TO GET STARTED?
READY TO GET STARTED?
READY TO GET STARTED?
READY TO GET STARTED?
READY TO GET STARTED?
Let's Build
Ready to lay the groundwork?
Find a Career
We've got a hard hat with your name on it.