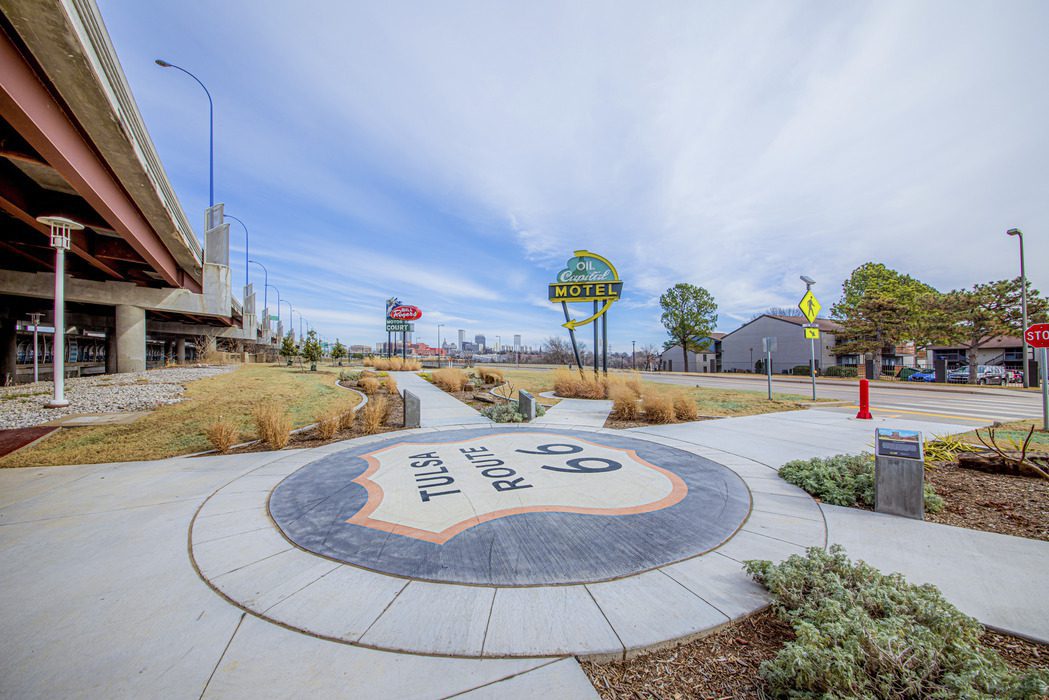 Iconic signage for this decorative plaza
---
Tulsa, OK
Route 66 is a historic US highway that runs through the heart of America, symbolizing freedom, mobility, and pursuit of the American Dream. After decades gone by, Route 66 enhancement programs are in full swing across areas surrounding the famous roadway. As part of their voter-approved Vision 2025 Route 66 Enhancements and Promotion package, the City of Tulsa hired Crossland Heavy to install three 20-foot-tall neon replicas of signs that would have advertised prominent businesses on the route during its heyday.
Spaced to see the illumination from all sides, our crews placed signs for Will Rogers Motor Court, Tulsa Auto Court, and the Oil Capital Motel at the Avery Plaza Southwest, a new Route 66 attraction in Tulsa. Below the signs, we poured colored and stamped decorative concrete sidewalks and landscaping and a stained concrete Route 66 logo in the middle of the project. Crews installed bike symbols and other signage to allow for pedestrian and bicycle traffic through the new area. Three metal plaques were also added to help travelers learn more about Route 66 and the signs' history.
The City of Tulsa was thrilled with the outcome of the project. They held a grand-opening ceremony, attended by the mayor and Tulsa city council members, to officially light the signs.
Project Facts
Industry Sector: Transportation
Cost: $364,700
Delivery Method: Design-Bid-Build / Hard Bid
Owner: City of Tulsa
Engineer: Wallace Engineering

READY TO GET STARTED?
READY TO GET STARTED?
READY TO GET STARTED?
READY TO GET STARTED?
READY TO GET STARTED?
Let's Build
Ready to lay the groundwork?
Find a Career
We've got a hard hat with your name on it.