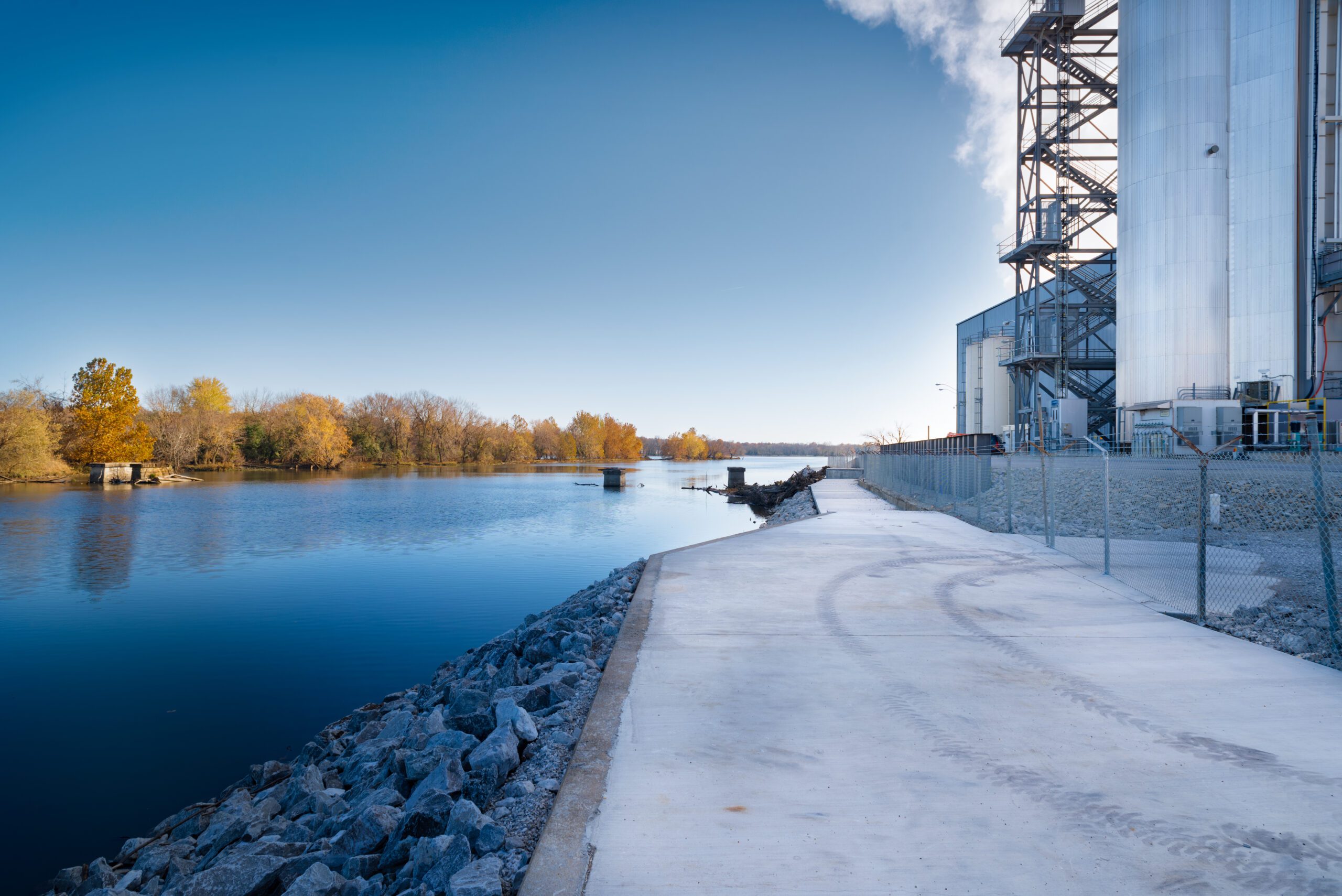 ---
Riverton Power Plant Flume Modifications
Riverton, KS
This project was commissioned to modify the existing plant effluent flume in Riverton, Kansas from open-top to contained piping. Crossland Heavy Contractors fusion-welded 550 linear feet of 24" HDPE piping to carry plant stormwater and run-off water down the existing flume bed and out into the detention pond to the South of the property. The flume was then filled with concrete to prevent debris from washing in from the river. In total, this project included 2,250 cubic yards of concrete. A new chain link fence was installed to improve site security along with protective riprap to keep large objects from contacting the flume during high water events.
Completing this work alongside a river brought challenges in managing water levels and the water in the existing flume. To overcome this challenge, our teams made sure they were one step ahead of all rain events and maintained constant communication to mitigate any challenges that arose from high water to keep the project moving forward. CHC self-performed 95% of this project, which helped keep this project on schedule and on budget. Our owner now has a zero-maintenance flume that's completely closed off from the community.
Project Facts
Industry Sector: Industrial
Cost: $666,000
Delivery Method: Design-Bid-Build / Hard Bid
Self-Perform: Below-Grade Utilities, Cast-in-Place Concrete
Owner: Liberty Utilities
Engineer: Power Engineering

READY TO GET STARTED?
READY TO GET STARTED?
READY TO GET STARTED?
READY TO GET STARTED?
READY TO GET STARTED?
Let's Build
Ready to lay the groundwork?
Find a Career
We've got a hard hat with your name on it.