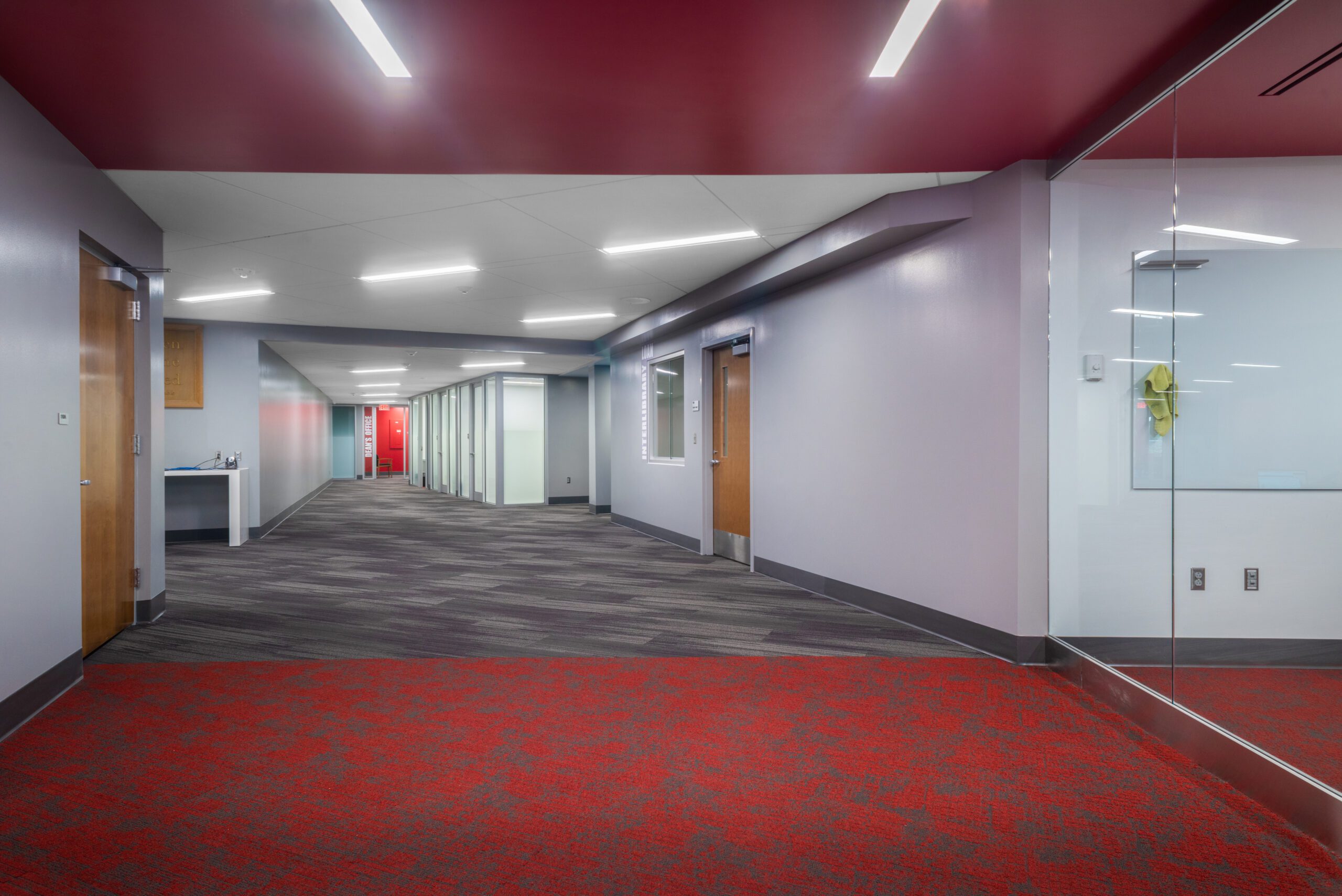 Renovated library space to keep up with student needs
---
Pittsburg, KS
As core centers of learning, campus libraries must evolve along with teaching structures and the types of projects students are creating. Academic workspaces are trending towards more open environments that support small group study and collaboration. As a hometown community builder based near Pittsburg, KS, Crossland was very honored to complete renovations to the Leonard H. Axe Library at Pittsburg State University.

Our team demoed and rebuilt the central area to create a more welcoming entrance and improve the space's flow and functionality. The new, spacious floor plan included glass walls lining the paths to common areas, and comfortable study spaces were created to support group projects among students.

Functional improvements included increasing the number of private study rooms, adding optimal lighting for better studying success, and additional restrooms. Knowing all successful college students need access to caffeine, crews enlarged the existing coffee bar. Finally, PSU school colors were woven throughout the building to foster school spirit and pride.

Previous library additions and renovations led the demolition portion of the project to take longer than expected. Still, our team adjusted for the challenges from day one to maintain the timeline. Crews installed temporary walls to contain the work away from areas where students were attending, and we completed the project on time and within budget.

Ultimately, this more modern and inviting design ensures PSU students will enjoy both studying and relaxing in Axe Library for years to come.
Project Facts
Industry Sector: Educational
Cost: $925,300
Size: 4,100 SF
Delivery Method: Design-Bid-Build / Hard Bid
Self-Perform: Demo, Finish Carpentry
Owner: Pittsburg State University
Architect: Clark Huesemann

READY TO GET STARTED?
READY TO GET STARTED?
READY TO GET STARTED?
READY TO GET STARTED?
READY TO GET STARTED?
Let's Build
Ready to lay the groundwork?
Find a Career
We've got a hard hat with your name on it.