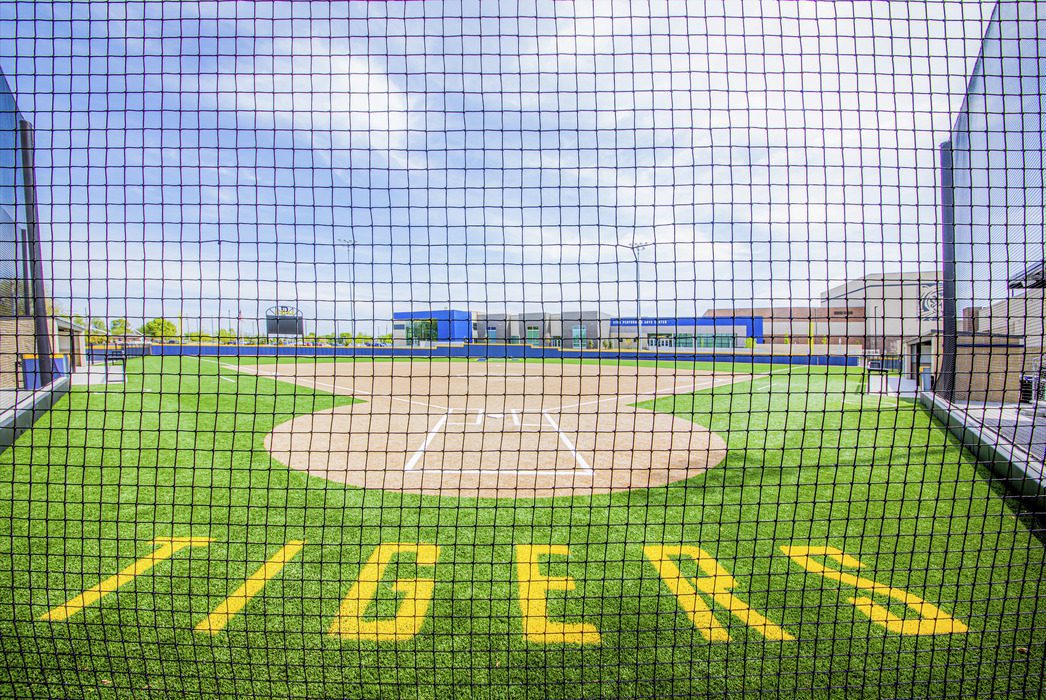 ---
Pryor Baseball and Softball Facility
Pryor gets a sports facility fit for the pros
---
Pryor, OK
Pryor Highschool allowed Crossland to build a sports complex for their top-of-the-state baseball and softball teams. Because school spirit runs deep in Pryor, we got to add unique touches that ignite the athleticism of the space. The project included an 18,000+ SF building to house the press box and hospitality suite, locker rooms, and adjoining fields and seating.
The outdoor fields boast royal blue and yellow, with decorative CMU to prevent showing wear and tear. The pressbox and hospitality suite include a viewing deck on the roof for the best seat in the house. Both fields are made of synthetic turf, paired with a state-of-the-art drainage system to prevent field damage, even in the worst of weather. The outfield fences are composed of a Champion Wall system that is usually only seen at the professional level. With a cost of $204,000, the scoreboards feature LED lights to display the athlete's pictures and stats during the games.
The locker rooms contain beautiful custom wood lockers and an anti-slip athletic floor. Inside the building, there are also indoor batting cages and offices for the coaches. The entire facility was designed to stand the test of time by using high-quality materials that prevent wear and tear over the years.
Our team was challenged with the misfortune of bad weather. We experienced two record-breaking flood events during the build but only had to minorly adjust the schedule.
This high-tech facility is the first in the state. It will provide the school and community with the facilities needed to grow their championship-winning programs. Despite the challenges, the project was completed within budget and only one month longer than the expected timeline, displaying Crossland's ability to meet and exceed project demands and stay within the project's scope.
Project Facts
Cost: $9,100,000
Size: 18,493 SF
Delivery Method: Design-Bid-Build / Hard Bid
Self-Perform: Finish Carpentry, Rough Carpentry, Steel Erection, Concrete
Owner: Pryor Public Schools
Architect: The Stacy Group, Inc.

READY TO GET STARTED?
READY TO GET STARTED?
READY TO GET STARTED?
READY TO GET STARTED?
READY TO GET STARTED?
Let's Build
Ready to lay the groundwork?
Find a Career
We've got a hard hat with your name on it.