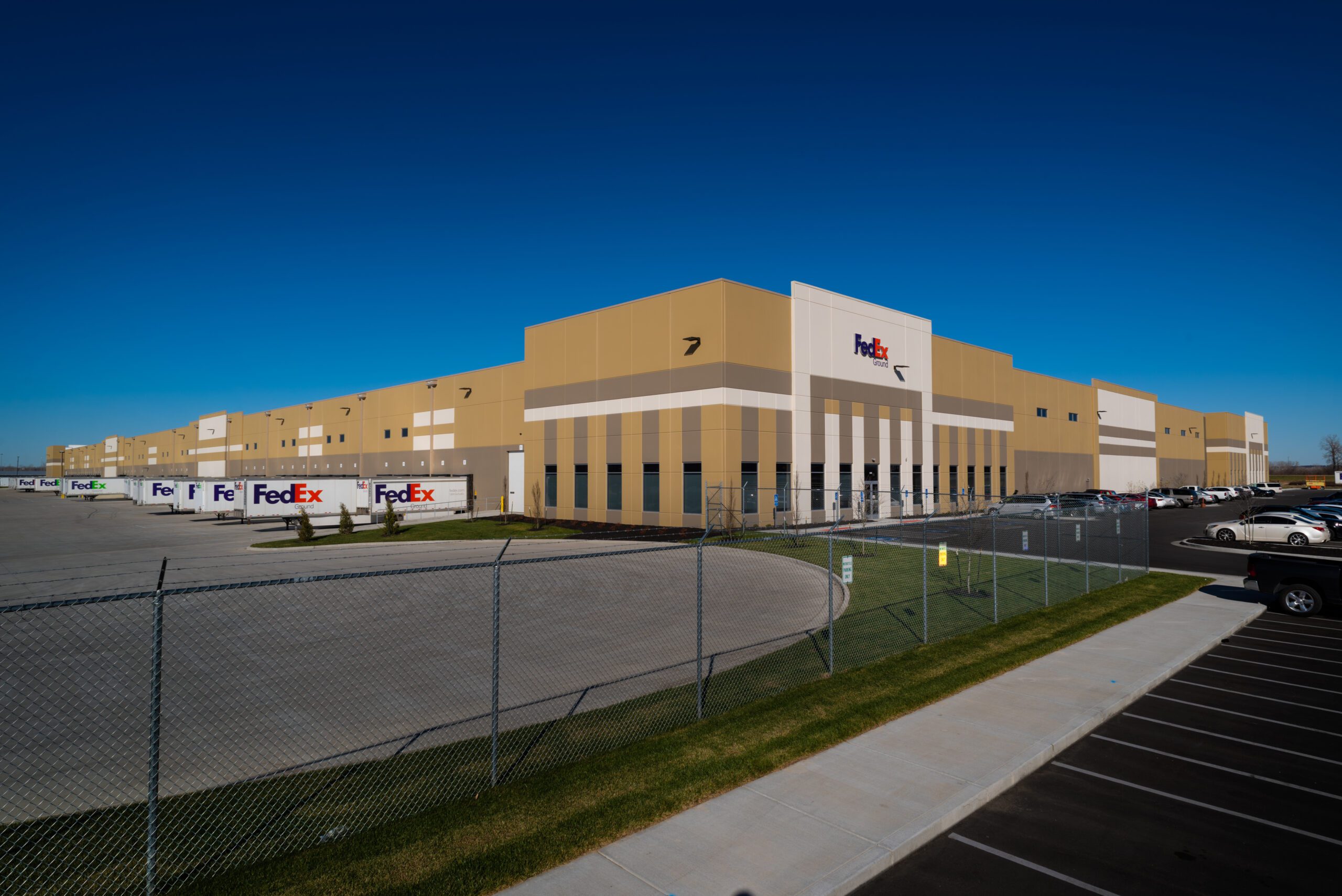 ---
Northland Park Building VI
550K SF in only five months
---
Kansas City, MO
From pad-ready site to 550,000 SF of completed industrial warehouse space in just five months! Northland Park is a 300-acre industrial development in North Kansas City, MO. The new warehouse is the largest to date at the park, with 42 dock positions, four drive-in docks, and 130 trailer stalls. Our team said we would deliver the distribution center in time for Fed-Ex, the tenant, to prepare for their increased holiday traffic. And we did.

Detailed, upfront planning set this project on course for success from the very beginning. Our preconstruction team spent several months hiring the best subs and establishing a definite timeline so construction could hit the ground running. At the time of the bid, the warehouse was to be a shell for a future tenant. Our scope was to construct the building, install all site utilities, grade and pave the parking lot and onsite roads, and install final landscaping.

But when FedEx Ground signed a lease during construction, the client added many work scopes to meet their needs, and the schedule didn't change. Electrical, site paving, signage, exterior fencing, parking/road revisions, dock equipment, office build-outs, security systems, and interior conveyors were new parts of the job that had to meet the same deadline.
During a four-week weather and permit delay at the start of the project, our team efficiently planned every construction aspect to make the most of the timeline. Crews created phasing diagrams and coordinated with each trade to plan who was working where and when then implemented those details to a T. Crossland's up-and-coming internal talent also played a role in completing the project so quickly. With the help of young field engineers, we proved once again that we have the best team to implement unreal timelines, and we do what we say we're going to do.
After delivering the Northland Park job on a timeline others may have said was impossible, Crossland is continuing to build for this client.
Project Facts
Industry Sector: Industrial
Cost: $20,500,000
Size: 548,560 SF
Delivery Method: Design-Bid-Build / Hard Bid
Self-Perform: Rough Carpentry
Owner: NP Northland Park VI, LLC
Architect: studioNorth Architecture

READY TO GET STARTED?
READY TO GET STARTED?
READY TO GET STARTED?
READY TO GET STARTED?
READY TO GET STARTED?
Let's Build
Ready to lay the groundwork?
Find a Career
We've got a hard hat with your name on it.