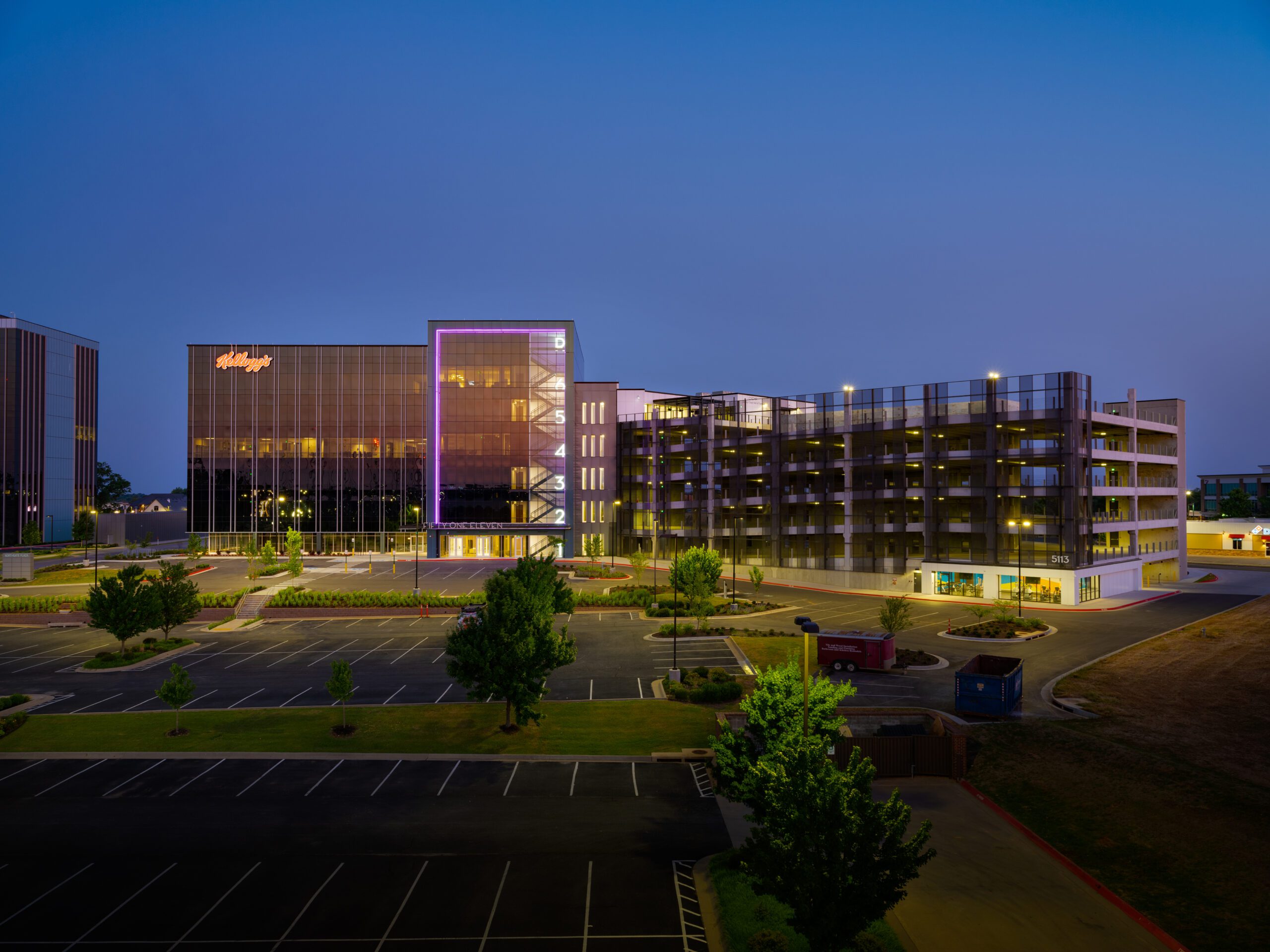 ---
Northgate Plaza – Phase 1
Commercial and residential development combined in a compact area
---
Rogers, AR
The Northgate Plaza project lies in the ever-expanding area of Pinnacle Hills, one of the fastest developing communities in Northwest Arkansas. A large-scale building project has been underway in Rogers, AR, for what developers call an "urbanism approach" – commercial and residential development combined in a compact area.

Crossland built the 125,000 SF, six-story office building, plus a six-level precast parking deck with a 400+ vehicle capacity. The office building and parking deck connect with a fully enclosed pedestrian bridge spanning levels 2-5. The main building is a stunning structural steel structure, with storefront, curtain wall, and custom-colored aluminum composite panels that complement existing buildings in the community. Color-changing LED lighting give the building a customizable look.

The parking deck features a fitness center on ground level for office tenants and a 2,500 SF event center on the roof with both indoor and outdoor entertaining and meeting areas. The parking deck is a precast concrete structure featuring a contemporary custom steel mesh façade.

Crews left much of the core and shell bare to accommodate specific office buildouts. The lobby features porcelain tile, high-end wall coverings, and wood ceiling and wall features. The same composite metal panels used on the exterior are also accented throughout the entrance to tie the looks together. A northeast staircase features clear curtainwall glass, boxed out with composite metal panels, and six-feet-high number signs that light up to indicate each floor level.

The result of this project is a show-stopping building in Pinnacle Hills. It provides office space for up to eight companies.
Project Facts
Industry Sector: Commercial – Retail & Office
Cost: $20,000,000
Size: 125,000 SF
Delivery Method: Negotiated
Self-Perform: Concrete
Owner: PH Office II, LLC
Architect: Core Architecture

Project Awards:
ABC of Arkansas Excellence in Construction
READY TO GET STARTED?
READY TO GET STARTED?
READY TO GET STARTED?
READY TO GET STARTED?
READY TO GET STARTED?
Let's Build
Ready to lay the groundwork?
Find a Career
We've got a hard hat with your name on it.