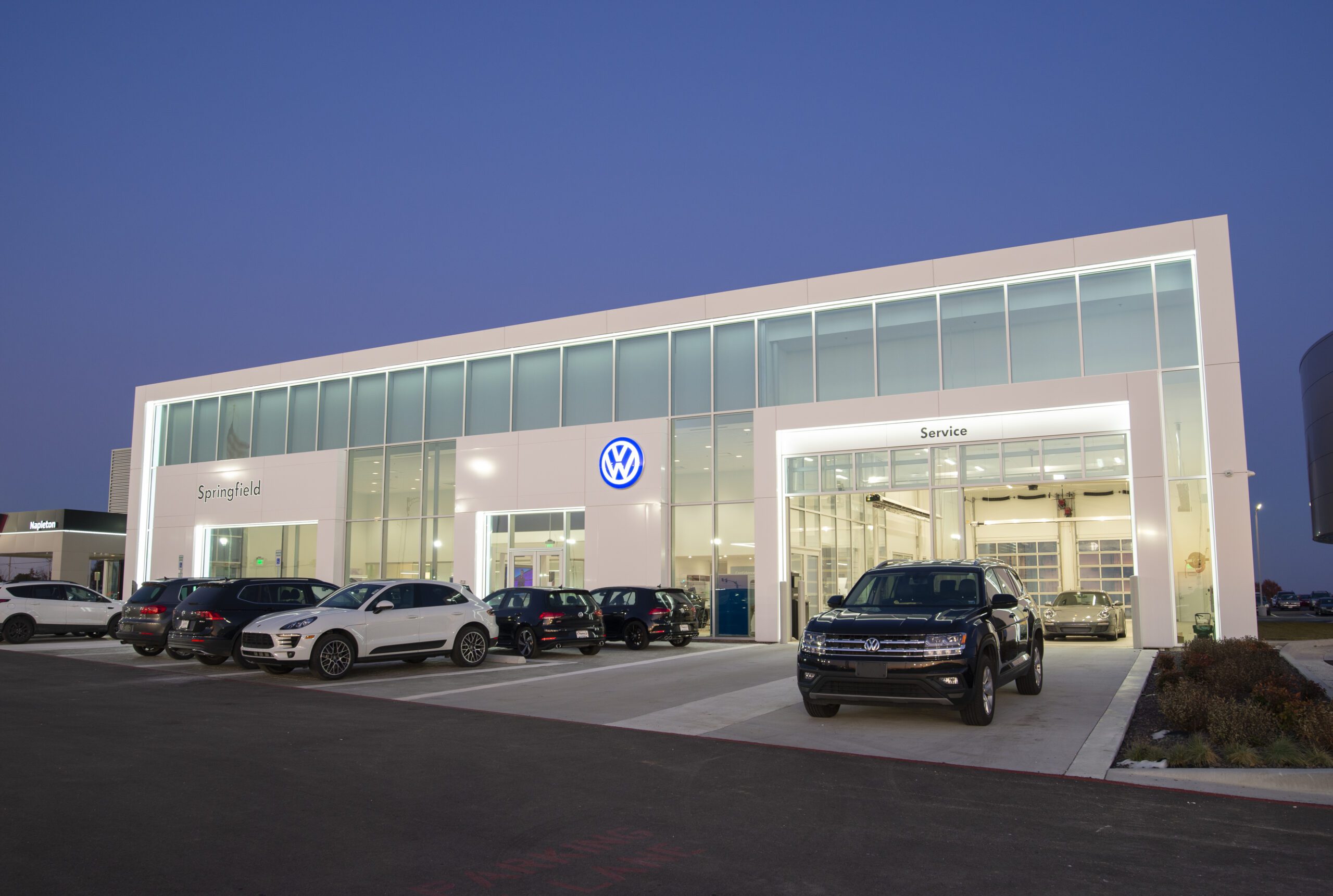 ---
Napleton Autowerks Dealership
New, improved location to better serve customers
---
Springfield, MO
After operating out of a former Lowe's building, Napleton Autowerks wanted a new dealership in an improved location to serve its customers better. The company sells Porsche, Volkswagen, and Mitsubishi brands of automobiles.
Napleton hired Crossland for site improvement and the construction of two buildings, one to house Volkswagen and Mitsubishi, the second for Porsche, which also has an attached car wash.
The 27,900 SF Volkswagen / Mitsubishi structure is a two-story building and includes a VW showroom with offices, a Mitsubishi showroom with offices, an automotive shop, and mezzanine storage areas. Modern interior finishes complete the welcoming feel of the dealership, including tile flooring and glass wall offices. The parts and automotive service departments are fully equipped with lifts and an exhaust system.
The 10,700 SF Porsche building is a single-story and highlighted by an attractive radius front composed of aluminum composite materials and a glass wall system. It features a large skylight in the center of the showroom, plus contemporary glass offices and a service shop. Customers will enjoy the boutique-like atmosphere and elegant finishes, such as the modern tile flooring and metal plank ceilings used to complete the interior. The building has a covered service drive with ACM ceilings, and a car wash on the backside, so Porsche can deliver sparkling new cars to their clients.
With two+ months of recordable weather days and the addition of a parking lot, the job site remained under construction after the client occupied the building. Crossland provided effective communication and coordination between the owner and subcontractors to minimize weather impact and enable the owner to move into the VW building while construction on the Porsche side was still underway.
Project Facts
Industry Sector: Commercial – Retail & Office
Cost: $9,300,000
Size: 43,000 SF
Owner: Napleton Equities, LLC
Architect: Bulter Rosenbury & Partners

READY TO GET STARTED?
READY TO GET STARTED?
READY TO GET STARTED?
READY TO GET STARTED?
READY TO GET STARTED?
Let's Build
Ready to lay the groundwork?
Find a Career
We've got a hard hat with your name on it.