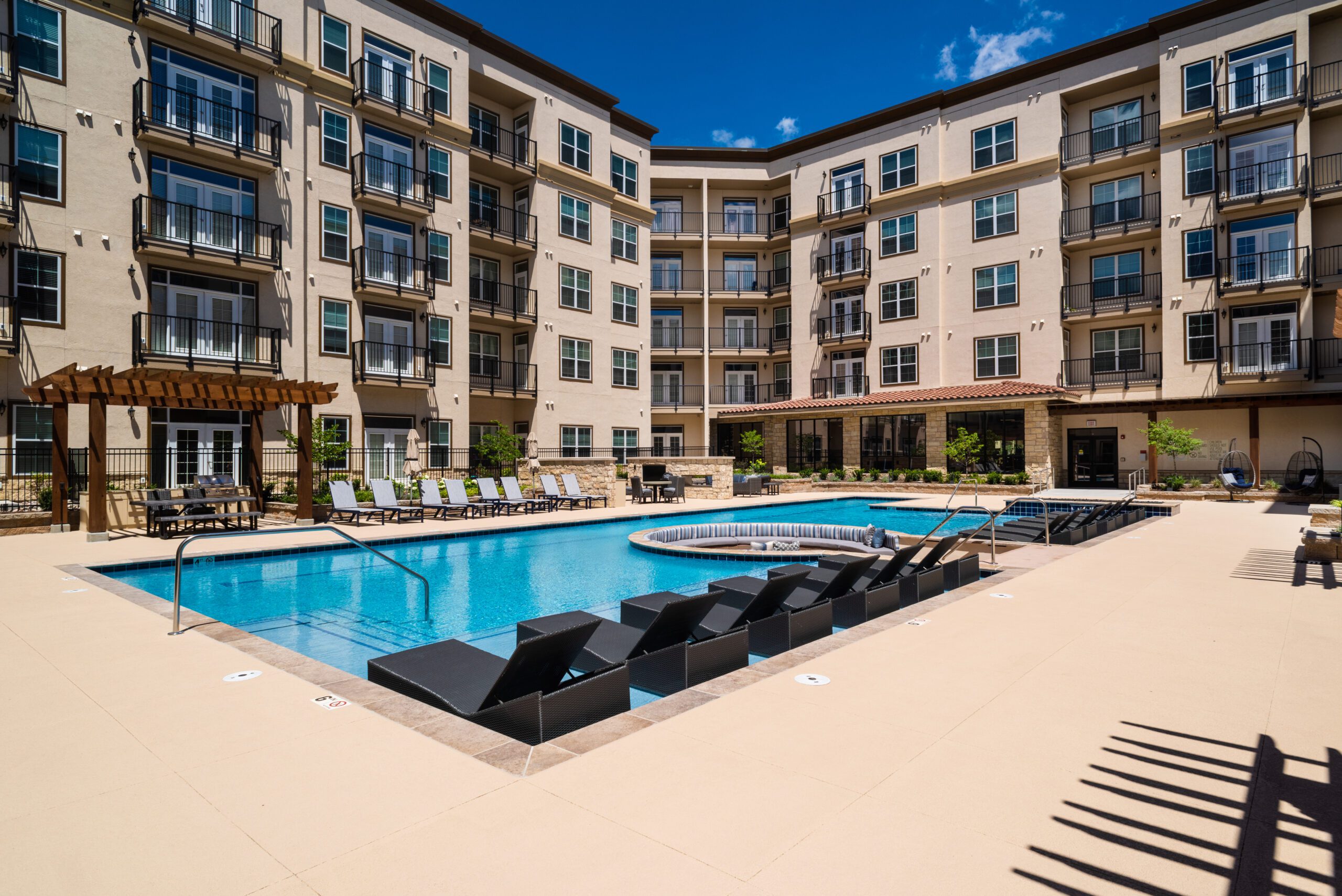 Multi-family development in a growing area stacked with amenities
---
Mission, KS
The City of Mission, KS in Johnson County, is experiencing significant growth of its housing and retail properties, given its central location within the Kansas City metro area. 2020-21 expansion will include new office space, an entertainment venue, a food hall, a hotel, and numerous small retail shops along and near Johnson Drive, the central business and transportation corridor through Mission. The City chose Crossland to build "The Locale," a five-story, mixed-use building that houses 200 luxury apartments, both public and private multi-level parking, ground-level retail stores, and a 5,000 SF restaurant –all next to a large outdoor courtyard facing Johnson Drive. Unified communities are in high demand, so the design and construction of the Locale included many amenities. An expansive resident courtyard consists of a sunken pool fire pit, resort-style saltwater pool, and two see-through fireplaces. Inside the complex is a spa with a sauna and tanning room, 24-hour fitness center, yoga room, and bike storage. A dog park area plus a dog wash and drying station create a super pet-friendly atmosphere. These are only a few of the luxuries constructed to encourage a community vibe among The Locale residents. From an architectural perspective, The design of the Locale matches the City's mission style. Freestyle stucco and Coronado and Canyon stone accents are part of the exterior finishes. Interior apartment enhancements include two-tone cabinets with glass-front uppers, engineered stone countertops, under-counter, and upper cabinet accent lighting, and valet trash doors to the hallways. LED energy-efficient lighting was used throughout the building, along with upscale finishes and architecture like stained white oak beams in the clubroom and leasing office. Crossland completed this innovative and ground-breaking structure on time and within budget.
Project Facts
Industry Sector: Multi-Family
Cost: $29,300,000
Size: 305,628 SF
Number of Units: 200
Delivery Method: Negotiated
Self-Perform: Steel Erection, Concrete
Owner: Mission Apartments, LLC
Architect: Klover Architects

READY TO GET STARTED?
READY TO GET STARTED?
READY TO GET STARTED?
READY TO GET STARTED?
READY TO GET STARTED?
Let's Build
Ready to lay the groundwork?
Find a Career
We've got a hard hat with your name on it.