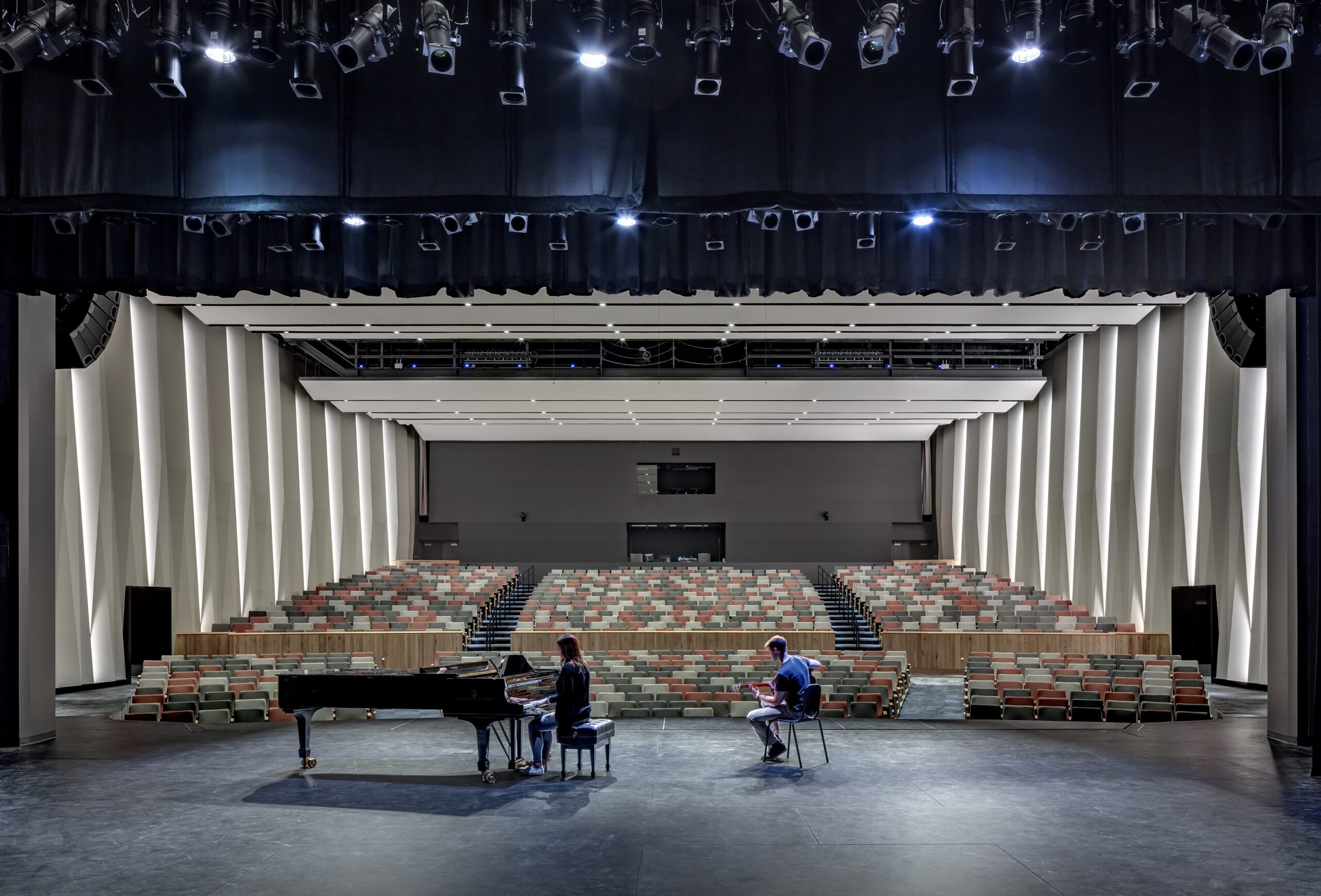 ---
Melissa High School Additions and Renovations
Enhanced student experience with a multi-faceted high school renovation + addition
---
Melissa High School proudly chose Crossland Construction when in need of a significant addition to the school. This project was multi-faceted, including a gym addition, a café addition, a Performing Arts Center (PAC), and a storm shelter. This 63,000 SF addition enhanced the school on many levels.

The gym addition was designed to include a full basketball court with additional basketball courts, creating a space that could also be used for volleyball. In addition, the new facility boasts telescopic bleachers, scoreboards, two locker rooms, and multiple coach offices. The café was completely renovated, with decorative wall paneling, a curtain wall, special flooring, and a coffee bar with additional kitchen equipment.

The newly enhanced PAC exemplifies craftsmanship and attention to detail, with 1,000 auditorium seats, decorative stretched fabric throughout the audience chamber, decorative wall panels, porcelain tile floors, and bathrooms complete with decorative ceramic tiles. Additionally, Crossland added a lobby complete with terrazzo flooring, a catwalk, dressing rooms, playrooms, and 70-foot tall ceilings throughout the performance space.

Crossland's invaluable team brought this design to life by successfully handling all coordination between the multiple additions, protecting all the original school property, and the challenge of bad weather. Pulling from our experience and thinking strategically, the team was able to save the school money by repurposing many of the materials of the original space, helping to keep costs down. Crossland kept focus, despite a turbulent process, keeping the timeline and budget at the forefront at all times.
Project Facts
Industry Sector: Educational
Cost: $23,900,811
Size: 63,000 SF
Delivery Method: Design-Bid-Build / Hard Bid
Owner: Melissa Independent School District
Architect: Perkins & Will

READY TO GET STARTED?
READY TO GET STARTED?
READY TO GET STARTED?
READY TO GET STARTED?
READY TO GET STARTED?
Let's Build
Ready to lay the groundwork?
Find a Career
We've got a hard hat with your name on it.