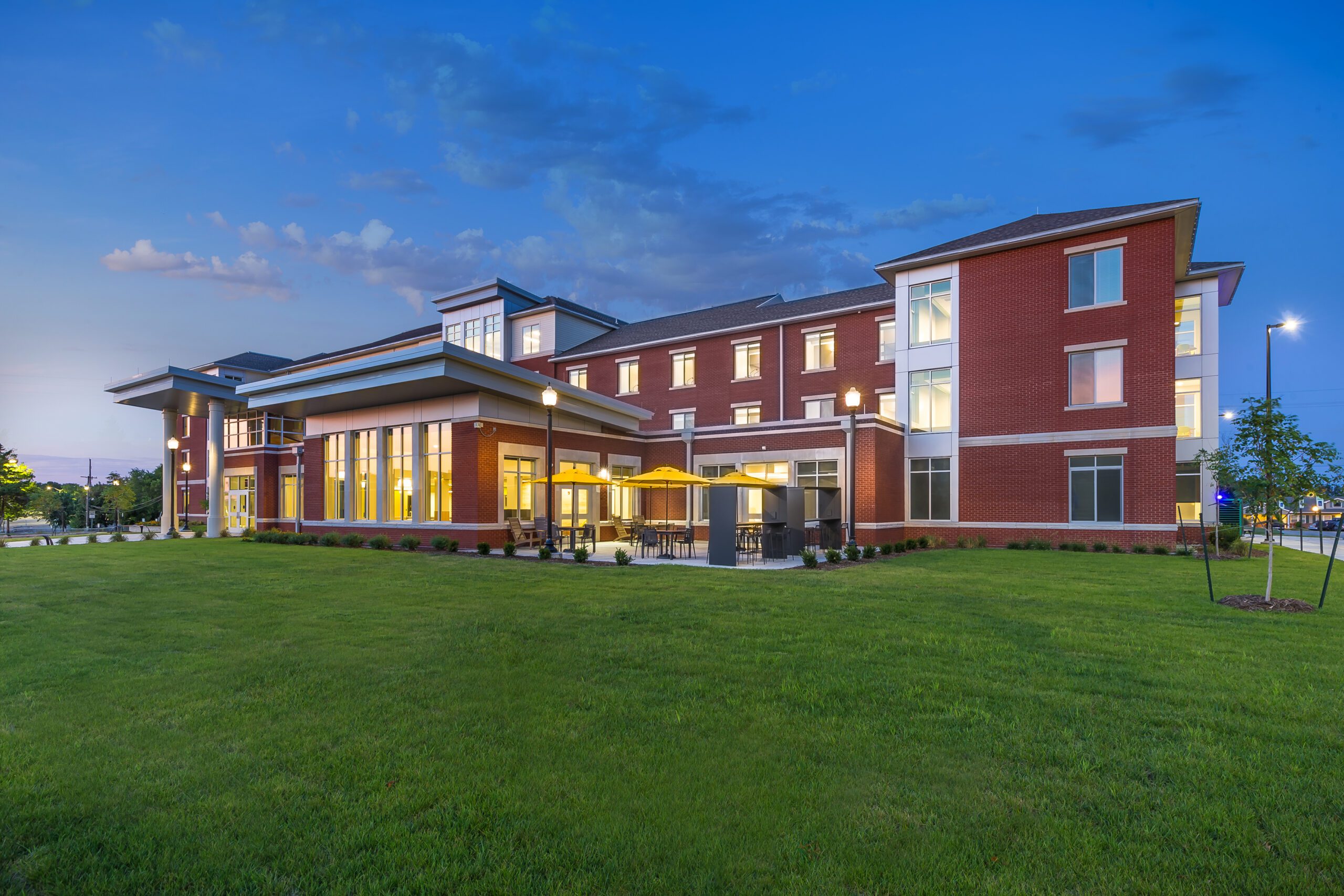 ---
ESU Market Street Residency Hall Building Package
Appealing to students with a blend of home and learning environments
---
Emporia, KS
Emporia State University (ESU) hadn't added student housing to the campus since 2002. Administrators wanted to provide a new residence hall with modern amenities that would appeal to students wanting a blend of home and learning environments.
Newly named since the project's completion, Schallenkamp Hall is a 90,850 SF, four-story building housing 324 students. The ESU design committee considered present and future students when planning the new residence hall and discussed ways to encourage student interaction. The final design included a large lobby on the main floor with a ping pong table, pool table, tutoring spaces, meeting/study spaces, and education rooms. Each level has a lounge with a shared kitchen area to inspire students to cook together and share meals.
Environmentally friendly and sustainable materials were important to the committee, so we assembled the building using a prefabricated structural stud system featuring lightweight joists and a fiberboard decking. About 70 percent of the building's exterior is brick, and the remaining 30 percent is a combination of metal panels and low-maintenance Hardie board siding. While the roof framing has the look of a traditional shingle, three hidden flat roofs support the rooftop units, and a Rainhandler roof system was installed.
The building is divided into 10 "communities" – six of which include 15 double bedrooms (30 beds), one single room for a resident assistant, and one single room with a private bath. The other four communities house 16 double bedrooms and one single RA room.
Project Facts
Industry Sector: Educational
Cost: $15.7M
Size: 90,850 SF
Delivery Method: Design-Bid-Build / Hard Bid
Self-Perform: Rough Carpentry, Steel Erection, Concrete
Owner: Emporia State University
Architect: HTK Architects

READY TO GET STARTED?
READY TO GET STARTED?
READY TO GET STARTED?
READY TO GET STARTED?
READY TO GET STARTED?
Let's Build
Ready to lay the groundwork?
Find a Career
We've got a hard hat with your name on it.