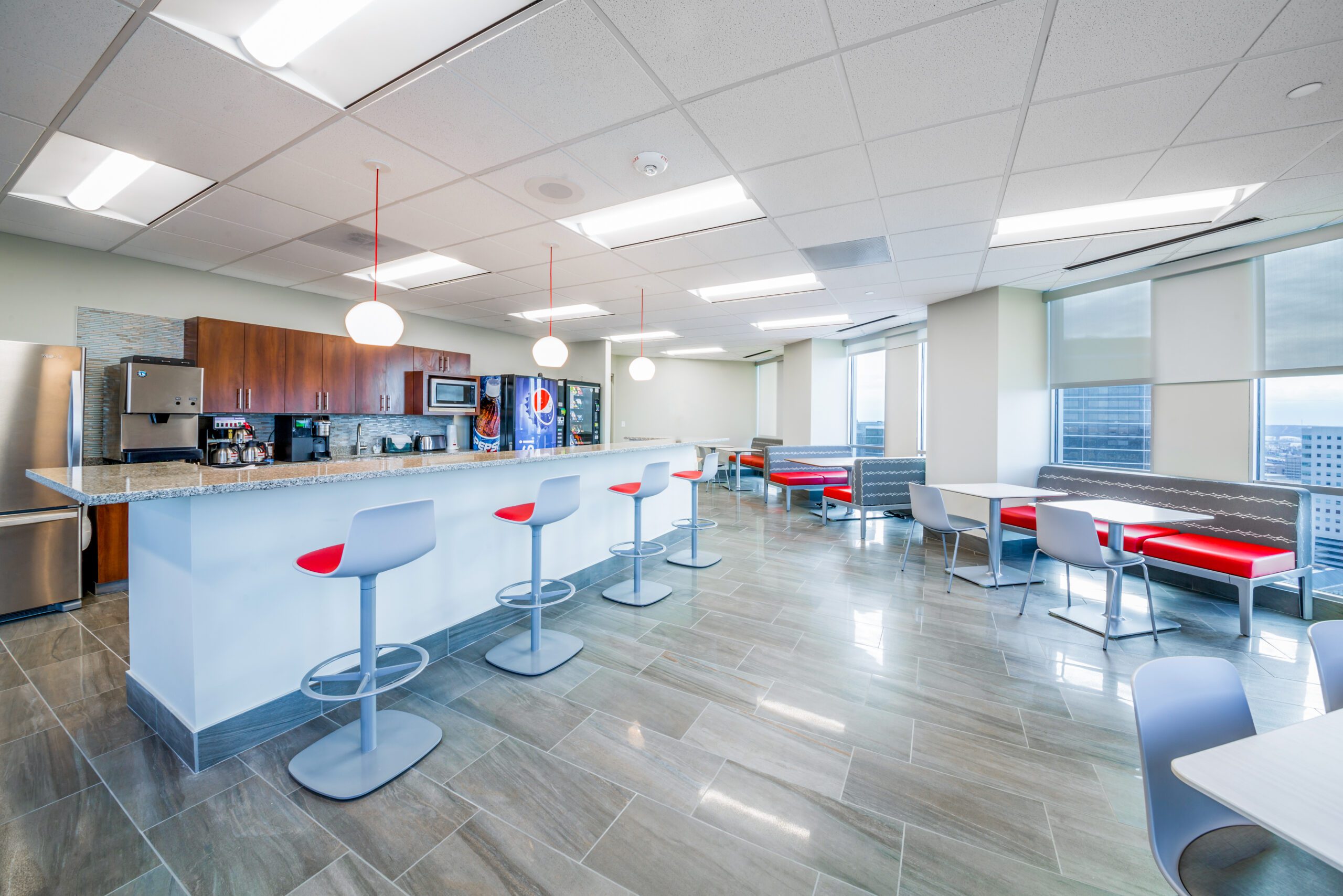 Tulsa, OK
Originally designed by the same architect who designed New York's World Trade Center, the BOK Tower building is Tulsa's tallest skyscraper and iconic beacon of the downtown landscape. Originally named the Bank of Oklahoma Tower when it opened in 1976, it's only fitting that BOK Financial would want all internal departments within this emblematic monument of Tulsa's financial sector.
This robust office expansion included 165 offices and 35 conference rooms, spanning five floors. Each floor features its own reception space, training rooms, break room, coffee bar, mothers' room, mailroom, and file room, as well as data and phone rooms. The restrooms were modernized with high-end materials, including floor and wall tile, stainless steel toilet partitions and accessories, and solid surface countertops. Crossland enhanced the elevator lobbies with beautiful herringbone floor tile pattern, wood wall panels, and wood ceilings that align visually with the project's wood doors and millwork. The storefront was well utilized for every office and conference room. Almost all the project's glass is reeded, designed with convex ridges across the surface of the glass. Significant updates to mechanical, electrical, and plumbing systems were also necessary.
Coordination between the Crossland teams and building management played a key role in the success of this project. Given that only two freight service elevators were available for material and worker transport, detailed scheduling protocols were implemented for deliveries. Construction that was especially loud was carefully planned to occur following normal business hours to prevent disrupting occupied floors.
As a result of meticulous planning and scheduling, the BOK Tower project was seamless, from demolition to completion.
Project Facts
Industry Sector: Commercial – Retail & Office
Cost: $8,843,012
Size: 125,000 SF
Delivery Method: Construction Management
Owner: BOK Financial
Architect: KKT Architects

READY TO GET STARTED?
READY TO GET STARTED?
READY TO GET STARTED?
READY TO GET STARTED?
READY TO GET STARTED?
Let's Build
Ready to lay the groundwork?
Find a Career
We've got a hard hat with your name on it.