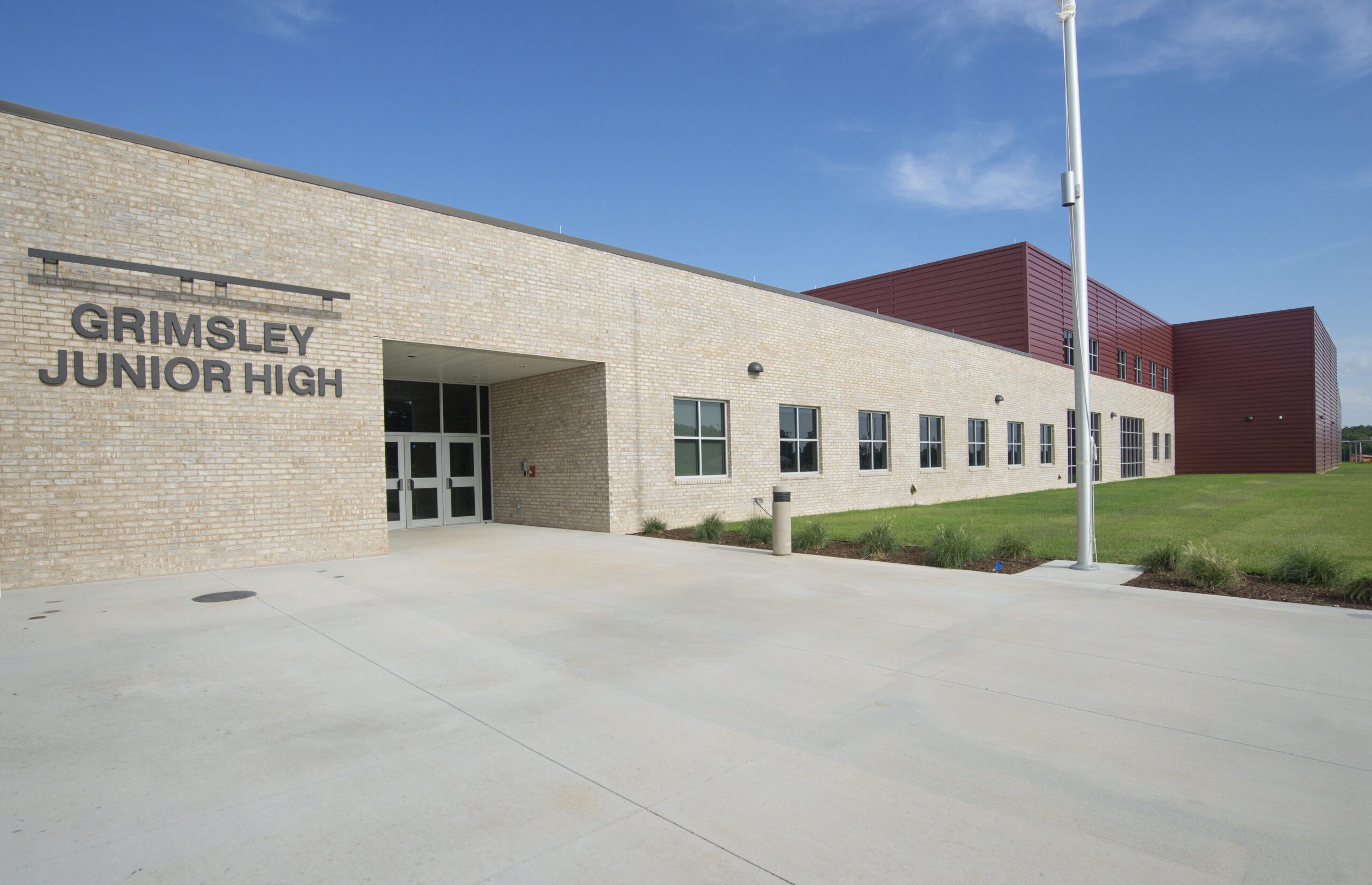 ---
Bentonville Junior High 4
New, modern junior high for up to 700 students
---
Centerton, AR
Centerton, Arkansas, has experienced substantial growth over the last ten years. The Bentonville School District has grown significantly and chose Crossland to build its fourth junior high school – Grimsley Junior High. 7th and 8th graders attend the new 144,000 SF school, which will accommodate up to 700 students once it reaches capacity.
The detailed school design included every type of room needed for happy, successful students. It features a competition gym, practice gym, varsity weight room, a football field, a theater, band room, and choir room. The Science and FACS classrooms (Family and Consumer Sciences) are spacious and fully equipped with supplies and appliances for meaningful hands-on learning. The cafeteria has a large and open floorplan. It features a full wall of windows, giving the kids a soothing, panoramic view of the campus and Arkansas skyline. Students and teachers will enjoy exercising on the large, outdoor courtyard with a full-sized basketball court.
We highlighted the exposed trusses in the library and cafeteria by applying a light-colored paint to the roof deck and dark paint on the trusses to make them pop. Nearly 90,000 SF of concrete was poured and polished to provide a durable floor that's easy to maintain. Vibrant colored sound panels are sprinkled throughout the school to help control the sound levels and add splashes of color throughout the building.
Given the school location, the design incorporated a rustic theme to emphasize farming. As a group, we discussed several facade types and ultimately agreed to use both metal panels and brick to highlight this tight-knit community's agricultural side.
We delivered the project using the CM at Risk delivery method. Our team came on board while the design team began holding programming meetings with school staff so that we could provide input on overall design and materials. During preconstruction, our team budgeted the school at 30% drawings and at 90% drawings before bid. The owner was thrilled with our final numbers for the project.
An impressive accomplishment for Crossland on this project was our management of the schedule across one of the wettest winter seasons on record, with just over 96 inches of rain falling during the 17 months of construction. Our Superintendent was proactive in finding ways to keep the schedule moving forward throughout the entire project. To keep work going, he implemented things like incorporating fly ash into muddy soil for faster drying time, building temporary rock roads around the building, and adjusting construction sequences. Additionally, our onsite team worked seven days a week to make up for lost weather days. Those efforts all made a significant impact on maintaining the timeline, and it showed in the outcome. Based on the forecast, we were allowed 140 inclement weather days. Still, we only claimed 38, finishing just six days past the originally scheduled end date.
We worked very hard to complete the project in time for the start of the school year, giving students a much-needed way to get back to normalcy during the pandemic. We are very proud to be a part of this worthwhile community project.
Project Facts
Industry Sector: Educational
Cost: $30,000,000
Size: 142,161 SF
Delivery Method: Construction Management
Self-Perform: Concrete
Owner: Bentonville Schools
Architect: Hight Jackson Associates PA

READY TO GET STARTED?
READY TO GET STARTED?
READY TO GET STARTED?
READY TO GET STARTED?
READY TO GET STARTED?
Let's Build
Ready to lay the groundwork?
Find a Career
We've got a hard hat with your name on it.