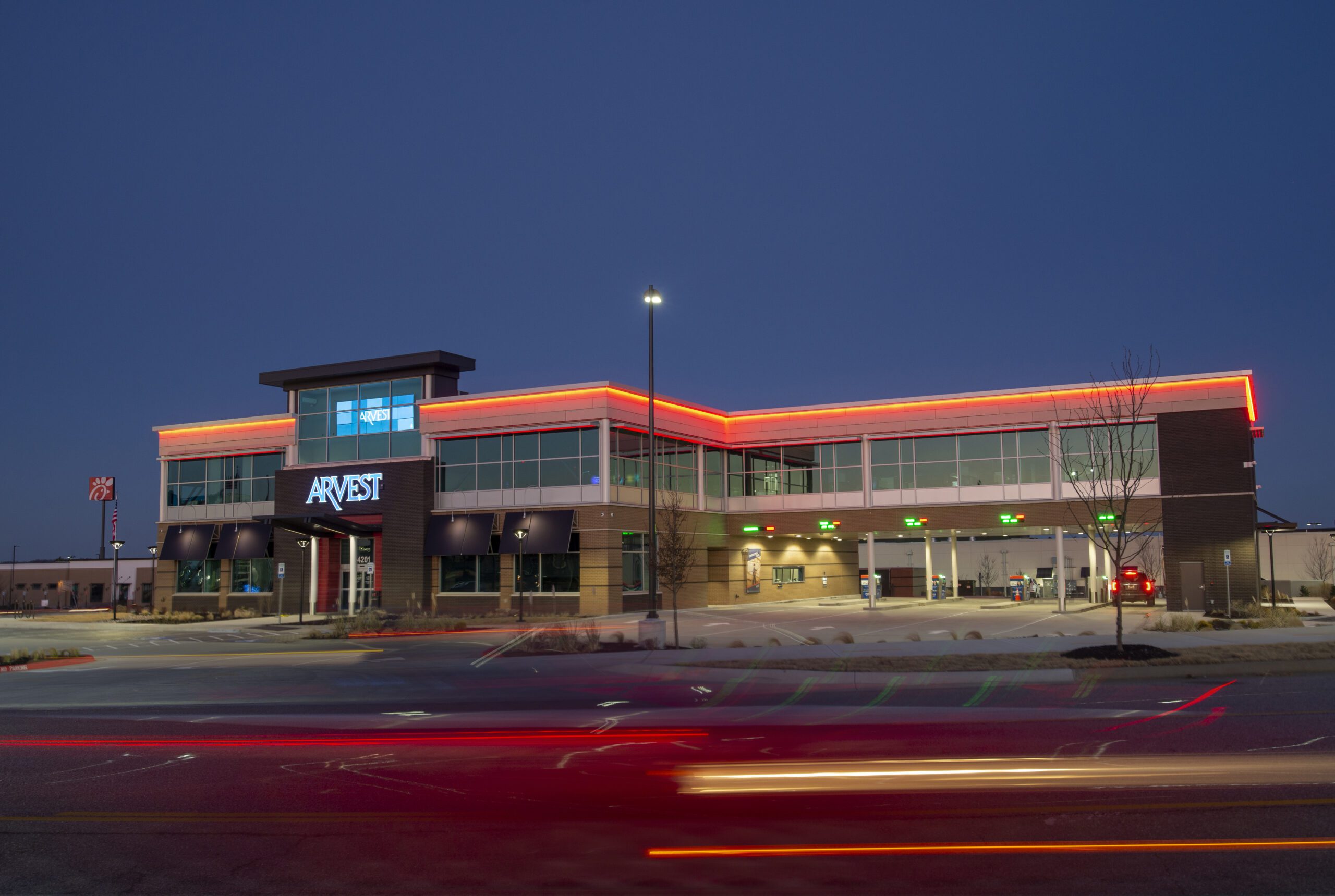 ---
Arvest Branch – Rogers, AR
New, state-of-the-art banking center
---
Rogers, AR
Arvest Bank Benton County is the largest of the company's 14 locally managed markets in Northwest Arkansas. Driven by a progressive customer base and rapidly evolving banking technology, Arvest hired Crossland to construct a new, state-of-the-art, 25,000 SF banking center in Rogers. In addition to retail banking staff, the branch houses mortgage and commercial lenders, Arvest Wealth Management, and treasury management employees.

Drive-through lanes feature one commercial window and four interactive teller machines (ITMs), which look like ATMs but provide videoconferencing for customers and tellers to interact – a first for Arvest in Northwest Arkansas.

The new branch also combines a "concierge" experience with traditional retail banking, an atmosphere reflected in the building design and construction. The first floor features a bright and open-lobby concept, with glass offices on the perimeter, exposed cross-bracing steel, cloud ceilings, and elegant porcelain tile floors. A second level in the banking center uniquely hovers over the drive-through lanes and houses additional office space, as well as conference rooms and breakrooms. Exterior highlights include a contemporary combination of brick, cast stone, fiber cement panels, metal panels, and glass curtain walls, creating an exterior feel that aligns with the modern customer experience at this technology-forward banking center.

Crossland crews worked closely with the building owner and design team to overcome weather impact to the schedule. Despite the extended time, the project was completed within budget.
Project Facts
Industry Sector: Commercial – Retail & Office
Cost: $5,893,000
Size: 24,725 SF
Delivery Method: Design-Bid-Build / Hard Bid
Self-Perform: Concrete
Owner: Arvest
Architect: Hight Jackson Associates PA

READY TO GET STARTED?
READY TO GET STARTED?
READY TO GET STARTED?
READY TO GET STARTED?
READY TO GET STARTED?
Let's Build
Ready to lay the groundwork?
Find a Career
We've got a hard hat with your name on it.