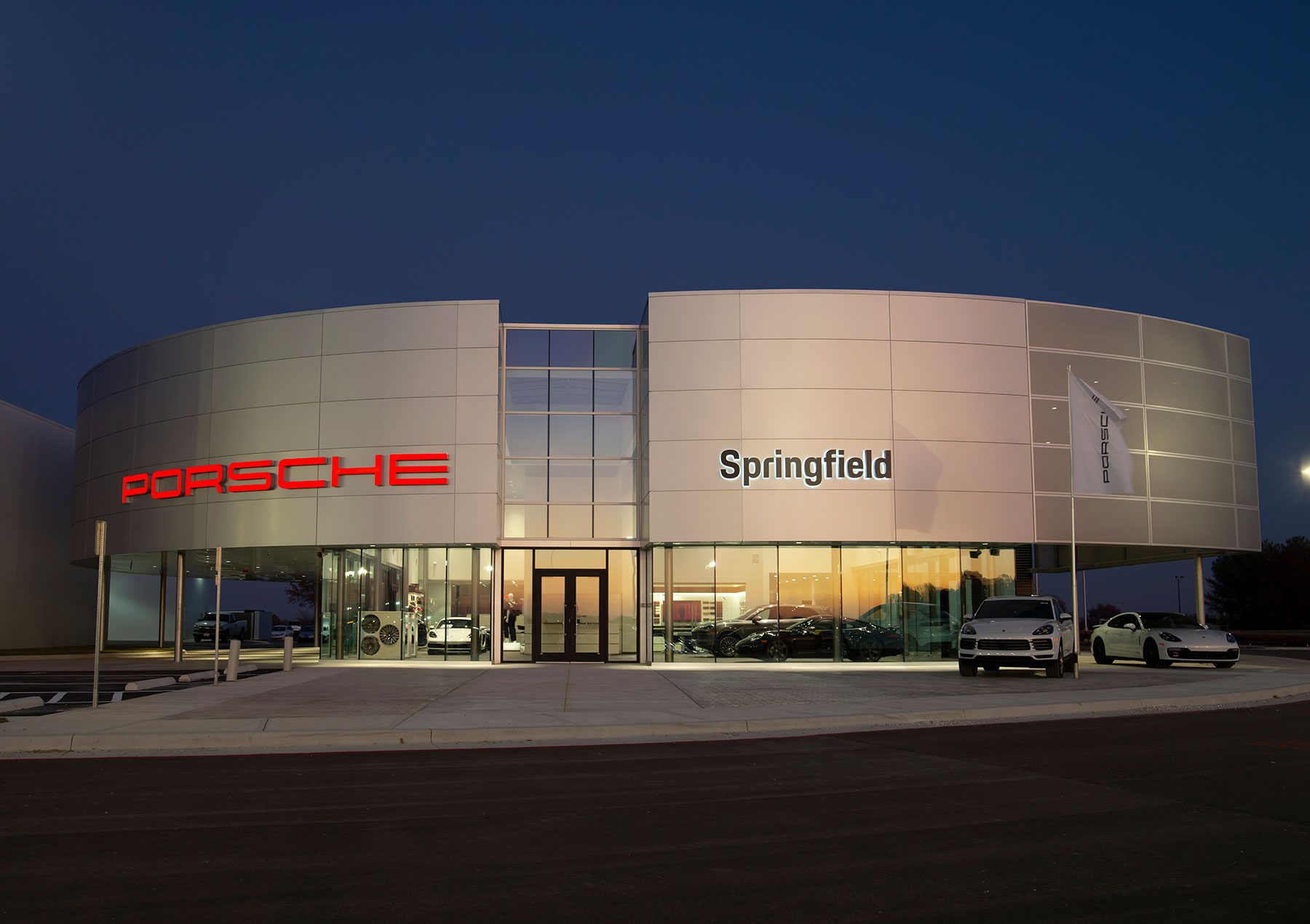 Springfield, MO – Napleton Autowerks in Springfield, Missouri, sells Porsche, Volkswagen, and Mitsubishi vehicles. After operating out of a former Lowe's building, they wanted a new dealership in an improved location to better serve their customers.
In the Winter of 2017, Napleton hired Crossland for site improvement and the construction of two facilities, one to house Volkswagen and Mitsubishi, and the second for Porsche, which also has an attached car wash.    
The two-story Volkswagen and Mitsubishi structure includes showrooms with offices for both brands, an automotive shop, and mezzanine storage areas. Modern interior finishes, glass wall offices, and  a large skylight centered above the showroom give the dealership an airy and welcoming feel. The fully equipped automotive service departments include lifts and an exhaust system.    
The single-story Porsche dealership and service shop feature a beautiful radius front, made of aluminum composite materials and a glass wall system. The luxurious, boutique-like atmosphere and first-class amenities, like a covered service drive and car wash, will impress customers.  
Two+ months of recordable weather days and an added parking lot led to a few schedule adjustments. Our team was able to minimize weather impact through effective communication and coordination with the owner and subcontractors. Our phased approach to the project enabled the client to move into the VW building while the Porsche facility was still underway.
Fast Facts:
Owner: Napleton Equities, LLC
Architect: Butler Rosenbury & Partners
Delivery Method: Hard Bid
Square Footage: VW & Mitsubishi: 27,900/Porsche: 10,700
Project Team: Lance Garrett, Division Manager; Juan Trujillo, Project Manager; and Randy Gunlock, Superintendent