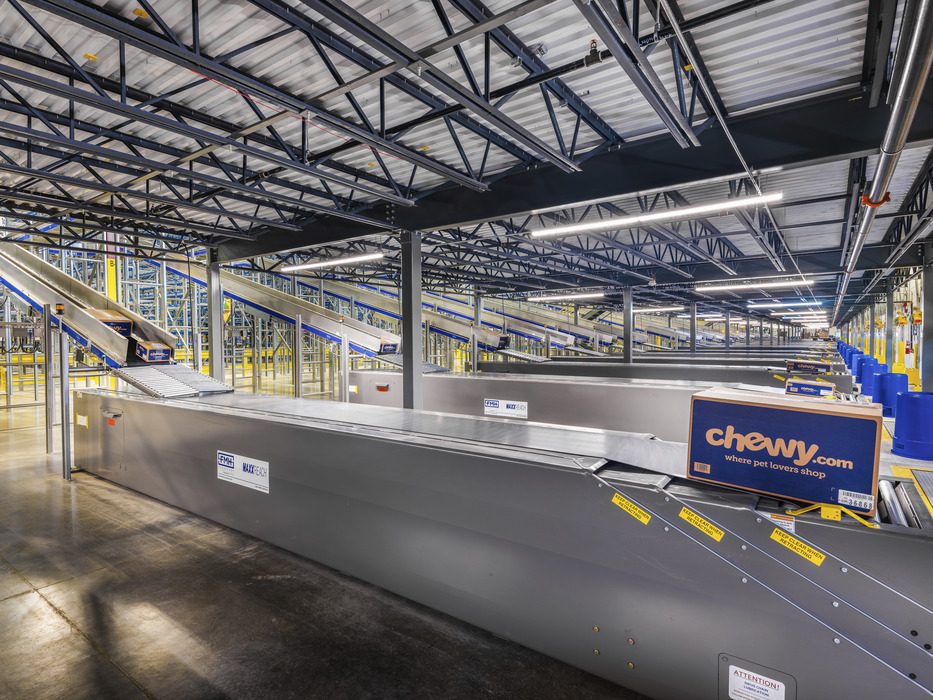 ---
Southview Commerce Center Building III
Crossland Construction brings well-loved pet brand's facility to Belton, Missouri in under eleven months
---
Belton, MO
Southview Commerce Center Building III, the home of well-known pet brand, Chewy, contracted Crossland Construction to build a new warehouse shell and office for their Belton, Missouri location. This 800,000 square foot facility is home to a Chewy fulfillment center and corporate offices, providing numerous job opportunities for the community and added tax income for the city.

This facility boasts a superior warehouse shell, housing office space, breakrooms, restrooms, recruiting areas, a fulfillment center, and a maintenance area for operations. The outdoor structure was completed with an aluminum storefront, painted tilt wall, and multiple docks and dock canopies. The interior space includes a multitude of design features, including exposed concrete floors, acoustic ceilings, roller shades, and decorative touches.

Our team was faced with the challenge of a very tight time frame shaken up by 80+ weather days, altering the schedule from the original plan. Despite the challenges, the Crossland team was able to hit all critical deadlines for the tenant's vendor. This was done with proper scheduling, extended work hours, and adequate manpower. Our team was able to adapt to the challenges and perform exceedingly well due to our years of combined experience and desire to hit all the goals set by the client.
Project Facts
Industry Sector: Industrial
Cost: $28,376,817
Size: 793,013 SF
Delivery Method: Design-Bid-Build / Hard Bid
Owner: NP Southview Industrial 3, LLC
Architect: studioNorth Architecture

READY TO GET STARTED?
READY TO GET STARTED?
READY TO GET STARTED?
READY TO GET STARTED?
READY TO GET STARTED?
Let's Build
Ready to lay the groundwork?
Find a Career
We've got a hard hat with your name on it.